No matter how much we love living in Memphis, we can all use a bit of road therapy from time to time. Fill up the gas tank, roll down the windows, and feel the wind in your hair for a few hours and see how great you feel. All of that fun stuff going on in Memphis will still be here when you get back. These the best day trips in the tri-state area -- all within a three-hour drive.
Best Woodsy Getaway: Meeman-Shelby Forest State Park
Distance from Memphis: 17 miles, 25-minute drive
Meeman-Shelby Forest is the closest and cheapest place to escape city life completely. The hilly Woodland Trail, near the visitors center, has three interlocking loops so you can run, walk, or hike 1, 3, or 4 miles (or any multiple thereof if you're feeling extra CrossFit). Seasonal summer rangers lead nature hikes, pontoon boat rides on Poplar Tree Lake, and occasional canoe trips in the cypress swamps. The Shelby Forest General Store is a great place to load up on snacks or get a juicy burger. Stop by on Friday nights for steak and live bluegrass. There's also an olympic-sized pool that almost no one knows about. Do with that information what you will.
Best Curated Getaway: Wilson, AR
Distance from Memphis: 45 miles from downtown, 46-minute drive
Wilson, population 900, is owned by Gaylon Lawrence Jr., managed by John Faulkner, and branded by Memphis ad agency Loaded for Bear. All this is to say, they've thought of everything. Get a cup of coffee at the Welcome Center. Stop in for a blue plate lunch or upscale dinner at the delicious Wilson Cafe. Do some shopping at the Wilson Pharmacy or White's Mercantile -- a modern mercantile store opened by Hank Williams Jr.'s daughter. Visit the Hampson Archaeological Museum. Stop by the Grange for a special event or a look at the gardens.
Best Camping Getaway: Village Creek State Park
Distance from Memphis: 50 miles, one-hour drive
Arkansas' second-largest state park is right over the Mississippi Bridge on Crowley's Ridge. The rolling hills and hardwood forest are great for hiking, mountain biking, and horseback riding. There are lakes for fishing and boating. There's even a hardcore 27-hole, Andy Dye signature golf course. There are beautiful views, a swinging bridge, and the longest preserved section of the Trail of Tears. Three-bedroom cabins are available for $95-$140 per night.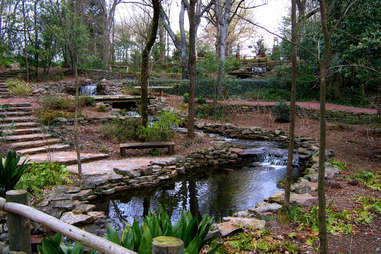 Best Hill Country Getaway: Holly Springs, MS
Distance from Memphis: 50 miles, one-hour drive
You can get a taste of history, home cooking, and hill country music all in one short drive. Park your car and take a walking tour of Holly Springs' antebellum homes, then grab a steaming-hot burger over at Phillips Grocery. There are several museums to choose from too -- The Kate Freeman Clark Museum, Marshall County Historical Museum, and the Ida B. Wells-Barnett Museum. Don't forget the Hillcrest Cemetery and save room for a meat & three at Annie's Restaurant.
Best Beef-centric Getaway: Como, MS
Distance from Memphis: 47 miles, 47-minute drive
Como is for meat lovers. Take a tour of Home Place Pastures where they humanely raise cows and pigs, hold fancy dinners, casual oyster roasts, and live music. Take a cooler to fill at the farm store, then head into town for a burger and billiard's at June's place, better known as Como Billiards. The Como Steakhouse is also a guaranteed good time and a great place to fill your belly. Lovers of architecture can do a self guided tour of Andrew Johnson buildings.
Best Beer Connoisseurs Getaway: Little Rock, AR
Distance from Memphis: 136 miles, two-hour drive
"Locally Labeled" is a self-guided tour of 10 local breweries and distilleries (Rock Town Distillery, BoBrook Farms, An Enchanting Evening Winery, Stone's Throw, Lost Forty Brewing, Blue Canoe, Damgoode Pies, Diamond Bear, and Vino's). Though, obviously if you visit them all, it might cease to be a day trip. (If you have to choose one, start at Lost Forty!) Little Rock is also a great place to have lunch/dinner/any meal of the day -- Cheese dip trail, anyone? -- and get some shopping done. And let's not forget the great hiking on Pinnacle Mountain or a cone of Loblolly ice cream that you can eat down the street at the Bernice Garden (sculpture garden). Or spend a few hours at The Dust Bowl -- an old school eight lane bowling alley.
Best Paddling Getaway: LaGrange
Distance from Memphis: 55 miles, one-hour drive
Floating through a cypress forest should be on everyone's bucket list. The Ghost River section of the Wolf is breathtaking. LaGrange, Tennessee is the put-in, and the takeout is just east of Moscow, at Bateman Bridge. It's about 14 miles on the river and can take anywhere from three to five hours to paddle, depending on the water level. There are two canoe and kayak outfitters, Wolf River Canoe and Ghost River Rentals, which can help with gear and the particulars. Above Moscow, the river is super-clean, spring-fed water, so you can and should take swim breaks. Bring lots of water, snacks, sunscreen, and a hat.
Best Literary Minded Getaway: Oxford, MS
Distance from Memphis: 75 miles, 90-minute drive
This college town has a lot more to offer than just football games. There are several top-notch restaurants to try, most of which are owned by John Currence -- City Grocery, Big Bad Breakfast, Bouré, and Snackbar. Saint Leo is a must for pizza and pasta lovers. And it would be silly to leave without having a meal at the Ajax Diner. The End of All Music is a great record store and Square Books is a book lover's paradise -- both are on the square. Once you get your literary juices flowing, pop over to Rowan Oak, home to William Faulkner and his family for more than 40 years. There's no fee to visit the grounds, but there is a $5 cost for house admission. Pro tip: Thacker Mountain Radio is Oxford's version of A Prairie Home Companion. They have a fantastic house band that plays with visiting musicians, and there are always authors hanging around as well. It's recorded live every Thursday night at Off Square Books.
"Best Memphis" Getaway: West Memphis, AR
Distance from Memphis: 9 miles from downtown, 16-minute drive
Those in the know call it Best Memphis for a reason. Sure, they have gambling and medicinal marijuana, but they also have the original Pancho's for margs and cheese dip, the bar at the Veterans of Foreign Wars building for a cheap Bud Light, CJ's Blues Club for late night dancing, and lots of long, country roads to take your mind off of city life. For a more wholesome visit, try Big John's Shake Shack, the Sultana Museum, and a stroll through Mound City.
Best Delta Blues Getaway: Clarksdale, MS
Distance from Memphis: 75 miles, 90-minute drive
Steeped in Delta flavor, this North Mississippi town is the home of the mythical Blues Crossroads -- as in where one might sell their soul to the Devil. You may meet more international music fans on the pilgrimage from Chicago to New Orleans, than American tourists. Have a meal at the Hooker Grocery or a burger at Kenoy's. Pop in to Cat Head Delta Blues & Folk Art for books and records. The Shack Up Inn, built on the former Hopson Plantation, is a great place to spend the night should you decide to stay up late at Red's Lounge (one of the last legit juke joints in the world). Check the schedule as the town hosts a plethora of festivals.
Best Safari Getaway: Alamo, TN
Distance from Memphis: 80 miles, 90-minute drive
Get up close and personal with a variety of animals, some of which you may not have known existed. The Tennessee Safari Park is open year-round, seven days a week. You purchase buckets of food at the gate, receive minimal instruction on protecting your thumbs, and then you are free to drive through and feed the animals. Hungry ostriches wait for you at the gate so they can follow you through the entire park, stick their heads in your car, and do everything in their power to eat all of your food. It's both hilarious and a little scary. It takes about an hour to go through the park, and there is also a petting zoo, snack bar, picnic area, and restrooms.
Best Daredevil Getaway: Heber Springs, AR
Distance from Memphis: 150 miles, just under a three-hour drive
Everyone needs to cliff jump at the Dam Site Recreation Area. There is a swimming area and a sandy beach for babies, young kids, and anyone not into cliff jumping. The cliffs vary in height from 3 to 30 feet. There are some that are perfect for young kids and really high ones for daredevils. There are picnic tables in some areas that have trees for shade. Bring a pop-up tent, sunscreen, towels, water shoes/sandals, a hat, and a rolling cooler with lots of hydrating liquids and food.
Best Outdoorsy Getaway: Hardy, AR
Distance from Memphis: 130 miles, two-hour drive
Hardy is the perfect place to enjoy the Ozark Mountains, the Spring River, and small-town charm. The Shops of Old Town Hardy are all housed in buildings built in the 1890s, including a goth shop for your inner angsty teenager. Main Street eateries to try: Leaves & Beans, Crosseyed Catfish, and Vanilla Cowgirl. Spring River Eatery serves Southern comfort food and healthy fare and features live music Thursday-Saturday, some Sundays (folk, country, and blues musicians from around the country, as well as local talent). Summer Music on the Street, a free event, is held every Saturday in Dr. Thompson Park on Main Street from noon-2pm, sometimes longer. Buford Beach has a boat launch, playground, picnic tables, a ball field, a swim area, floating, tubing, and fishing off-bank, all free. 3 Rivers Outfitters offers float trips from two to eight hours and kayak & canoe rentals. Griffin Park has horseback riding, fishing & swimming.
Sign up here for our daily Memphis email and be the first to get all the food/drink/fun in the Blues City.