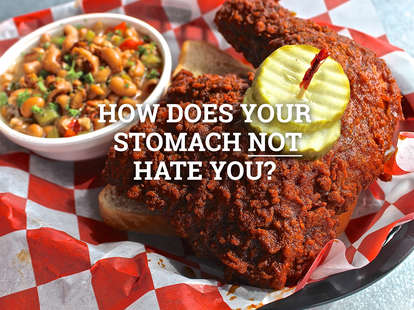 Courtesy of Joseph Woodley
To say there's a feud between Memphis and Nashville overstates the case. The two cities are more like siblings that fight all the time, but still manage to sit down at the dinner table and have a few laughs (with and at each other). Even though Memphis shares a state with Nashville, there are still some stupefying differences that we'll never understand about our relatives to the East.
Oh, and if you're curious to hear Nashvillians' take on the Bluff City, here's it is.
1. The overly high tolerance of country music
Nashville was built on the backs of jug bands and washboard players, we get it. We just don't get why you still pretend like the genre in which every whiny, fake cowboy sounds damn-near identical is the only show in town. Memphis has blues, soul, and rock and roll, you know, music that isn't written about listening to country music all the time.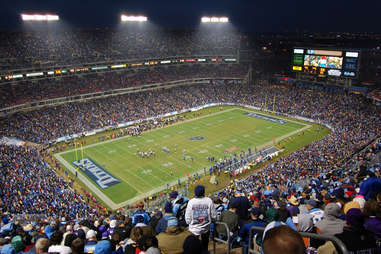 2. You're proud fans of the 2-14 Titans
Finding a Titans fan in Memphis is like finding a hippopotamus in the back yard. Admittedly, our disdain for the Titans is partially sour grapes for not succeeding in our NFL courtship, but it's also how the Titans acted when they briefly stayed in Memphis so Nashville could build them a stadium. Instead of acting like a long-term house guest, the Titans just stayed the night, trashed the place, and then left while flipping the bird to our mothers. In the end, it worked out, since we got the Grizzlies, who Grit and Grind through the NBA playoffs, unlike the Titans, who end up Whitehurst-ing it to top draft picks.
3. How does hot chicken not mess you up?
We have amazing fried chicken down here, as was intended by all that is holy. Nashville prides itself on "hot chicken," a concoction that seems to consist of chicken injected with hot liquid death, and then fried. Oh sure, it tastes good. But then you have to digest it. And that's when terrible things happen.

4. Your traffic situation is bedlam
Bedlam I tell you! You can make fun of Memphis drivers all you want, but every hour is rush hour in Nashville, a city which apparently grew faster than civic planners could cope with, so they said "screw it" and just gave up. If you have to get anywhere in Nashville anytime between waking hours, allot yourself an extra hour to get there.
5. So many politicians
We have enough of an issue down here trying to keep an eye on city and county politicians. We can't figure out how you can also monitor the goings on of state politicians to boot. Or keep a straight face when you meet them in public after they've introduced some horrendous piece of legislation that lands Tennessee on The Daily Show.

6. How does anyone afford to live there?
One nice thing about Memphis is that normal people can actually afford to live here. It's one of the top reasons to live here. For the cost of a decent house in Memphis you can maybe get a parking space in Downtown Nashville.
7. Nicole Kidman lives in Nashville? Really?
Speaking of the cost of living, we can't believe she lives there. Is it the same one we are all thinking of? Australian lady? Used to be married to Tom Cruise? Now with Keith Urban? Does she really like country music?
8. You inexplicably have a pro hockey team
Nashville is the home of the Predators. We are in the South. Hockey doesn't belong down here. It's not natural. That's why the River Kings fled.

9. You don't have BBQ in Nashville
Every time you go to Nashville, someone will inevitably attempt to convince you to try some form of BBQ or another, claiming it's as "good as Memphis." I've tried, and it never is. Never will be. Make like those civic planners and give up.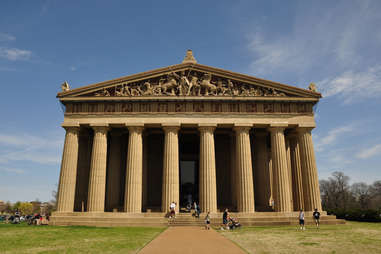 10. Having a Greek temple in the city
It seems out of place to have a replica of the Parthenon with a gigantic statue of Athena sitting smack dab in the middle of Centennial Park. We know Nashville, inexplicably, deems itself the "Athens of the South," but a temple to worship a Greek god is just out of place and weird in the Bible Belt. On the positive side, it was never looted by a British lord, so you got that going for you.

11. You are far too ambivalent about having a Trader Joe's
Having a Trader Joe's is a blessing, and Nahsvillians seem relatively neutral on the subject. How can you be so nonchalant in the face of Sriracha jerky, those sweet Vidalia onion rings, and all the other wonders housed inside that magical store? Do you not know HOW AMAZING TRADER JOE'S IS?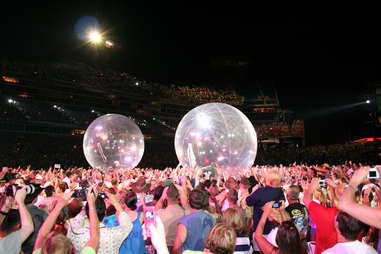 12. That baffling country music pilgrimage you host each year
Every year Nashville is beset by tens of thousands of visitors for the CMA Music Festival. They come from all over the world for country music performances and sober reflections on the state of the music industry. Just kidding! It's a four-day hootenanny with hundreds of artists singing and signing stuff. We don't get it because, you know, the whole country music thing. But good on you for effectively shutting down your city once a year so people can enjoy what we assume is a series of Billy Ray Cyrus tribute bands.

13. Waiting in line for pancakes under any circumstances
There's a restaurant near Vanderbilt called the Pancake Pantry that people go nuts for. They line up outside the doors every day. To eat pancakes. Pancakes, people! Pancakes.
14. We aren't impressed with The Hermitage
Nashville seems proud that it has Andrew Jackson's house, The Hermitage. We just can't get that excited about you having a president's house. We have a king's house. And even though The Hermitage has a guitar-shaped driveway, Graceland housed a guy who actually knew how to play one.

15. You don't get to claim Elvis
Just for the record, Nashville doesn't get to claim him. That's our deal. Yes, we know that Elvis recorded some stuff in Nashville, but he lived in Memphis, and the stuff that rocked the world on its heels came from Sun Studio in Memphis. So just leave the king to his throne.
16. Your city is overrun with open mic nights
Nashville seems to have four open mic nights for every man, woman, and child living within the city limits. Is your whole day just preamble to when the sign sheet gets posted?
17. The Grand Ole Opry has never had opera
As far as we can tell, Minnie Pearl never performed the lead in Carmen, and Roy Acuff never played Pagliacci. It's grand, it's ole, it's not an opry.
Sign up here for our daily Memphis email and be the first to get all the food/drink/fun in the Blues City.