Every major city has its own quirks and attitudes: sometimes it's a certain way of doing things that makes no sense to outsiders, and other times it's something specific about the town's landscape, weather, or architecture. Then there's Memphis, where the locals are fiercely loyal to their favorite things and deal with the rest in stride. Here are 12 real-life examples of things that only happen in Bluff City.
1. Only in Memphis... would you resort to shoveling snow with a dustpan
We are not prepared to experience all four seasons in one week.
2. Only in Memphis... would someone dump a relative's ashes on Elvis' grave
What can we say? Some people really love Elvis. Who's to say the King's final resting place isn't also a good spot for your loved one's ashes?
3. Only in Memphis... would Uncle Jessie Vine his visit to the Gibson Guitar Factory
This is not totally random: John Stamos provided the voice work for some of the recorded audio tours you can take at Graceland and is a big fan of Elvis and rock & roll. Have mercy.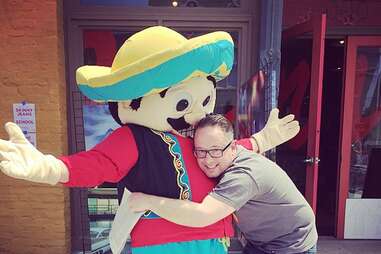 4. Only in Memphis... would we have a mascot for our favorite cheese dip
Viva Pancho!
5. Only in Memphis... do the buffalo roam in the middle of the nation's largest urban park
We're still not sure that buffalo are even native to the Memphis area. Did someone just randomly bring them here and put them in Shelby Farms Park in the '80s? Yes. Do we love "naming" them things like Shelby, Elvis, and Memphistopheles? Absolutely.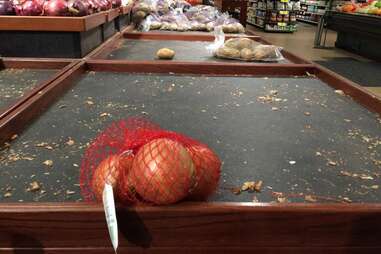 6. Only in Memphis... would we stock up on veggies during winter weather scares
Okay fine: we also stock up on Twinkies and beer. They go great with the milk sandwiches Memphians make with all that milk and bread we've hoarded.
7. Only in Memphis... would NBA in-game entertainment feature pro wrestling/mascots
Of course we created an unofficial evil alter ego of our NBA mascot, Natch. How else could we justify the highly entertaining spectacle of Super Grizz jumping off a 15ft ladder to crush Natch and the table under him? Cue Good Ol' JR, "He is broken in half!"

8. Only in Memphis... would our BBQ fest "tents" refer to two- and three-story monstrosities
Inside these "tents": liquor luges made of ice, dance floors, a thousand Jell-O shots, and of course, lots of sweet, smoky barbecue pork.
9. Only in Memphis... would we turn a pyramid into the largest Bass Pro Shop in the world
Memphis' pyramid now contains the nation's tallest freestanding elevator, indoor ponds populated with fish and boats, shooting and archery ranges, two restaurants, and a hotel where every room has a jacuzzi tub. Definitely more than a bait shop.
10. Only in Memphis... would we take it upon ourselves to label a broken parking meter
We're just looking out for our fellow Memphians, that's all.
11. Only in Memphis... would people wait for hours at a sno cone stand
Well, there are also fried pickles, tamales, and burgers. The Wedding Cake Supreme is worth the wait. Trust us.

12. Only in Memphis... would we elevate Solo cups to higher purposes or camo-up our babies
Okay, maybe these two things aren't really "only" in Memphis, but right now we've got this new Bass Pro Shop and that's what's happening.
Sign up here for our daily Memphis email and be the first to get all the food/drink/fun in the Blues City.