Beale Street is the most popular tourist attraction in the state of Tennessee, so you'd think there would be no stones unturned about the street known for blues, rock 'n' roll, Southern food, and nightlife. But you'd be wrong. We've got 17 facts about Beale Street that you don't even know about (unless maybe you're B.B. King).
1. Silky O'Sullivan's pub was recently home to a curse-breaking, beer-drinking goat
In 2002, an "Irish diving goat" named Maynard, famous for drinking beer at a Beale Street pub, paraded around the Grizzlies' home arena (at that time, The Pyramid) to end a 13-game losing streak, and it worked. Silky's then sent Maynard to Wrigley Field to attempt to break the Cubs' goat-related curse, which worked for one game.
2. Elvis bought all his snazzy suits on Beale
Before the sequined capes of Vegas, Elvis bought his black and pink suits, dapper jackets, and fashionable bluesman-inspired getups from Lansky Bros. Clothing. It's still open today in the original location at 126 Beale.
3. There's a hidden absinthe bar & pool hall
Hard to believe there's anything off the beaten path on Beale, but if you know where to look (hint: right next to King's Palace Cafe up the black-lit stairs), you can get a taste of the green fairy and shoot some pool in the Absinthe Room. It serves a handful of absinthes with the traditional flaming sugar cubes and ice water.

4. One bar's slogan used to be "We can't close, no one's been killed yet"
In the late 1800s and early 1900s, P. Wee's Saloon on Beale was a notorious gambling den that attracted some rough clientele, thus the ominous motto. Alas, the good ol' days are gone: the Memphis precinct where Beale Street is located is now the safest in the area.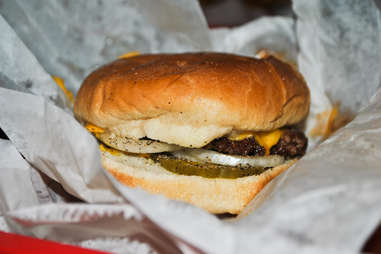 5. You can eat burgers cooked in 100-year-old grease
When Dyers' Burgers moved to Beale, it brought its grease with it (under the protection of a police escort). So go on, try a chef-recommended Dyer's Double with Cheese. It's good for you. It's Vitamin G.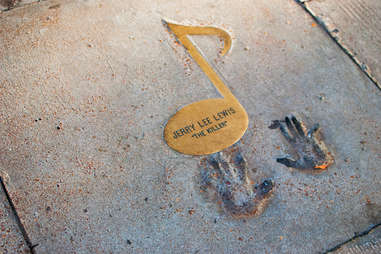 6. Beale has its own version of the Walk of Fame
Move over Hollywood, because Memphis has the Brass Notes Walk of Fame on Beale Street. The 127 musical notes honoring the Mothers and Fathers of blues, soul, and rock 'n' roll adorn the sidewalks of the street, including The Killer, who also left his hand prints.
7. The street was home to a Union headquarters during the Civil War
Down at the East end of Beale -- way off the main drag -- you'll find the Hunt-Phelan House. It was designed by Robert Mills, who designed the Washington Monument and it served as headquarters for Ulysses S. Grant during the Civil War.
8. The "Home of the Blues" was a literal act of Congress
In 1977, a smart citizen decided to ask Congress to declare Beale Street the official, legal "Home of the Blues" and it kindly obliged.

9. You can see the world's best blues musicians compete
It's true that on Beale some nights you might hear more "Mustang Sally" than modern blues, but even some locals don't know that hundreds of up-and-coming bluesmen and blues-women head to Memphis for the International Blues Challenge every year.
10. The Flaming Lips broke a world record on Beale
In 2012, The Flaming Lips picked Handy Park on Beale Street for its confetti-filled kick-off concert for its world record tour, performing in eight different cities in just 24 hours. The band then jumped to six stops in Mississippi and to Louisiana for shows in Baton Rouge and New Orleans thereby taking the performance record from Jay-Z (sorry Jay, you still have a lot of songs though).

11. One bar served as "The Castle of Missing Men"
What do you get when you live in the lawless 1910s and have a seedy bar that shares an alley with a mortuary? A place where men can conveniently "go missing." This is how the Monarch Club at 340 Beale St got its creepy nickname. It's now a police substation, of course.
12. W.C. Handy lived on the street (sort of)
When the Father of the Blues lived in the shotgun house that now sits on Beale, it was actually located in South Memphis. But you can still step inside the place where he lived from 1912-1918 in the new location.
13. It's the only place in Tennessee you can legally walk around with booze
Beale is the only spot in the state where you can legally walk around with your Big Ass Beer out in the open air.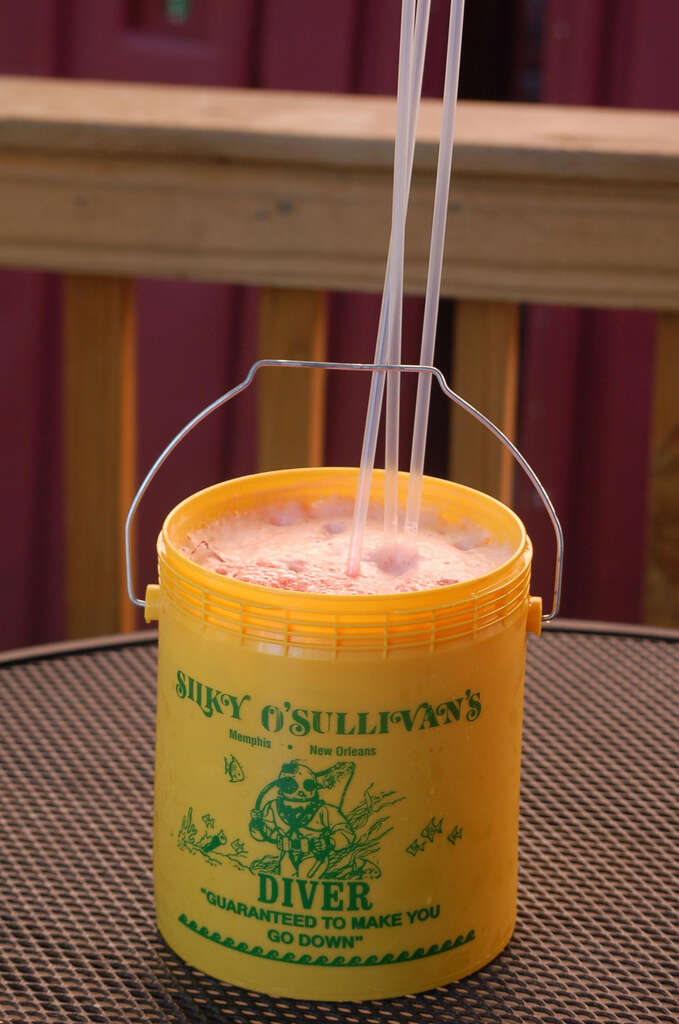 14. Everyone actually knows the Silky's Diver recipe
The mystery of the big yellow bucket sold at Silky O'Sullivan's on Beale Street is solved: in 2012 Drinking Made Easyrevealed the Diver cocktail to consist of a gallon of rum, grenadine, beer, and something called "Mysterious Zig Zig." While this seems more likely to be the real recipe than earlier reports (the late, great Silky reportedly said Divers were made of Roto-Rooter, furniture polish, and Spanish Fly) since no one knows what zig zig is, maybe it's still technically a secret.

15. The Orpheum Theatre has a permanent resident, and she's not exactly alive
On the West end of Beale, The Orpheum is rumored to be the un-resting place for Memphis' most famous ghost: little Mary, a 12-year-old girl in a white dress who died in the early 1900s. Legend has it that she was hit by a streetcar in front of the theatre. Seat C15 in the mezzanine is kept open in her honor.
16. The St. Jude Memphis Marathon isn't the only race that starts on Beale
Every spring, servers and bartenders gather for what's basically the Olympics of the Memphis restaurant industry: the Beale Street Wine Race. There's a parade, drinking, grape stomping, more drinking, and a scantily clad Queen of the Vine contest, but the main event is a relay for servers to uncork, pour, and carry wine glasses on trays while running down the street.
17. The oldest store in Memphis is on Beale Street
Throughout the rough days of the '60s, '70s, and '80s on Beale, A. Schwab kept its doors open as a general store, soda fountain, and purveyor of curiosities. It's still there and going strong, providing milkshakes, weird hats, local goodies, and other more curious products, like lotions, potions, and Voodoo supplies.
Sign up here for our daily Memphis email and be the first to get all the food/drink/fun in the Blues City.