If you live in Memphis, chances are someone you know is getting ready to come visit or even move here. You know things aren't always what they seem in this city (often, they're better!), but these are 21 things you're going to have to lay out for your uninitiated friends.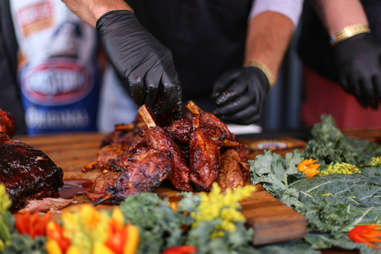 1. BBQ Fest is only fun if you know someone with a tent
You can't just waltz into Tom Lee Park in May and expect people to hand-feed you barbecue. Find a friend (or friend of a friend, or Josh, he's good for it!) who knows the barbecue cooking team's gatekeeper so you can get a wristband. Thursday or Friday is the night to go; Saturday is for hungover pitmasters and disappointed tourists.

2. Our water is the best
Leave your Brita filters at home and skip the bottled water. Due to our 100 trillion-gallon sand aquifer, we have some of the tastiest water in the world, which is used, in turn, to make some of the best beer in the world.
3. Following Memphis basketball is good cardiac exercise
The Grizzlies or Tigers can be up by 20 against a terrible team, then lose the lead and be down by one with 12 seconds left in the game. Then they'll trudge through a multi-game losing streak only to beat the #1 team in the league at home. Just hold on to your growl towels and hang in there. It's called grit and grind for a reason.

4. Oh, and if you're a Grizz hater, you can leave
Seriously. Don't let the door hit you on the way out. That includes you, ESPN commentators.

5. Stay out of the far-right lane of Poplar Ave
The lane is too small for city buses, floods as soon as it starts raining, and is filled with treacherous potholes. Just stay out of it. In fact, avoid Poplar altogether if possible.
6. Asking, "Where is the best barbecue?" will tense up a room
Do you want to cause a fight? Are you trying to rip families apart by arguing over who invented BBQ spaghetti or whose ribs have the best dry rub? Avoid blood feuds, and don't ask for "the best"; let folks take you to their favorite spots and then decide (quietly) for yourself.

Memphians know this. The Rendezvous knows this. It's essential eating, but just know that there are about 100 other BBQ joints that do smoked pork their own way that are worth trying, too.

8. We nickname our Krogers
There's the "Kroger-Formerly-Known-As-Ghetto-Kroger" store on Cleveland, which is actually now the most convenient and nicest one because it was remodeled. There's the "Hell on Earth" Kroger on Union Ave in Midtown named for the inconvenient construction work and terribly engineered parking lot. Then there's the "Sexy" remodeled Kroger at Highland, the "Kosher Kroger" on Mendenhall, and the "Big Kosher Kroger" at Kirby & Poplar.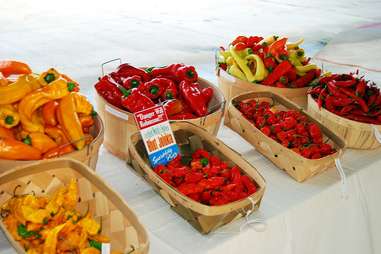 9. You won't starve if you eat vegetarian or gluten-free
If you're dead set on staying in the fried, greasy, meat-based confines of Beale St, we can't help you. However, if you go almost anywhere else in Memphis, you'll find vegetarian-friendly options and healthy choices at most restaurants. You don't have to gain 5lbs while you're here (but we won't judge you if you do).

10. We do know that macaroni is not a vegetable
Sure, mac & cheese might be listed under "Veggies" on some menus, but Memphians know what a real vegetable is. We have a half-dozen popular farmers markets and CSAs and a vibrant farm-to-table dining scene.

11. We love our local celebrities
Justin Timberlake is to Memphis what the Pope is to Catholics. Our sports radio hosts' opinions on civic matters mean as much as the mayor's. We talk about our favorite meteorologists, news anchors, and business owners like they're our friends (even if we've only met them once) and we'd rather meet a Grizzlies player or Mark "It's All Good Auto Sales" Goodfellow than Brad Pitt.
12. Some of us still have issues with John Calipari
We're getting better, but the ghost of the University of Memphis Tigers men's basketball team's vacated 38-win season in '07-'08 due to NCAA violations still haunts us on bad days. Many blame Coach Cal and don't take too kindly to him or his Wildcats.

13. It will rain at Memphis in May, and that's OK
At some point during May's month-long series of festivals and events (Beale Street Music Festival, BBQ Fest, Sunset Symphony) it's going to rain. A lot. And Tom Lee Park is going to turn into a mud pit. Just pick up some rubber boots and a poncho before mid-April, leave your heels and flip-flops at home, and you'll be fine.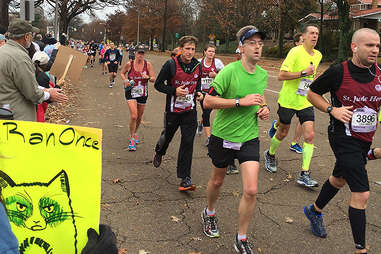 14. The marathon shuts down pretty much everything
Every year on the first Saturday in December, we shut down most of our city's core to accommodate the 20,000 people who come from around the world for the St. Jude Memphis Marathon. Traffic is blocked all morning, and delays can last all day. Don't go complaining about it -- or worse, throwing a fit on social media; just plan to kick it at home or, if you live Downtown/Midtown, walk to the nearest mile marker and cheer on these crazy people running 26.2 miles in the freezing cold.

15. We aren't all just Elvis fans
Good Memphians have a healthy reverence for Elvis and his legacy. That doesn't mean we all have to like his music. Check out Stax Records, Goner Records, the Memphis Music Hall of Fame, or any of our live music venues for a better idea of the music that modern Memphians listen to and love.

16. Don't sing/reference "Walking in Memphis"
Memphis is mentioned in song lyrics more often than any other city. So please, sing or reference one of those dozens of other songs. It's like being named Victoria and people saying, "What's your secret?" all the time.
17. We will take you to Graceland and Beale St, but only under a few conditions
Graceland is wonderfully weird, but we've been 10 times, so this time you buy the peanut-butter-banana sandwiches. We'll also take you to Beale St (early, before it's Bad Decisions time) and help you polish off a Silky's diver or a Call-A-Cab as long as you'll let us take you to South Main, Cooper-Young, or Brookhaven Cir for dinner after.

18. The First 48 is not a documentary about Memphis
The First 48 is a TV show about homicides in major cities, including Miami, Kansas City, Phoenix, Dallas, Memphis, and many more. It's not a TV show about everyday life Memphis.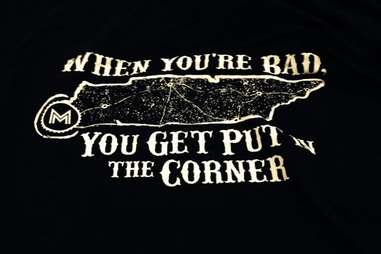 19. Memphis is not Tennessee, and we're definitely not Nashville
Politically, Memphis is the blue dot in a red state. Socially, we're more urban and suburban than rural. Memphis is culturally and ethnically more diverse than much of Tennessee. Musically, we have more hip-hop and rock than we do country (but don't forget blues, soul, R&B, gospel, punk, bluegrass, and more). Whatever you do, please don't ask for "hot chicken" or honky-tonks; you'll have to drive 200mi East for that.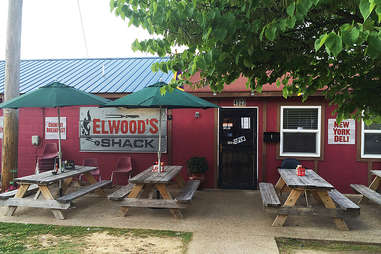 20. Summer Ave is the best street
Drive down Summer Ave once and you'll understand locals' enthusiasm. You can find 24hr pancake houses, taquerías, Mediterranean markets, dim sum, heladerías, a Chinese restaurant that serves the best sub sandwiches in the Southeast US, a putt-putt course, thrift shops, a working drive-in theatre, and a barbecue joint called "Elwood's Shack" in a literal shack in a Lowe's parking lot.

21. We think the Pyramid is weird too
Memphis was also the name of an ancient Egyptian city, sure, but that doesn't mean we needed to build a giant glass pyramid here. But no matter, it's here and we've accepted it as a lovable part of our skyline and river view. Now it's going to be a Bass Pro Shop, which we don't understand it any more than you do, but most of us are looking forward to it.
Sign up here for our daily Memphis email and be the first to get all the food/drink/fun in the Blues City.