How to Celebrate Fourth of July Weekend in Miami
Because it's your patriotic duty to party.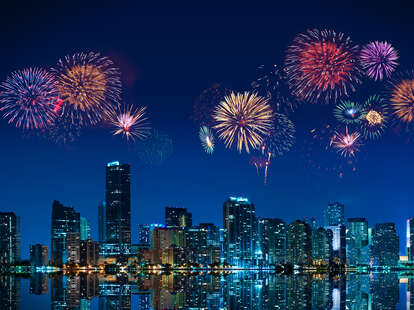 Miamians love any excuse to party, especially if there are fireworks involved. It's been two years since the Magic City really went all out for Independence Day, but this year it seems like there will be plenty of making up for it. From all-you-can-eat BBQ feasts to disco roller skating to themed milkshakes, we can already tell the day after will feel like the most Monday-like Tuesday ever, but that's a July 5th problem. In the meantime, here are 12 ways you can celebrate the Fourth of July in Miami—obviously, they all end with epic fireworks.
Feast on all-American eats at Loews Miami Beach
Loews Miami Beach invites locals and travelers to enjoy their Star Spangled specials in the form of a poolside BBQ with all-American eats including a burger bar with all the fixings, hot dogs, tacos, and more every day from July 1st to 4th. While you're there, check out Summerfest by Loews Hotels, a summer-long immersive program that features a signature cocktail in partnership with Bruno Mars' award-winning SelvaRey Rum, mocktails for the non-imbibers, and a cultural safari featuring the must-do South Beach experiences. Of course, the proximity to the sand and several of South Beach's firework shows doesn't hurt either.
Join in on North Beach Bandshell's Fire on the Fourth festival
Start the party at noon at North Beach Bandshell's Fire on the Fourth festival when the bandshell gets transformed into an outdoor roller disco with professional skaters showing off their moves—leaving enough space for guests to attempt to get their groove on too. There's a Family Zone sponsored by T-Mobile, live entertainment taking place on multiple stages, food trucks, magic shows, and more. Of course, the highlight of the evening is the 9 pm fireworks show taking place on the beach.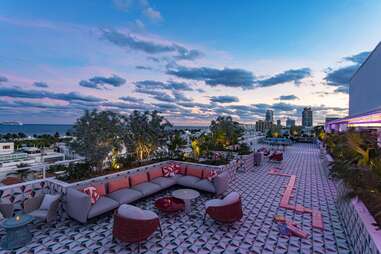 Party on the rooftop of Moxy South Beach
We love a holiday rooftop moment, and that's exactly what the Upside Rooftop at Moxy South Beach is offering this Independence Day. For a $10 entrance fee (free for hotel guests), you're welcomed with a complimentary High Noon seltzer and can spend the day partying here knowing you'll have a direct view of the Miami Beach firework show, plus access to a special BBQ menu, beverage deals, and live music. Get tickets here.
The Biltmore's Stars and Stripes BBQ and Fireworks returns
Perhaps the most iconic way to celebrate the Fourth of July in Miami is at Coral Gables' Biltmore hotel for the Stars and Stripes BBQ and Fireworks Festival. Free and open to the public, guests can access the hotel's golf course as early as 5 pm to secure their spot for the return of one of Miami's most spectacular fireworks shows. The show starts at 9 pm, but in the meantime there's live entertainment, food trucks, and optional ticketed access to the Stars and Stripes BBQ featuring an open bar and a massive menu of buffet-style served BBQ dishes.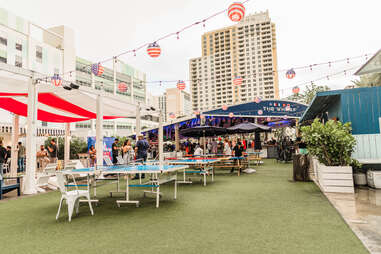 Take part in the Star-Spangled Awesome extravaganza at The Wharf Miami
Party like it's 1776 with live music; drink specials; red, white, and blue cocktails; and an over-the-top fireworks show once the sun sets. Guests that decide to celebrate the holiday by drinking any American whiskey are rewarded with a free Budweiser or Bud Light all day. Plus, if you RSVP you'll get a free Tito's cocktail and a bucket hat before 4 pm (while supplies last). The festivities start at noon and it's family friendly until 6 pm—after that everything is strictly 21+.
Book at staycation at JW Marriott Miami Turnberry Resort & Spa
Treat yourself to a staycation in Aventura at JW Marriott Miami Turnberry Resort & Spa where room rates start at $329 a night and include welcome drinks, late checkout, and, most importantly, admission to the property's on-site water park, Tidal Cove. After a day of water slides and lazy river riding, make your way to the Fourth on the Green party taking place on the hotel's golf course featuring local food truck vendors, a bounce house, games, and a firework show. Or opt for a fancier evening with dinner at either Corsair or Bourbon Steak, both of which are featuring special menus for the holiday.
Sip red, white, and blue milkshakes at Sugar Factory
Known for its over the top desserts, there was no way Sugar Factory would miss the chance to debut a spirited Fourth of July Insane Milkshake. This limited edition blend of vanilla soft serve and cookie dough ice cream is served in a patriotic vanilla frosted mug with a mix of red, white, and blue sugar crystals, and topped with whipped cream, strawberry-flavored rock candy, assorted fast food, and cola gummies. It's available at Sugar Factory for the entire month of July.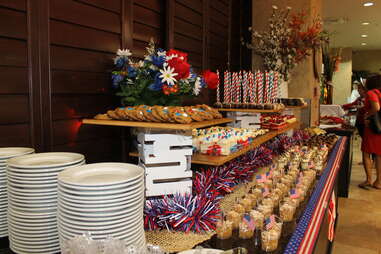 Bring the family to Gulfstream Park for a day of celebrations
Gulfstream Park will be hosting a family-friendly Freedom Fest celebration starting at 6 pm. Featuring an array of entertainment including activities, music, food, and a trackside fireworks show. A DJ at the Breezeway Bar is spinning alongside performances from stilt walkers, acrobats, jugglers, and more. Visit the Carousel Club from 4 pm to 1 am for food by Los Alto Taqueria, Spris Artisan Pizza, and Ms. Cheezious. There are also drink specials including a deal where any American whiskey purchase gets you a free Budweiser. For those looking to create their own party within a party, table service is also available.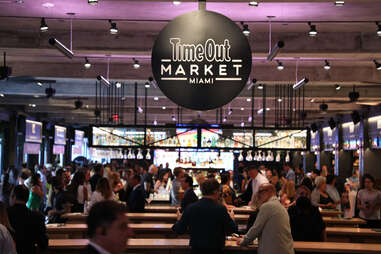 Time Out Market Miami to host a weekend of activities
The celebration begins on Friday, July 2 with a double happy hour from 4 to 7 pm and then late-night from 9 to 11 pm as well as Saturday and Sunday from 5 pm to close. All weekend long, Market-goers can imbibe with themed-cocktails, including watermelon jello shots and E11EVEN Vodka red, white, and blue pop-rocks at the Time Out Bar. Perfectly located to grab a meal before heading to the beach for fireworks, guests can nosh on all-American classics like the mouth-watering Smashburgers and Key Lime Pie boozy shakes from Little Liberty, Chick'n Jones famous chicken buckets, PizzaElla Margarita classic pizza, and more. For those who want a little sweetness with their buzz, Azucar Ice Cream is offering a special boozy ice cream exclusively on the Fourth of July. DJ, face painting stations, and sidewalk chalk art for children are also on deck.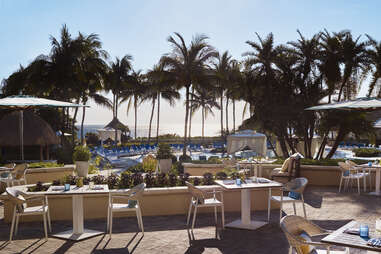 Indulge in BBQ and oceanfront fireworks at The Ritz-Carlton Key Biscayne
On Monday, July 4 from 7:30 to 9 pm, the festivities kick off with music, festive favors, and a delicious BBQ including picnic-style salads, NY strip steak, BBQ ribs, shrimp on the barbie, grilled chicken, hamburgers, hot dogs, non-alcoholic beverages, and an array of sweet treats—plus a cash bar. After you've fallen into a food coma, cuddle up with your loved ones on the sand for a front row seat at the resort's firework show. Pro tip: you'll probably be able to see a dozen or so other fireworks happening around the city at the same time from this spot.
Take to the sea on a party boat with Poseidon Ferries
Have you ever watched a firework show while being out on the water? It's quite the experience as the blasts in the sky reflect on the water giving an illusion of a double show. Poseidon Ferries has two options for guests to enjoy exactly that. Leaving from Downtown Miami, there's a 7 pm departure that features a DJ, food, and a selection of wine, beer, and spirits or a 7:45 pm departure that's significantly more of a chill firework watching vibe.
Town of Miami Lakes hosts its 19th Annual Fourth of July Celebration
A beloved celebration that takes place at Veterans Park, Miami Lakes is hosting this exciting affair. Starting at 6:30 pm, this event boasts a Fun Zone with cornhole, a giant Connect Four, a ring toss, a photobooth, live music, and discounted haircuts offered by The Spot Barbershop. As the sun sets the live concert by Mojo and the Scoundrels kicks-off, followed by the fireworks show after dark.