These are the 7 best 4th of July parties in Miami
Miami Only in Miami would the biggest part of America's Independence Day be a soccer match between two countries from South America. But after you're done watching Brazil-Colombia at one of Miami's best spots to watch the World Cup, there's still lots of drinking, grilling, and fireworking to be done. Here are the seven best 4th of July parties in Miami:
SHORE CLUB
The 4th of July is great, except for the whole "sweating your face off while jammed onto a beach with the rest of Miami to watch fireworks" thing. If only you could somehow watch the fireworks from, say, the penthouse at the Shore Club with a private pool, ice-cold AC, an open bar, and tons of food. You can... if you score tickets for $50, or win some by tweeting this Playbook. Continue Reading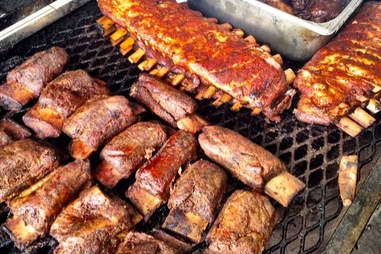 THE FEDERAL
The Federal is getting you as close to a backyard barbecue as you can get without having to listen to your neighbor brag about the $500 worth of fireworks he bought in the Keys. They've got giant vats of self-serve craft cocktails for $20, PBR cans in a cooler, and pit BBQ with campfire bacon.
DalsR.com
Hit up the Raleigh Hotel where, ironically, Cedric Gervais will probably make you happy by spinning songs like "Summertime Sadness" poolside from 12-11pm. Rain or shine. Get tickets here.
Nikki Beach knows nothing says America like spending the entire day in the sun and stuffing yourself full of bacon. So, they're making bacon deviled eggs, beer-candied bacon, bacon crab cakes, bacon mac and cheese, bacon BBQ chicken drumsticks, and bacon beef franks that you can eat until you explode for just $25 a ticket from 12-11pm.


The Atlantic Hotel will be grilling stuff from Beauty and the Feast -- stuff like beer-can chicken, short-rib corn dogs, bison burgers, and ribs -- on their fifth floor oceanfront terrace, where you can eat all you want from 6-8pm before getting an above-the-action view of the fireworks on Lauderdale Beach.