Where to Find Miami's Best Mocktails for Dry January
Because booze-free doesn't have to mean boring.
Le Chick Miami

| The Louis Collection
Le Chick Miami

| The Louis Collection
New year, new you—we know. At the very least, there's a chance you're looking for a way to cleanse and step away from the booze for a bit. Dry January has grown in popularity and luckily so has the creation of mocktail menus all over the Magic City. If you're looking to cut back on drinking whether it's for the year or just the next month, but don't want to skip out on late-night festivities, don't worry, there's plenty of flavorful booze-free beverages available to you. So, raise a glass and have a booze-free toast to your sober start to 2023. Here's where to go.
Bar-goers participating in the month-long resolution can head to DOM'S and enjoy zero-proof cocktails featuring Lyres NA Spirits. With alcohol-free versions of the negroni, Aperol spritz, and mojito, it's easy to find something to sip on during their wild karaoke Thursdays, or any day of the week really. Plus the bar team at DOM'S is also happy to craft custom mocktails using fresh fruit, juices, and NA spirits for imbibers based on flavor preferences.
Trade margaritas in for light and delicious agua frescas at Mayami Mexicantina. Made with fresh juices, these drinks are refreshing and available in various flavors like ginger, flor de Jamaica, and rosemary apple. Agua de Jamaica—which translates to "hibiscus water"—is a sweet and sour blend of homemade tropical hibiscus water and is a favorite of the restaurant's staff.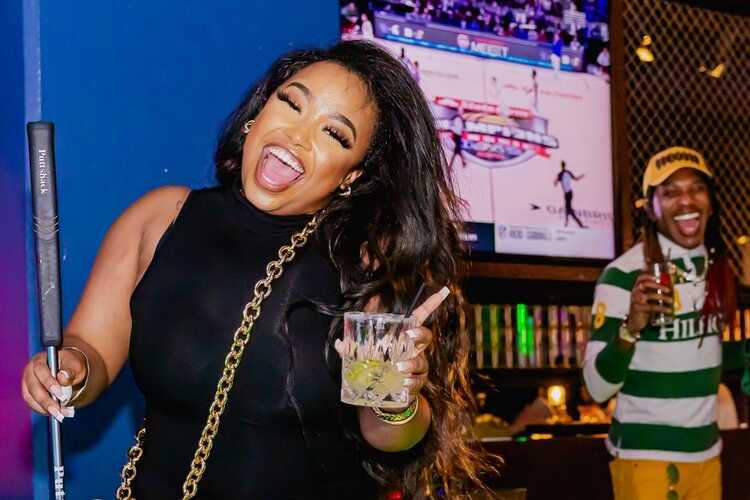 Puttshack

| Puttshack
Mocktails and mini golf sound like a great way to start the year. At the newly opened Puttshack, there are zero-proof drinks available to sip on while tapping that ball around obstacles. Opt for the Hibiscus Mock Mule made with hibiscus syrup, fresh lime, and fever-tree ginger beer or the Cotton Candy Crush prepared with cotton candy syrup, cold-pressed lime juice, and Red Bull Coconut Edition. Keep it fruity with a Passion Fruit Lemonade or a Peach Free Bellini made with Seedlip Spice 94 Non-Alcoholic Spirit, peach purée, and sparkling apple juice.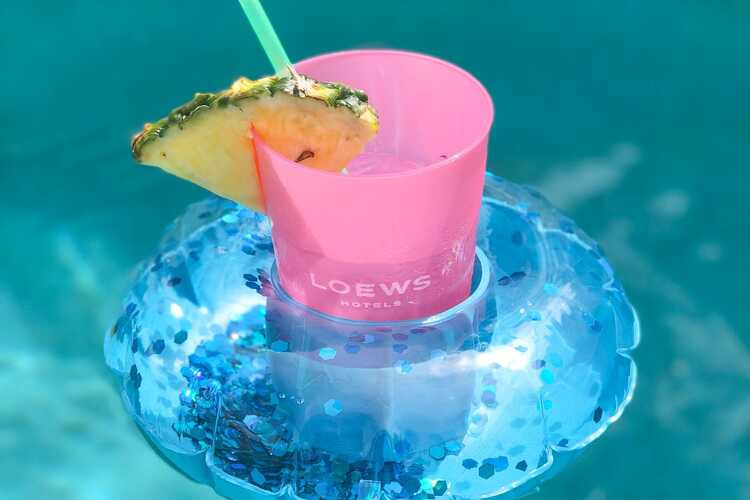 Loews Miami Beach Hotel

| Loews Miami Beach Hotel
Head to the lobby bar, Bar Collins, at the Loews Miami Beach Hotel for the Dragonrita, a guilt-free blend of pineapple juice, agave syrup, and fresh lime juice poured over frozen cubes of dragon fruit puree and garnished with a piece of dehydrated dragon fruit. It's filled with antioxidants and there's no added sugar, so your health goals stay in check with this one. If you're in the Coral Gables area, pop over to the brand new Loews Coral Gables Hotel where its Americana Kitchen & Bar is serving a Bromble mocktail made with blackberries, sage, lime cordial, lemon juice, and orgeat—think classic Bramble, sans the gin, that's packed with tons of fresh fruit and herbs and presented beautifully so that you won't even miss the alcohol.
Macchialina

| Macchialina
Sure, you usually make your way to South Beach's Macchialina to put yourself into a carb coma while enjoying the seriously geeky wine list, but those participating in Dry January can still get in on the fun with their n/a-friendly Lady Antonella cocktail made with Figlia N/A Aperitivo, spicy ginger, clover honey, lime, and sparkling water.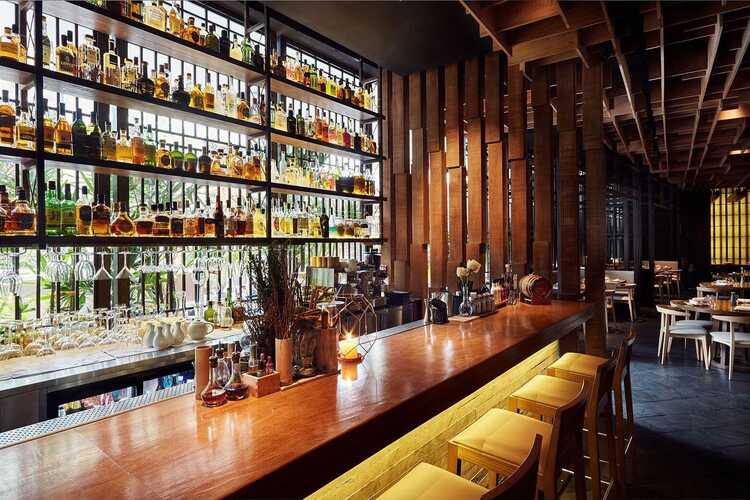 Osaka Miami

| Osaka Miami
This popular Peruvian Nikkei spot likes to make sure its mocktails have a similar texture, body, spice, and depth as a regular cocktail—sharing that "just because it's dry doesn't mean it can't be fun." The Osk Fresh mocktail is made with a tangerine rocoto cordial, rosemary, and soda and is similar to their Amai Shio. It's refreshing, spicy, and has a bright taste without the headache the next day.
Located in Mary Brickell Village, Balan's has three non-alcoholic cocktails that guests can sip while having fun with friends without feeling left out. Sit back and enjoy a lavender & lemonade made with fresh lemon, lavender bitters, and soda water or a mango spritzoda prepared with fresh mango and soda water. There's also an Espresso NOtini (okay, we know that means it's basically an iced coffee, but it's served in a martini glass and feels way fancier than your morning brew) prepared with fresh espresso and Tahitian vanilla.
The Strand Miami

| The Strand Miami
When it comes to wellness, the Carillon Miami Wellness Resort knows a thing or two. As the home to the largest spa in South Florida and a variety of programs made to help guests feel like the best version of themselves, it's no surprise that on-site restaurant The Strand would have a pretty strong mocktail menu. With six options to choose from, these mocktails range from light and refreshing to bold and bright. Opt for the Lady in Red made with ginger, grapefruit soda, red berry tea, hibiscus syrup, and lime; or the Verde made with cucumber juice, lime, and peppermint syrup.
Hakkasan Miami

| Hakkasan Miami
This sexy spot at Fontainebleau Miami Beach has an assortment of virgin drinks to choose from—including a mocktail version of its signature drink, The Hakka. You won't miss out on the delightful taste of the regular, since Virgin Hakka is basically made exactly the same as the original… Just minus the vodka. A delightful mixture of passion fruit, coconut, lime, and lychee juice, it pairs perfectly with dim sum and stir fried tiger prawns.
Known for inspired food and innovative drinks in a fun food hall setting, 1-800-Lucky is offering four different mocktails in honor of Dry January. Looking for something light? Go for the Club Passion made with passion fruit, lime juice, and club soda. Craving tiki flavors? How about the Tiki Punch made with housemade orgeat, lime juice, pineapple, and club soda. The Lychee Lemonade and Hibiscus Mule are also super popular and delicious.