There's one way Miami outshines every other city (in addition to these 22 things, obviously): it has the most attractive people. Unfortunately, you're not the only guy/girl after said attractive people, so if you want a leg up on the competition but don't have a European sports car or a vaguely European accent, you better take your dates someplace sure to inspire romance. Or at least hanky-panky. Here are the 14 best make-out spots in Miami...
On a boat
Biscayne Bay
Boats are an instant turn on. Also, you're in Miami, so you probably know someone that owns a boat... just don't let 'em near your date.
Miami Beach
This spot has been keeping things romantic since the '90s. First check out the Alice in Wonderland-like outdoor space, then head inside to get acquainted over cocktails and sick beats. One thing may lead to another, and well, you're at a hotel…
North Beach
You'll find this Fifty Shades of Grey-esque room in the back of the restaurant. Larger groups usually use it, but anyone that wants privacy can rent it out (Chris Bosh and Matt Damon swear by it). A bottle of wine and some pasta later, everyone will start puckering up.
North Beach
This day-drinking spot is all about low-key vibes but doesn't forget the romance with ultra comfy couches under palm trees and umbrellas, and a geeky beer list. Wait until they bring out the bone luge.
 
Perimeter Rd
Yeah you can go to 94th Aero Squadron restaurant to watch planes at MIA, but that would mean spending money and fewer opportunities for making out. Opt for the viewing parking lot next door instead.
Kendall
If you find yourself in this part of the county, this will be your saving grace. Make a beeline to its outside patio for wine and oysters. Fire pits set the mood.
Miami Beach
Make an entire day of it at this retro mini-paradise. Spend a whole day lounging by the pool or strolling through the gardens where you can go full on PDA, then lounge some more at the couch-lined fire pit after the sun goes down.
Miami Beach
This salon-like lounge is one of the city's craft cocktail originals. If the indoor space doesn't cut it, this "living room" extends outside -- i.e. couches under the moonlight, poolside.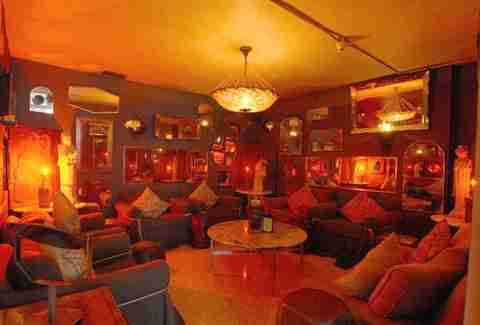 MiMo
After hitting Andiamo, Soyka, or Sushi Siam for dinner the only logical next step is a nightcap and a smooch-fest inside the VIP mirror room, where voyeurism is encouraged.
Brickell/Fort Lauderdale
One restaurant/bar offers two very different locations and experiences. Whether you prefer oversized couches overlooking the Miami River or an FSU-style frat house, it's your call. Whatever turns you on.
 
Hobie Beach
Key Biscayne
Make your way to the island and right after you cross the first bridge, turn right and park under the pines. Whether you get out of your car or not, you'll have one of the best views of the city. But then, you're not there for those types of views.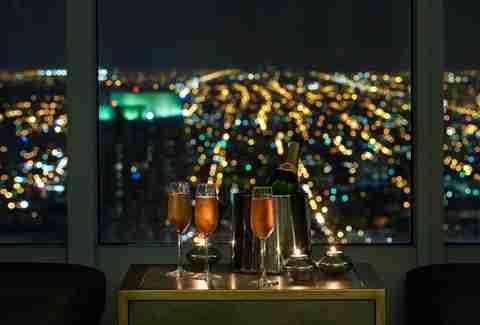 Downtown Miami
It's a long way up to the 50th floor, so get the action started in the elevator.
Miami Beach
The intimate back room is waaay better for sneaking kisses between gin cocktails and drunken rice noodles. If you're feeling shy, sneak off to the dark bathroom corridors. You'll find the Confession Wall along the way, where inspiration abounds.
 
Little Havana
Few people know that this Cuban newcomer has a huge outdoor space that connects with an art gallery. Even better, they have Biscayne Brewing Company brews and Azucar ice cream on the menu.
Sign up here for our daily Miami email and be the first to get all the food/drink/fun in town.