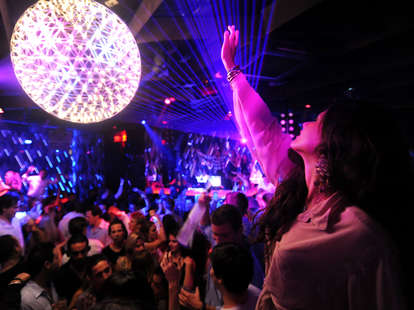 Miami is one of the world's top party destinations, and like any such city, it's filled with bars and nightspots. In fact, the 305's got so many sweet nightclubs that it's almost impossible to know which club to go to, and when, unless some sweet lifestyle site hooks you up with a list of Miami's sweetest clubs for every night of the week. Oh, wait...
Mokai Mondays
Mokai (address and info)
Mid-Beach
When: Monday
Bite Me. Spank Me. Tease Me. That's not a bad motto. And the high woman to man ratio isn't bad either, which makes it worth the effort to get past the strict doorman into the Asian-inspired space dominated by oversized leather couches.
Favela Beach
Wall Lounge (address and info)
Miami Beach
When: Tuesday
Hit it up to see the finest honeys in their LBDs dancing to Rio-inspired beats at this intimate club that feels like you've stumbled into a VIP section (it's that small). The tighter, the better, right?

Slap & Tickle
Bardot (address and info)
Midtown
When: Tuesday
Whether you're making out on the couches, playing pool in the back, or dancing to the sounds of Pirate Stereo and Santiago Caballero on The Carpet, just make sure you leave with someone up for a little... um, well, you know...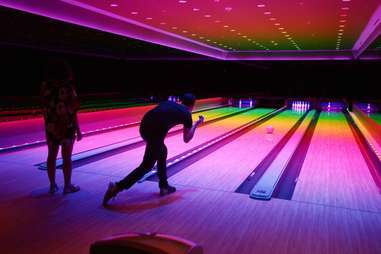 Basement on Wednesday
Basement (address and info)
Miami Beach
When: Wednesday
Miami may not be known for its basements, but this one is a decidedly cool addition decked out in Studio 54 swag. The basement features a bowling alley, a skating rink, and a nightclub that are all interconnected. Did we mention the giant disco ball hanging from the ceiling?

International Wednesdays
Mansion Nightclub (address and info)
Miami Beach
When: Wednesday
All the clubbing will most likely leave you broke, but it doesn't mean you can't "travel" with music and all the international babes that come with it. This all goes down inside Miami's most famous mansion outfitted with everything you'd need in one -- gaudy chandeliers, plush everything, two levels, and eight bars. In true Miami fashion, you can end the night at a strip club; Club Madonna is just a few blocks up the street.

My Boyfriend is Out of Town
Bâoli (address and info)
Miami Beach
When: Wednesday
Guys, feign sickness and head straight to this French-inspired restaurant cum lounge where you can also totally pretend your girlfriend is out of town. There'll be more than sparklers going off.
Rush Rush
Rec Room (address and info)
Miami Beach
When: Thursday
This intimate underground basement-like space is way cooler than That '70s Show ever was. Funk music rounds out the flashback experience. But because it's Miami, you may run into Fez from time to time.

Your Move Thursdays
Hyde Beach (address and info)
Miami Beach
When: Thursday
Miami prefers to get turnt-up on Thursdays; it's almost the weekend! Whether you're getting down to hip-hop inside or chilling outside, it's your move at this West Coast transplant.
Peachfuzz
The Garret at Grand Central (address and info)
Downtown
When: Friday
This hipster-style club within a club that's actually a converted train station promises to take you back to the days when you rocked the peach fuzz without all that awkwardness. DJ DZA provides the hip-hop beats.

Story on Fridays
STORY (address and info)
Miami Beach
When: Friday
Wild weekend ahead? This is THE place to kick it off. With a phenomenal sound system and lighting that rivals LIV's, this 27,000sqft SoFi spot brings in the world's best DJs from David Guetta to Kaskade to Cedric Gervais, and of course, Steve Aoki.
LIV on Saturdays
LIV (address and info)
Miami Beach
When: Saturday
This is the holy grail of nightclubs in Miami. If you manage to get into this two-story architectural wonder of a mega-club, you're cooler than cool. Just be prepared to drop a lot of dough while you're LIVing it up.

Space on Saturdays
Club Space (address and info)
Downtown
When: Saturday
It's time to scratch off #15 from our list of the things you need to experience before you're officially a Miamian. It doesn't even matter if you don't enjoy EDM music; it's all worth it for that rooftop sunrise view.

Recess Saturdays
Blackbird Ordinary (address and info)
Brickell
When: Saturday
Recess is a hell of a lot better as an adult. The music doesn't involve large purple dinosaurs, juice has booze in it, and no one is left out, at least not at this rare kind of place where folks from all walks of life can hang out together and party to hip-hop and reggae. Don't forget to order a couple of London Sparrows.
Chocolate Sundays
Purdy Lounge (address and info)
Miami Beach
When: Sunday
There's something to be said about a place that is still relevant a decade and half later. Drinks are cheap, old-school hip-hop blasts from the speakers, and most importantly, there's never a cover or a line.
Bonus Spot
E11EVEN (address and info)
Downtown
When: Every night of the week
This is a place where many late nights turn into early mornings and vice versa 'cause it's open 24/7. With scantily clad, flexible dancers, a daytime buffet, and a rooftop restaurant, it may be hard to leave.
Sign up here for our daily Miami email and be the first to get all the food/drink/fun in town.