Miami's 7 Hottest Pool Parties
Bikinis, booze, and bottle service. All in one place.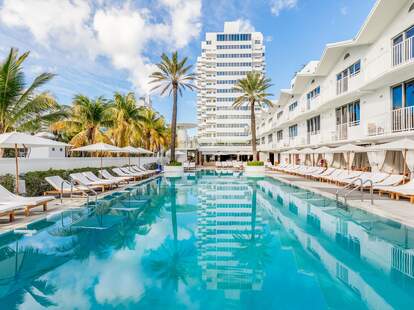 For better or for worse, Miami definitely got a head start on hot vax summer. While the rest of America was bundled up drinking patio toddies in 35-degree weather, we've been surrounded by beach parties, pool parties, and a guy dressed like The Joker screaming, "COVID is f***ing over!" since spring first sprung. As they say, if you wanted to live with an abundance of caution, you probably wouldn't live in Miami. (They say that, right?)
Of course, now that it's officially-officially summer, those breezy 79-degree days of yore have transformed into steam baths interrupted by scattered thunderstorms. And what better way to ride out those partly sunny days than immersed in a body of crystal clear chlorinated water people literally spend entire stimulus checks to wade into? From the gleaming new Goodtime Hotel to the bumping crowd at The Cleve, here are the best pool parties Miami has to offer.
The pool party at Hyde Beach offers more ways to cool off than any other splashy bash in Miami. Yes, you can take a dip in the spacious waters while downing endless pitchers of mojitos. Or just wait for one of the servers—or high-rolling guests—to spray you with a perfectly good bottle of Champagne. It's also the only pool party where you can snack on bites from Katsuya, just a smidge healthier than the usual chicken-fingers-and-fries routine. Plus there's a weekly rotation of DJs so you're never hearing the same music twice.
When to go: Thursday to Sunday, 11 am to sundown
Cost: Tables start at $500 and vary by day, section, and number of swimmers
The Goodtime hosting a fantastic pool party is about as expected as Miami attaining NBA glory back when the Heat had the big three (remember those days?). In other words, if they weren't the best, it would be a massive disappointment. But like Ray-Ray launching a Game 6 three-pointer, Pharell and company definitely do come through, delivering weekly day parties that rival any waterlogged shindig in town. LIV founder David Grutman is pulling the same class of DJ talent to Strawberry Moon, where the palm-strewn deck is a constant parade of beautiful people and big spenders. It's a scene like Miami's never seen (outside of Miami Music Week), and even during the sweltering summer it promises to keep bringing the likes of David Guetta and Marshmello to the city every weekend.
When to go: Saturdays and Sundays, noon to 5 pm
Cost: GA runs $100 for ladies, $150 for gentlemen (prices can vary depending on featured entertainment)
Those who've been around Miami for a minute may remember when Arkadia was a low-ceilinged dance club that felt a little like an upscale cruise ship disco. Since then, it's ditched the cavernous vibe and moved the fun outside, transforming itself into the hard-partying adult alternative to the sometimes family-centric Fontainebleau pool. Here you can geotag your pics with the most famous pool in Miami while sipping cold drinks and dancing to the sounds of DJ K Razor. It's cabana seating only for now, but you'll sure be thankful about that when the 4 pm thunderstorms start doing their thing.
When to go: Saturday and Sunday, noon to 6 pm
Cost: Reservations start at $1,500 per cabana (hotel guests only)
Yes, salty locals, we get it—pool parties are for tourists. Real Miamians know it's way cooler to post up at Sweet Liberty with a burger and your "Miami is the Shit, Bro" jacket. But prepare to have your mind totally freaking blown, because the Shelborne is shaking up all your favorite Sweet Liberty cocktails from behind their pool at the Sweet Beach popup bar. And on Sundays, they've also got a full barbecue menu from Michelle Bernstien, including the signature Sweet Beach burger. So even if pool parties are about as much your scene as a trip to Bayside, you can still get out and enjoy one without losing your local cred. (Though you might want to lose the jacket.)
When to go: Sundays starting at noon
Cost: No cover; menu prices vary
Directly under the giant guitar you'll find some of South Florida's most insane pool parties (at least among those that don't involve finding parking in South Beach). The Hard Rock Hotel and Casino's Vegas-style dayclub draws some of the biggest DJs in the world to its Broward County bacchanals, kicking off the summer with the likes of Kaskade and Cheat Codes. They'll be performing in front of Daer's 40-foot LED screens spread across 21,000+ square feet of deck and dipping pools. There are, of course, no shortage of VIP cabanas there too, if you want to enjoy the show and not have to, ya' know, mingle.
When to go: Some Fridays; every Saturday and Sunday noon to close
Cost: Admission prices vary
Despite the glut of upscale pool parties with gourmet chefs and high-thread-count cabanas, sometimes you just wanna kick back with a Miami Vice and some second-hand weed smoke. And for that experience, no party will ever top the venerable Clevelander, who's been throwing chlorinated ragers since South Beach was a retirement playground. They still know how to put on a solid daytime bash, though, with great food, an unpretentious crowd, and a frozen drink machine so the bartender can never tell you "sorry, the blender's broken." And if poolside beer pong is your jam, the Cleve has you covered there, too. Don't expect anything upscale, but do expect a great time.
When to go: Saturday and Sunday
Cost: No cover; menu prices vary
Please hold your "Hey, Thrillist, this isn't a list of best pool parties for Fifth graders" comments until you've spent a sunny Sunday drifting down the lazy river at Tidal Cove. No, they don't have David Guetta on the ones and twos. No, you won't be rubbing elbows with TikTok's biggest stars. But for a lot of folks, careening down a 60-foot waterslide and riding the tide in the wavepool is exponentially more fun—especially when you can still cap off each dip with cold beer or craft cocktail. It's like a grade school field trip meets a South Beach pool party, and if you were planning to drop a hundred bucks at a Miami swimming pool anyway, this is way better value.
When to go: Open daily
Cost: Admission starts at $65 per person