For some reason -- likely the high saturation of Kardashian-based reality shows -- people come to Miami and expect to walk right into a pool party jam packed with models and C-list celebrities. On a Wednesday. And sure, sometimes weekdays here can be crazier than New Year's Eve in most of the world, but our best parties are found on the weekends. Though the beach steals some of the crowd and keeps our pools from turning into Vegas-sized ragers, they're still shindigs that make your friends in other cities insanely jealous. And whether it's Champagne-spraying or cocktail-sipping, here are the best pool parties in Miami.
When to go: All day, every day. But especially on the weekends.
Unlike actual Clevelanders -- who have been known to uppercut you -- The Clevelander Hotel actually UNDERcuts other pool parties in SoBe by charging a reasonable sub-$10 for a beer, which makes for an open, relaxed scene where you might see Italians who just valeted their Bugatti next to, well, people from Cleveland.
When to go: Saturdays and Sundays, noon to dusk
The closest Miami gets to an all-out, Vegas-style mega pool party is here. The water is filled with giant floating toys, scantily-clad people, and probably 9% Champagne by the end of the day. The same people who pack the clubs at night spend their afternoons here, sipping on bottles from day beds and wading into the water to cool off. Every hour or so, girls parade out to the pool deck and douse the crowd with Champagne, so you don't even need to buy a bottle to feel like you're rich enough to waste perfectly good bubbly. Saturdays are EDM and Sundays are hip-hop, but both parties are absolute must-hits.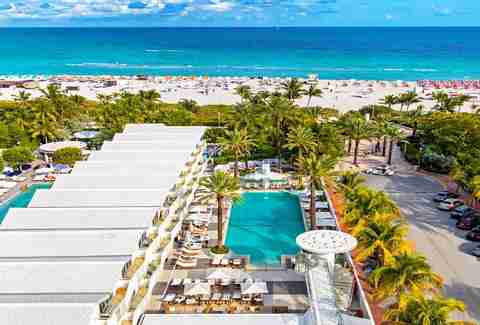 When to go: First Saturday of every month
While the latest rendition of the Shelborne Hotel isn't throwing the models-and-bottles pool parties of yesteryear, much like Toby Keith, it's still as good as it once was. This monthly poolside barbecue series will take on a different style of grilling every month, pair it with beers and cocktails, and combine it all with the wild partying the Shelborne pool deck is known for. Some months you might find Coronas and fajitas, other times jerk chicken and Red Stripes, other times Texas brisket and whiskey. But whichever party you hit, it's guaranteed to be a new experience every time.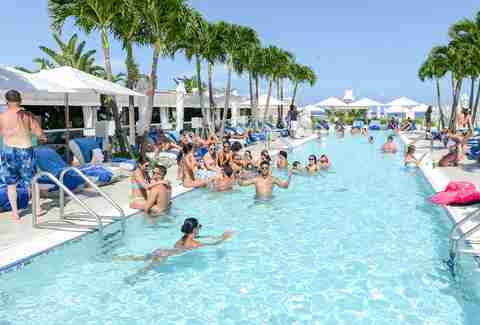 When to go: Sundays 1-7pm
When you're throwing a party at one of the world's best hotel pools, you could probably have a washed up magician perform and liters of flat Mountain Dew and still have a great party. But The 1 keeps with its wellness theme perfectly at its weekly Healthy party, where cocktails are made with fresh juices, and the menu is long on South Beach spa cuisine. And, yes, drinking and sunning isn't exactly first on anyone's list of healthy behaviors, but with the fresh ocean air, the sun's vitamin D, and some of the best looking scenery (both human and natural) in the world, it sure feels like it.
When to go: Saturdays, 12-6pm
Any time you can get Richard Hales and Dale Talde to cook for you, that's a big win. Do it next to a pool with free-flowing drinks and a sexy South Beach crowd and you've got the best food-driven pool party in the city. The two chefs who helm Bird & Bone and Talde, respectively, bring their grilling talents out back with pulled pork sandwiches, grilled shrimp and wings, and allow weekend revelers to enjoy their creations without having to put clothes on. The food alone draws a crowd you're surprised ever eats, but devour they do. And join them you will.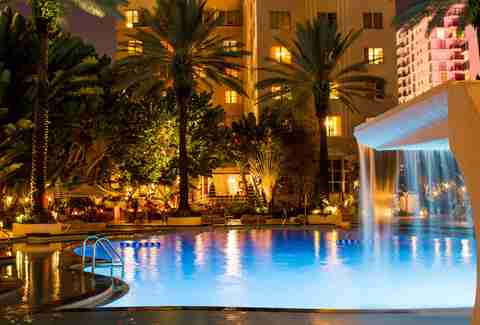 When to go: Saturdays, 12:30-5:30pm
No, it's not a bass-pounding, beat-dropping, Champagne-spraying, LMFAO video of a pool party. But you know what? Sometimes you just want a pool party where you can relax and enjoy the scenery. And at the lush, art-deco Raleigh pool -- perhaps the most recognizable pool in South Beach -- you'll get it. The vibe here is more fine cocktails by the pool, with relaxing chillout music and a beautiful crowd enjoying the sunshine. So for the most relaxing and sophisticated pool party in Miami, Saturdays here are the move.
When to go: Bi-monthly, wherever they pop up
The same guys who used to own Sundays at the Shore Club have taken their show on the road, and every other month they pop up at a different hotel with the same brand of wild and unhinged pool partying. Whether it's at the Raleigh, the Mondrian, or any other fancy hotel pool, the Reload team brings in legit DJ talent and a team of promoters who know exactly who to invite. Though the parties aren't frequent, they're a fun throwback to the heyday of the Miami pool party lifestyle. If you happen see one of these is happening, make it your weekend plan.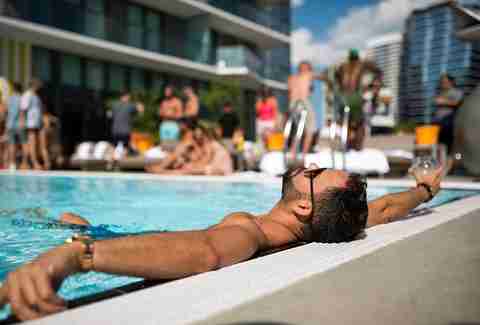 When to go: Sundays, 12-6pm
Mainland Miami continues to say "We don't need you, Beach!" and has brought the SLS-level pool insanity to Brickell with the Meet Me Upstairs party every Sunday. The swank Altitude Pool Deck, with its middle-of-the-skyline views out over the Financial District are reminiscent of rooftop pool parties one might find in Hong Kong or Shanghai, complete with plenty of beautiful people... many in heels. There's poolside food available as well as copious amounts of drinks. But afternoons here are best capped off downstairs at Fi'lia or Bazaar Mar.
When to go: Sundays, 12pm to sundown
Much like the Miami condo market, the pool party at the Mondrian goes in cycles. A few years ago, it was the spot. Then for a while, it was simply a pool that happened to be there on Sundays. But since the Menin people took over (you may know them from Bodega, Pizza, Bar, Radio, and other places you go to escape tourists) the party is back among the city's best. Start with sweeping views of Biscayne Bay and the Miami Skyline, throw in some renovated cabanas and bikini-clad servers, and you've got the recipe for the best Sunday soiree on West Avenue. Veuve stops by from time to time to sample Champagne for the guests, and with a brand-new cocktail list, this is absolutely a party you should check out while you still can.
When to go: Sundays, 12pm to dusk
The Standard doesn't really have an organized "pool party" per se. Or promoters who bring in trendy crowds, or crazy food or drinks. It doesn't need it. Even beach-weary mainlanders and salty beach locals admit a Sunday here is one of the best things you can do in Miami, where the view out over Biscayne Bay seems endless, as do the fruity cocktails you can sip by the pool. The crowd is more laid-back here than at bigger parties; it's more people who want to be by the water and enjoy a drink than people who want to be seen. But make sure to get there early, because when a place is popular with both locals and tourists, a deck chain can be hard to come by.
Sign up here for our daily Miami email and be the first to get all the food/drink/fun in town.