For some reason -- likely the high saturation of Kardashian-based (or non-Kardashian-based) reality shows -- people come to Miami and expect to walk right into a pool party jam packed with models and C-list celebrities. On a Wednesday.
And sure, sometimes weekdays here can be crazier than New Year's Eve in most of the world, but our best parties are found on the weekends. Though the beach steals some of the crowd and keeps our pools from turning into Vegas-sized ragers, they're still shindigs that make your friends in other cities insanely jealous. And whether it's champagne-spraying or cocktail-sipping, here are the best pool parties in Miami.
When to go: All day, every day. But especially on the weekends.
Unlike actual Clevelanders -- who have been known to uppercut you -- The Clevelander Hotel actually UNDERcuts other pool parties in SoBe by charging a reasonable sub-$10 for a beer, which makes for an open, relaxed scene where you might see Italians who just valeted their Bugatti next to, well, people from Cleveland.
When to go: Saturdays and Sundays, noon to dusk
The closest Miami gets to an all-out, Vegas-style mega pool party is here. The water is filled with giant floating toys, scantily-clad people, and probably 9% champagne by the end of the day. The same people who pack the clubs at night spend their afternoons here, sipping on bottles from day beds and wading into the water to cool off. Every hour or so, girls parade out to the pool deck and douse the crowd with champagne, so you don't even need to buy a bottle to feel like you're rich enough to waste perfectly good bubbly. Saturdays are EDM and Sundays are hip-hop, but both parties are absolute must-hits.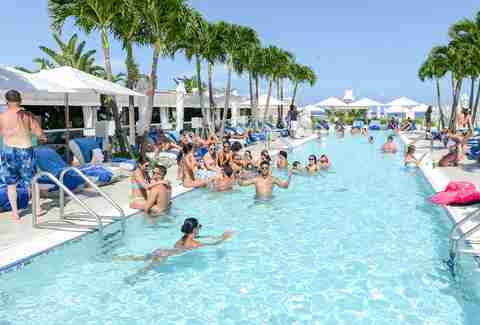 When to go: Saturdays and Sundays
When you're throwing a party at one of the world's best hotel pools, you could probably have a washed up magician perform and liters of flat Mountain Dew and still have a great party. But The 1 keeps with its wellness theme perfectly at its weekly Healthy party, where cocktails are made with fresh juices, and the menu is long on South Beach spa cuisine. And, yes, drinking and sunning isn't exactly first on anyone's list of healthy behaviors, but with the fresh ocean air, the sun's vitamin D, and some of the best looking scenery (both human and natural) in the world, it sure feels like it.
When to go: Saturday and Sunday
Did you pretty much come to Miami just to post a picture of yourself on a giant floating unicorn with a popsicle in your hand? Well, you've got a pal at the Confidante and its floatie-on-demand menu, where -- as the name might imply -- you can demand said giant floating unicorn and have it delivered poolside. To cool off, you can also get an artisan popsicle from Cielito, then pick a specially paired cocktail to go with it and complete the look.
When to go: Saturday and Sunday, 12pm-7pm
Much like the Miami condo market, the pool party at the Mondrian goes in cycles. A few years ago, it was the spot. Then, for a while, it was simply a pool that happened to be there on Sundays. Now the weekend party is back in full force with the Sundance Series where they're serving craft cocktails and bites from the Mondrian café with generous views of the Miami skyline over Biscayne Bay. And if that water is just a little too inviting, Mondrian has jet skis, kayaks, and paddleboards you can rent to escape the madness.
When to go: Sundays, noon to 6pm
For years, the fabulous bayside pool at the Standard didn't have a defined "pool party," since pretty much any local who wanted to enjoy some poolside fun sans throngs of tourists ended up there. Now it's enticing visitors to stop by on Sundays with a Lazy Sunday Barbecue, where guests will bask in the sunshine with smells of suntan lotion and grilling meat. While savoring a burger and beer while looking at people who've never touched either.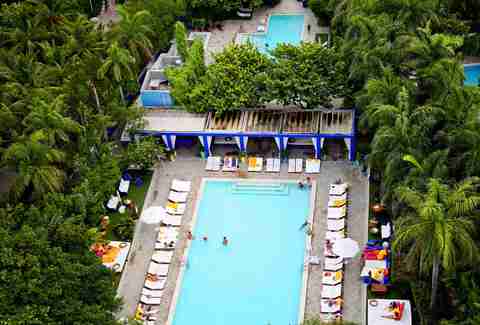 When to go: Sundays
Shore Thing Sundays are back in full effect at the Shore Club, where revelers sun themselves by one of two infinity pools while a DJ spins in between. The action gets going at 1pm and continues until the sun goes down, complete with the requisite daybeds and poolside drinks that make a Miami pool party. If shade is more your thing, opt for brunch at Shore Club's pool-facing Mexican restaurant Diez y Seis, taking in the pool party sights while sampling stuff from their mezcal cart.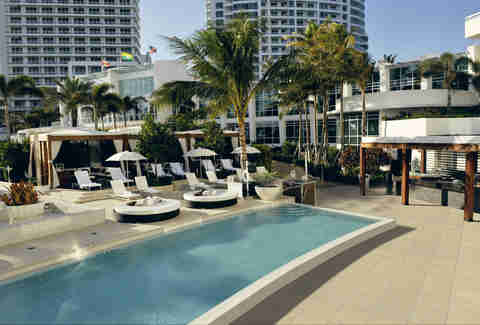 When to go: Friday-Sunday, Noon to 7pm
The exclusive, beautiful people party experience at the Fontainebleau isn't limited to nights at LIV. Now you can party with that same crowd to the sounds of resident DJ K Razor at the Arkadia Day Club. Not to be confused with the old basement club that felt a little like partying on a cruise ship, this day club is open to hotel guests and anyone willing to shell out for a daybed or cabana, the latter of which includes flat-screen TVs, high-speed internet, and personal butler service.
When to go: Sunday, 2-7pm
Save for maybe the day before a hurricane, or during a freak mosquito invasion, there's never really a bad time to visit the pool outside Broken Shaker at the Freehand. But Sundays are especially inviting, where Broken Shaker has combined its usual array of world-class cocktails combined with a weekly barbecue, often curated by some of the top chefs in Miami.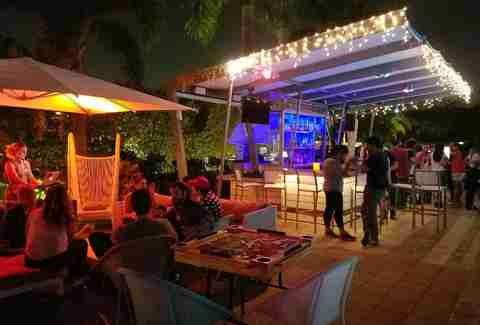 When to go: Saturdays, 7-11pm
MiMo is really best viewed at night, when the classic neon signs burn bright and the traffic on Biscayne Boulevard has died down. That's why the retro-chic Vagabond hosts its weekly poolside soiree around sunset, where you can lounge by the vintage pool at sunset during Chill Out Saturdays with a live DJ and cold drinks.  perfect spot to pregame before heading to your big Saturday night.
When to go: Saturdays, 2-7pm
If you're the kind of local who goes to pool parties about as much as they go to Ocean Drive, saying stuff like "Why would I spend my Saturday fighting tourists to spend $21 on a rum and Coke?" Well, you're right. But the Novotel's Sunset Sessions might be your excuses to get back on the pool party scene, where the mostly-locals' crowd is complemented by stunning views of Biscayne Bay and deep, deep discounts on drinks.
Sign up here for our daily Miami email and be the first to get all the food/drink/fun in town.