When you live in everyone else's vacation spot, sometimes you just want... err, need to get out of town. Don't worry: when that time comes, we've already picked out eight getaways for you, all of which are a reasonable drive away and, surprisingly, none of which are theme parks. You're welcome...
St. Augustine, FL
Distance from Miami: 312.6 miles, four-hour-and-30-minute drive
Why it made our list: It's the country's oldest settlement, so history. Take a trip back in time by visiting the Castillo San Marcos or simply walking along the cobblestone streets where folks dress up in old-timey wear.
Pro tip: There's a burgeoning craft cocktail scene at spots like Dos Gatos and Mojo BBQ Old City. The big daddy, though, is Ice Plant Distillery and Bar. A converted ice plant, it is now a distillery making small batch whiskey, rum, gin, and vodka.
Key West, FL
Distance from Miami: 164.6, three-hour-and-20-minute drive
Why it made our list: No Florida road trip list would be complete without experiencing the scenic 127-mile Overseas Highway with the Atlantic Ocean to the left and the Gulf of Mexico to the right, and the epic Seven Mile Bridge. Along the way to mile marker zero, make stops at spots like the Postcard Inn for stand-up paddleboarding, Lorelei Cabana Bar & Restaurant or Lazy Days Restaurant for some killer lunch, and The Rain Barrel Artisan Village to take selfies with Betsy, the large spiny lobster statue.
Pro tip: While it may be hotter, visit during the summer months when prices are considerably cheaper and there are fewer crowds.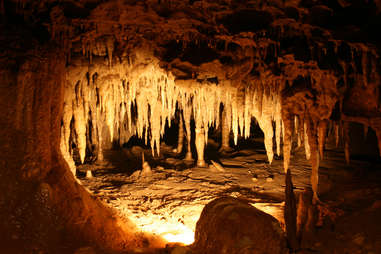 Marianna, FL
Distance from Miami: 544.1 miles, seven-hour-and-40-minute drive
Why it made our list: We're going to venture that you've never heard of Marianna, it's cool. You're coming here specifically to take advantage of the Florida Caverns State Park, a dry cave system including interesting science things like stalactites, stalagmites, and flowstones. Golf lovers will be happy to know that there is a decent nine-hole, New Deal-era golf course in the park, as well.
Pro tip: Located in the Panhandle (which many call the true Florida), Marianna is near tons of other little towns with a dose of Southern charm. One, called Two Egg, features its own version of Bigfoot called the Stump Jumper, and less than two hours south is Apalachicola, home to delicious oysters, Tupelo honey, Mayhaw jelly, and shrimp & grits.
Delray Beach, FL
Distance from Miami: 53.3 miles, 50-minute drive
Why it made our list: This small town is experiencing a revival. Once only reserved for the octogenarian crowd, it's quickly becoming South Florida's favorite go-to with a growing art scene and sweet food and drink options. Not to mention, it's got some pretty sweet beaches.
Pro tip: Plan your mini-weekend trip around one of its many festivals to get the full Delray experience.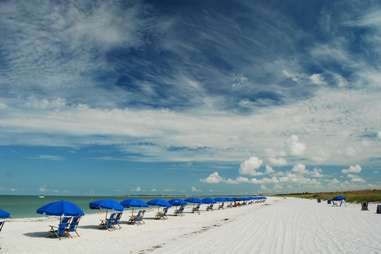 Caladesi Island, FL
Distance from Miami: 290.8 miles, four-hour-and-30-minute drive
Why it made our list: Only accessible by ferry or private boat, this state park features three miles of pristine beaches, giving you that far-away island experience without leaving the state.
Pro tip: The Island is open limited hours and varies by season. The ferry to get on the island costs $14.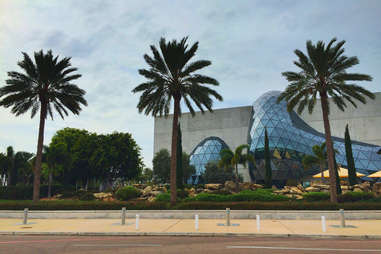 St. Petersburg, FL
Distance from Miami: 266.7 miles, three-hour-and-50-minute drive
Why it made our list: This city is like the cool, younger sibling to Tampa with a popping art scene including the Dali Art Museum, Chihuly Collection, and the Museum of Fine Arts. It's even got its own Second Saturday Art Walk along Central Ave that feels like a kind of eclectic fair.
Pro tip: If you have a bit of extra time, go on the St. Pete/Clearwater Craft Beer Trail, which includes top breweries like 7venth Sun Brewery, Cycle Brewing, Dunedin Brewery, Green Bench Brewing Co., and Rapp Brewing Company. It's like our own version of wine country, except with beer.
Sanibel & Captiva Islands, FL
Distance from Miami: 163 miles, two-hour-and-30-minute drive
Why it made our list: Getting there is half the fun, as you'll need to traverse Tamiami Trail, flanked by the vast Everglades on either side. Once there, get ready for the ultimate in laid-back living, as these preserved islands are as small a town as you can get with few chain restaurants and even fewer traffic lights.
Pro tip: The one-of-a-kind Nature Trail at the J.N. "Ding" Darling National Wildlife Refuge lets you scan smart-phone codes to learn more info while on your hike.
Everglades National Park, FL
Distance from Miami: 42.4 miles, 50-minute drive
Why it made our list: Miamians don't take advantage of the Everglades as much as they should. This is a reminder that they exist and you should visit from time to time. There are many ways to enjoy the park -- hikes, bike rides, canoes, airboats, or the tram... just expect to bump into an alligator or two.
Pro tip: Stop into Robert Is Here for one of its addictive fruit shakes and to stock up on other South Florida goodies.
Sign up here for our daily Miami email and be the first to get all the food/drink/fun in town.