Sure, we know you're just going to enjoy some scrumptious, juicy strip club food (riiiight), but we still feel like it's our responsibility to bring you up-to-date on Miami's ever-changing gentlemen's club scene. So brand-new for 2015, here's an in-depth look at Miami's top clubs, including what to expect when you go and when to get the best deals...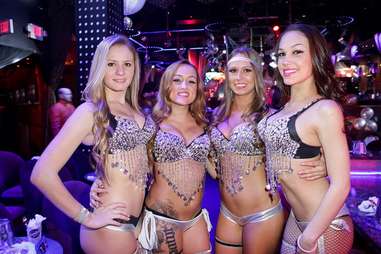 Hallandale
What to expect: Everything you'd see in a normal club -- LED lights, smoke, lasers, strobe lights, Richard Sherman-looking robots, girls trying to get free drinks -- but with strippers. Like fully nude, dancing on a pole strippers. And they're the hottest ones you'll see fully nude in South Florida.
What it's known for: Being one of the 21 best strip clubs in America. And THE late-night spot in Broward, which means when the guys (and girls) get done on Las Olas, this is where they head. So expect hot girls on stage and off. And some pretty impressive food.
Best deal: Get some of that delicious food FOR FREE Monday-Friday from noon-8pm when you buy a drink.
Miami Gardens
What to expect: Tootsie's used to be a BJ's (See? You CAN use both those words in a sentence without implying something illegal!), so expect abut 65,000sqft of poles, TVs, stages, and Vegas-like facades. The dancers are very much quantity over quality, even if there are 150 of them working at the time. Pro tip: The VIP lounge is where to find the girls actually worth the money.
What it's known for: The 3,001 big screen TV's that make this a great place to "watch the game." And actually be watching the game.
Best deal: Every day from noon-8pm you can catch all these lovelies for free, and swig half-price drinks until you don't notice the cellulite.
Downtown
What to expect: E11even isn't so much a traditional "pay a small amount of money to see things you usually need to pay a lot more to see" strip club insomuch as it's a regular club that happens to have strippers. So expect big music, big lights, big DJs, and big… well, yeah those too. But lap dances are all in private rooms, so pack your wallet, and don't go before 2am.
What it's known for: The large volume of female clientele. There will be more women at the stage tucking dollar bills than men. But it's also only topless.
Best deal: The Friday happy hour buffet. The food's free and drinks are half price -- aka: prices you'd expect somewhere other than a strip club.
MiMo
What to expect: All the extraordinary "you can't afford this" opulance of a South Beach "UltraLounge." The cover will be at least $30 if you show a local ID, considerably more if you don't, and the girls don't come cheap either. Lap dances are only in private rooms, and even though they may have the hottest strippers in Miami, they're only topless until you get back there. The food, however, costs less and is almost as tasty.
What it's known for: Getting raided. Apparently somebody missed their November bribe payment and somehow it became the ONE strip club in Miami to get busted for drugs and prostitution. Also, for girls not asking you to tip them for their dance.
Best deal: Mondays from 6-10pm when drinks are 2-for-1 and dinner is free!

Miami Gardens
What to expect: Really all you need to know is that T.I. had his getting-out-of-jail party here. And in case you missed the references to KOD in pretty much every rap song about strippers made since 2005, this is THE premiere hip-hop club in the country. Even if strippers aren't your thing (how'd you make it this far in the article?) they've got a barber shop, full basketball court, and ladies' fight night on Monday.
What they're known for: Making it rain like nowhere else. This is what happens when your best customers are rap stars and pro athletes. The pole tricks the dancers come up with, though, are definitely worthy of the Washington Showers.
Best deal: $50 bottles of Johnnie Walker Black on Tuesdays.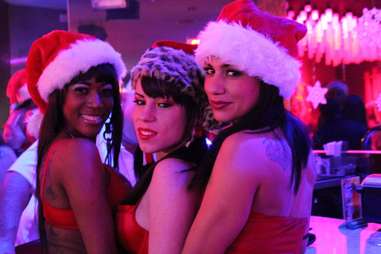 Coral Gables
What to expect: People who remember UM football being relevant may remember this as The Alley Cat. The place is an oddball mix of UM frat bros and Miami bros who come over from the Western part of the city. The dancers, however, are as Miami as you can get with large backsides and limited English. And 305 tattoos. Lots and lots of 305 tattoos.
What they're known for: Being the UM strip club of choice. And the reasonably priced extras. That means exactly what you think it does.
Best deal: Free entry from 3-8pm. To the club.
Opa-Locka
What to expect: Before KOD exploded, this was THE club of choice among pro athletes and rappers. There's a metal detecting wand when you walk in, so make sure you've got that "emergency" Swiss Army Knife out of your pocket before you go in. Once you get in your options are playing pool or watching girls sorta-kinda strip on a stage behind the bar.
What it's known for:The BBQ rib sandwich, which you can have delivered to you mid-lap dance from the barbecue joint next door. The sandwich alone is worth the trip to Opa-Locka
Best deal: That sandwich. It's about $8.50 and delivered to your seat. Tip, much like for the dances, is not included.
Hallandale Beach
What to expect: Even though they re-did the joint a couple years ago, Cheetah is still kinda like the JV team for Scarlett's. It's a big, clean, flashy club, but the dancers will tend to be those who are either not hot enough or too old for the place down the block.
What it's known for: Its catchy radio ads (Chee-tahhhhhhhhh). But also a much cleaner place to watch a game than Tootsie's, thanks to ample TVs and (typically) good game day drink specials.
Best deal: Free lunch, everyday from 11am-3pm. Who says there's no such thing? The girl asking you to tip her for the dance, that's who.

South Beach
What to expect: A nonstop parade of girls with possibly fake (okay, definitely fake) Eastern European accents. They all seem like it's their first day working as a stripper and get extremely rude and demanding if you say you don't want a dance. And they don't even serve you alcohol to help deal with it.
What it's known for: Being the only strip club in South Beach. And employing a 13-year-old.
Best deal: The 2-for-1 admission tickets you can print off their website.
Sign up here for our daily Miami email and be the first to get all the food/drink/fun in town.