You know it's Spring in Miami when you start getting text messages from your third cousin in Cincinnati who you haven't seen since he was four, asking how far you live from the Palm Beach Airport, because A) dude lives in Cincinnati, and B) the 305 is home to some seriously sweet Springtime events. To make sure you make the most of the season in Miami, here are 12 things you must do, from getting sprung on brand-new beers, to dinner that's literally in paradise.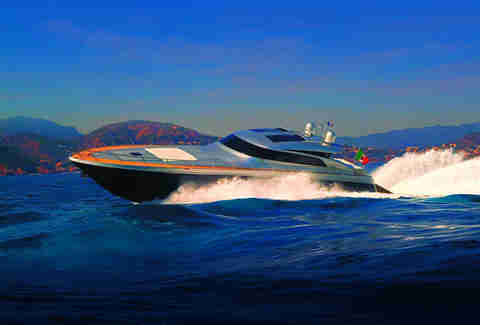 What: Miami International Boat  Show
When: February 13th-17th
Where: Miami Beach Convention Center
Shop for your newest yacht... what, you can't afford a yacht? Ok, well, then watch really, really rich dudes (and the women who "love" them) shop for THEIR newest yachts while you check out the latest floating toys/gadgets.
What: Coconut Grove Arts Festival
When: February 15th-17th
Where: Coconut Grove
Back when graffiti wasn't, like, completely legal apparently, Coconut Grove was the place to be for Miami art, and it still is this weekend, thanks to over 400 artists, plus three days of live music, eats at the Global Food Village, and live cooking demos from the likes of Giorgio Rapicavoli, Douglas Rodriguez, and other local big-shots.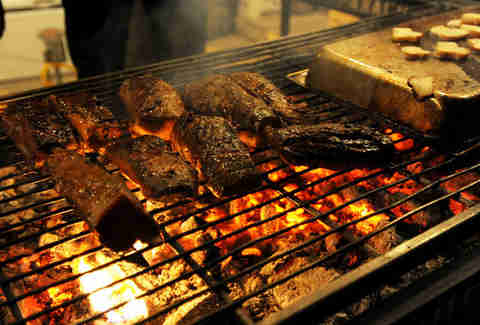 What: South Beach Wine and Food Festival
When: February 20th-23rd
Where: South Beach
For at least one weekend, South Beach'll stop smelling like the worst parts of last night, and start smelling like freshly grilled meats from some of the world's best chefs, who're lining the sand for sweet eats events like the The Q, The Burger Bash, and oh yeah, Thrillist's BBQ and The Blues.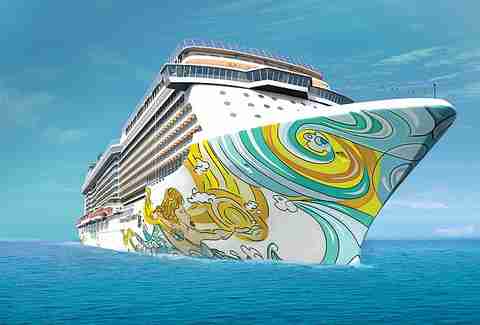 What: Norwegian Getaway Launch
When: Ongoing -- first voyage February 8th
Where: Norwegian Getaway Miami Port
Week-long trips from Miami to the US Virgin Islands on this 18-deck behemoth begin February 8th with onboard stuff like a water park, an ice bar, rappelling walls, driving ranges, Flywheel, a dozen restaurants including a Churrascaria, and nightly performances of…readyforthis….LEGALLY BLONDE: THE MUSICAL.
What: Sprung Beer Festival
When: March 8th
Where: Peacock Park
The guys behind Grovetoberfest were throwing back beers, and pondered why they didn't host more beer festivals, especially ones that involve beer pong, corn hole, and human bowling. Then they drank more beer. And from that sprang Sprung, the Grove's spring beer fest packing 200 craft brews, all those aforementioned games, and -- to go beyond the standard (but fantastic!) little glasses of suds -- tents housing nothing but innovative and delicious beer-based cocktails.
What: Calle Ocho
When: March 9th
Where: Little Havana
The crowning event of Carnaval Miami makes NYC's Puerto Rican Day Parade look like a family pig roast, and packs the streets of Little Havana for a day-long celebration of all things Latin American, including live music, street-side bars slinging mojitos, and more arepas than you can shake a stick-with-meat-of-indeterminate-origin-on-it at.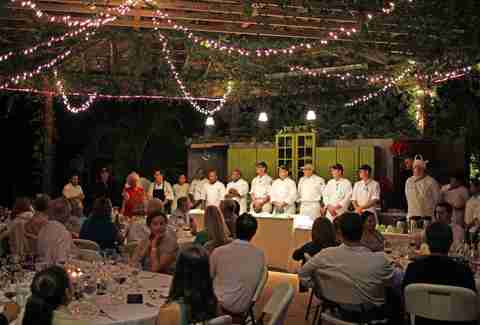 What: Dinner in Paradise
When: March 15th, March 23rd, April 6th, April 13th, April 27th
Where: Paradise Farms
If you haven't taken the trip down to Homestead for the Dinner in Paradise series -- where you watch your dinner get picked from this wholly-organic farm, then sit under a gazebo as three of Miami's top chefs prepare it  --  then make sure it happens this Spring, 'cause Paradise Farms' Gabriele Marewski is selling the farm, so this famed eats events may have bought the... uh, farm.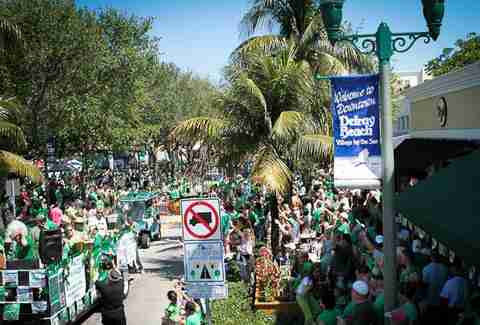 What: Delray Beach St. Patrick's Day Parade
When: March 15th
Where: Delray Beach
The only actual Irish in Miami might actually be the bartenders at Playwright (and we're still not COMPLETELY sold on those accents), so for a real good ol' green beer-soaked St. Paddy's Day parade you're gonna have to cross the border to PBC and The Best Small Town in America, where all of South Florida crowds Atlantic Ave and sets up day-long parties on adjacent streets.
What: Winter Music Conference
When: March 21st-30th
Where: Miami Beach
For once you don't gotta go to places that have $2,500 table minimums/are full of 14yr-olds to see the world's biggest DJs, 'cause WMC means at least one of 'em will be playing, like, everywhere you go. Ok, maybe not everywhere, but don't be surprised when you hit 7-Eleven for a Big Gulp and Tiesto's playing a three-hour set next to the Slim Jims.
What: Ultra Music Festival
When: March 28th-30th
Where: Bayfront Park
Sure, traffic downtown comes to an absolute standstill and you can hear thumping bass all the way to your aunt's house in Kendall, but on the upside, you get these girls, plus every DJ who's ever figured out how to use a USB stick converging on Bayfront Park to spin for hundreds of thousands of people who seem to get really, really excited about drinking water. 
What: Miami Marlins Opening Day
When: March 31st
Where: Marlins Park
In most Major League Baseball markets, Opening Day is known as the dawning of an exciting new season. In Miami, it's known as the one game a year where you won't get an entire section to yourself. Be part of what's probably the largest crowd the Fish get all season when they take on the Colorado Rockies at 7:05pm in that big, spaceship-looking building where the Orange Bowl used to be.
What: Miami Beac h Polo World Cup
When: April 25th-28th
Where: Polo Life
South Beach's fine, upstanding working girls don't have to get hired by Richard Gere to attend the world's most prestigious beach polo tournament. All they (and, we guess, you too) have to do is wander over from the lobby of the Delano to the sand and try to find a spot next to your cousin, who... *sigh* probably won't get off your couch 'til Memorial Day now.