Yip's Filbert Ip's Guide To Celebrating Lunar New Year in Miami
Here's the lowdown on what to do and where to eat.
Juan Allen

| Juan Allen
Juan Allen

| Juan Allen
Ciudad Ojeda, Venezuela isn't particularly noted for its large Chinese immigrant community. So, when Filbert Ip, founder of Yip and Gold Marquess, celebrated Lunar New Year as a boy growing up there, he didn't have much of anywhere to go.
"It was an unusual place to be," says Ip, whose father immigrated to Venezuela from Hong Kong in the early 1970s. "The community was so small, we'd only do Chinese New Year at home."
Home, he says, is where most Chinese culture and food lived in Ciudad Ojeda, despite his father running a large Chinese restaurant in town. Because the family had so few other people to celebrate with on the Lunar New Year, they instead threw their New Year's party at their restaurant, King House, on December 31. "We'd close the restaurant early on the 31st, invite the whole staff, then have fireworks at midnight," he says. "I still remember the red envelopes my father would give to all his staff, family, and friends. It's a tradition of giving a fortune, whether it was five, 10, or 100, it was just a lucky fortune."
His family moved to Miramar in 2002, and Ip later attended Florida State University, majoring in chemical engineering. After graduation, he took a job with Dow Chemical in San Francisco, where he worked for five years before the pull of the family business drew him back in.
"The corporate life, the nine to five, it just wasn't for me," says the man who grew up working all his days off in the family restaurant. "Part of the Chinese tradition is to look after your elders. I felt it was my responsibility as the oldest of three siblings to take over what my dad would have passed down to me, which was the restaurant business."
So, he returned to South Florida, and in 2015 opened Gold Marquess in Pembroke Pines. He later opened a second location in Wynwood at 1-800 Lucky, alongside his hit dumpling offshoot Yip. They're family-run affairs, managed almost entirely by Yip, his parents, and soon his brother who graduates from FSU later this year.
Though his uncle still runs King House back in Ciudad Ojeda, Ip keeps the red envelope tradition alive in South Florida. He will be distributing them to his staff at both Yip and Gold Marquess on January 22 for their annual Chinese New Year parties to honor the upcoming year of the rabbit. And while the celebration at 1-800 Lucky will be one of the largest in South Florida, if you can't make it to Wynwood, Ip suggested some other great ways to enjoy the holiday's most authentic foods. "Chinese people usually eat longevity noodles at New Years to symbolize long life," he says. "Dumplings, we always eat those. Lotus roots, steamed fish, and suckling pig, that's a big one as well."
If you don't happen to have longevity noodles and suckling pigs sitting around your kitchen, Ip suggests visiting one of several Asian markets around South Florida. "Food Town Supermarket in Broward, they have everything from fresh fish to steam-at-home dumplings," he says. "Beijing Mart in North Miami Beach too. Chung Hing Oriental Mart, we get some of our vegetables and noodles from there as well."
For its part, Yip will also be selling frozen dumplings, complete with steam-at-home baskets that include liners and instructions for cooking. Though if you're looking to dine out, Ip suggests some other fantastic authentic spots he and his family have frequented for years.
King Palace Chinese BBQ
North Miami Beach
"When we used to live in Venezuela, we would come to this place every time we visited," says Ip. "As the name entails, their specialty is barbecue. I like the barbecue pork with wonton noodles, or the wonton noodle soup. For traditional food like noodles, that's one of my favorites."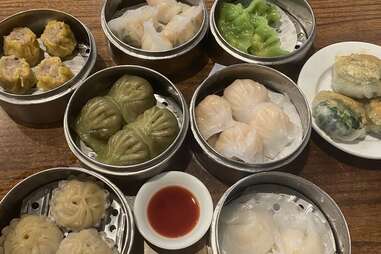 Westchester
Conveniently located across the street from a cannabis dispensary, this strip mall gem has grown into a staple among Miami's Chinese-American community due in large part to its extensive dim sum selection. "I used to always go to Kon Chau when I was in Miami," says Ip. "They're known for dim sum, I think they still have the pushcarts too—it's definitely a go-to for dim-sum and dumplings."
Davie
"We go about once a month or so to Lemongrass," says Ip. "Usually, I get the noodles there, but my favorites are the fish balls and the meatballs, I grew up eating those at home. They have some traditional vegetable dishes there you can't get elsewhere, like tong hao, watercress, water spinach, and tarot roots. In regards to Lunar New Year, you can get noodles there too."
Lauderdale Lakes
"This (Chinese New Year's) we will probably be ordering from Gou Lou Cheong," Ip says. "They specialize in Chinese barbecue, so we'll get a whole roasted sucking pig from there. Then we share it with everyone at my house."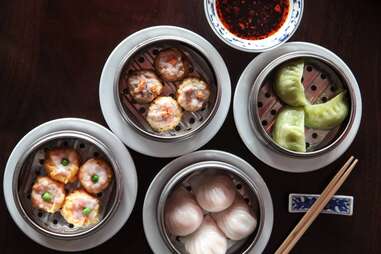 Westchester
Of course, no discussion of Chinese food in Miami is complete without talking about Tropical Chinese, the dim sum stalwart sitting far out west on Bird Road. "Tropical is always a go-to for Chinese New Year," says Ip. "They usually do their lion dance every year, I'm not sure if they're doing it this year but it's always fun."