Where to Celebrate Oktoberfest in South Florida
All the steins you can drink.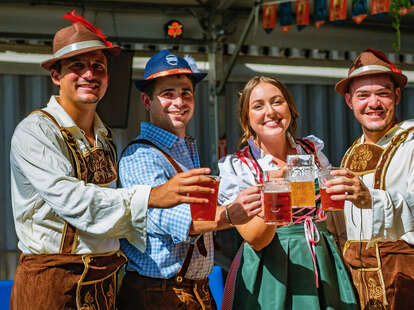 Get out your lederhosen and get ready to prost to German culture because Oktoberfest is here. Sure, we may not have a super large German scene in South Florida, but that doesn't mean we'd skip celebrating a beloved cultural event that involves copious amounts of beer. Over the next few weeks you'll find plenty of festivities dedicated to embracing German culture through food, music, and, of course, beer.
If you've got a hankering to hang out in a biergarten, here are a few places you can do just that throughout South Florida.
Attend the longest-running Oktoberfest in Florida
October 14 to 16 and 21 to 23
West Kendall
Rain or shine The German American Social Club is going to party for two full weekends as they celebrate OktoberFest. For the 65th year, this family-friendly party celebrates authentic German culture by way of German beers, live German music, German food, and German folk dancing by the Original Auerhahn Schuhplattlers and Edelweiss Schuhplattlers. For more information, call 305-552-5123 or email info@gascmiami.org.
Wynwood's Octoberfest runs now through October 2nd
Thursdays - Sundays through October 2
Wynwood
Returning for its 12th year, Wynwood's Octoberfest takes place at the open-air Wynwood Marketplace right in the heart of the vibrant neighborhood. You'll find seasonal brews from Samuel Adams, an array of Bavarian food, photo ops (gotta let the 'Gram know you were there), beer hall games, and more. Plus if you RSVP and stop in before 9 pm, you'll get a free Samuel Adams Stein Mug. It takes place Thursday & Friday from 4 pm to 3 am and Saturday & Sunday from 12 pm to 3 am.
Party like a German at one of Miami's oldest breweries
October 2
Miami Beach
The Abbey in Miami Beach is celebrating its 27th Oktoberfest with an epic party serving complimentary German fare on a first come, first served basis. Obviously, there will also be plenty of German-style beer and Oktoberfest shots to wash it all down. Check out their Facebook page for more info.
Drink up at the Pine-toberfest Beer Festival
October 1
Pinecrest
Head to the 'burbs to celebrate Pine-toberfest where one ticket will get you access to unlimited beer tasting from breweries like Veza Sur, Goose Island, Islamorada Brewing, Little Brewing Co., and more. There will be German dishes for purchase and live music and games. The festival will take place at Evelyn Greer Park at 5 pm.
Funky Buddha presents Oakland Park's Oktoberfest
October 7 - 9
Oakland Park
A lively biergarten hosted by Funky Buddha Brewery, you'll find live German music plus German beer and food for purchase. But most excitingly you'll find Central Bark's Dachshund Dash & Central Barks Doggie Fashion Show happening on Saturday. Oh, and there's going to be lots of field games including stein races, beer barrel races, and an apple strudel eating contest. Get the scoop here.
Carousel Club does Oktoberfest
September 23
Gulfstream Park
Enjoy food, entertainment, and a free German beer for every shot of Jäegermeister you buy at Carousel Club's Oktoberfest-themed soiree. Party until 3 am and take advantage of the day's #MagicHour specials where you get five beers for $15 from 4 to 7 pm. RSVP here.
Celebrate 48 years of Oktoberfest in Palm Beach
October 7 to 9 and October 14 to 16
Lake Worth
Taking place over two weekends, $10 gets you access to food, brews, and live music at the American German Club of the Palm Beaches. You'll find nearly a dozen German specialty beers paired and six food stations each serving something delightfully different. This party takes place Friday from 7 to 11 pm, Saturday from 3 to 11 pm, and Sunday noon to 8 pm. Grab your tickets here.
Prost to Oktoberfest in Hollywood
September 24, October 8, and October 22
Hollywood
Make your way to the German American Society of Hollywood (who knew we had so many chapters in South Florida?) for an Oktoberfest celebration happening each Saturday, featuring live music, food, and beer—all wonderfully German. Members enter for $5, and non-members $12.