We know dating in Miami can be a special thing, so if you do actually find someone special -- or at least someone who's not just trying to get you to invest in their new business that has something to do with promoting or bedazzling a new line of MMA gear -- then you better find something special to do with them.
Of course, this being Miami, the fall and winter seasons are our best time of the year to find creative dates, since we can enjoy our outdoors without worrying about running makeup and sweat-stained shirts (and we also have a ton going on from now until the daily thunderstorms come back). From wine tasting and horse racing to hiking through the Everglades, we've got better date options here than anywhere in America. Just take a look…
Recommended Video
The Best (and the Rest): Best Easy Ramen Hacks and Winter Beers
Crash a hotel pool
South Beach
Maybe not for a first date, but certainly if you and yours are comfortable enough to admit to each other you can't afford daybeds at the Delano. Not sure how? Here's a handy guide. Pro tip: If you're trying to keep this a cheap date, never order anything from the poolside attendants, but make sure you tip the towel guy well.
See for yourself that bowling is cool once again
Various locations
Relive your deviant high school days at Don Carter's in a cleaner, classier environment. Kings Dining and Entertainment in Doral not only has a full bar, but they also have great food and big flat-screen TVs. Or you can head downstairs at the EDITION for trippy, multi-colored bowling that's one of the cheapest things you can do in South Beach at less than $10 a game.
Go on a tranquil hike through the Everglades
West Dade
A scant 20 miles or so from downtown, we have one of the most unique ecosystems on the planet. A hike through the Cypress trees, swamps, and mangroves at Shark Valley or the Gumbo Limbo trail can be calmingly romantic and won't cost you much more than the price of OFF!... and gas.
Wok this way
Various locations
Impress your date with some slicing, dicing, stir fry action. And even if it doesn't work out with your new flame, you'll come out a Wok Star.
Discover a new park
Various locations
With daytime temperatures that won't make you sweat through your shirt, now's the perfect time to discover the serene wilderness of some of the county parks. Matheson Hammock is a waterfront slice of old Florida with one of the most secluded beaches in the city. Or take the most scenic bike ride in Hialeah along the trails at Amelia Earhart Park.
Pretend its winter on ice skates
South Beach/Kendall
Just because our version of winter involves 80-degree temperatures and palm trees with Christmas lights doesn't mean we can't get into the winter spirit. Although we lack ponds, the ice skating rink at the EDITION is a fun way to stumble through a new skill together and only costs $30. Or if you want to go a little more native (and cheaper), there's always the Kendall Ice Arena for $11. Both include skate rental.
North Miami
Rent a kayak and paddle out to one of Biscayne Bay's deserted islands with a picnic basket full of eats from nearby Blue Marlin Fish House Restaurant. Nothing beats fish dip, a surprise sighting of manatees, and a "delightful" afternoon on the sand. And once a month they show movies on a 45-foot screen right in the middle of the water.
Check out Miami's best free modern art museum
Buena Vista
The new Institute of Contemporary Art in Buena Vista combines 20,000-square-feet of gallery with a 15,000-square-foot sculpture garden, so you and your date can enjoy Miami's weather while taking in provocative, modern works. It's also completely free.
Visit farms and eat cinnamon rolls
Homestead
Winter time means one thing: Cinnamon rolls from Knaus Berry Farm. But since Homestead can be kind of a schlep, why not make a whole day out of it? Hit Robert Is Here for some milkshakes and fresh picked produce, then feed some of the nastiest farm animals you'll ever meet at the petting zoo out back. Pick up some rolls for dessert at Knaus, then make a big healthy dinner with the bounty you just harvested.
Sunrise
While folks in Pittsburgh or Toronto might laugh at the idea of a pro hockey game as a "cheap" date, well, this is Florida. And if you're willing to watch the Panthers take on a team you've never heard of, tickets routinely run under $10 on StubHub. With free parking across the street at Sawgrass Mills, this can be cheaper than a movie.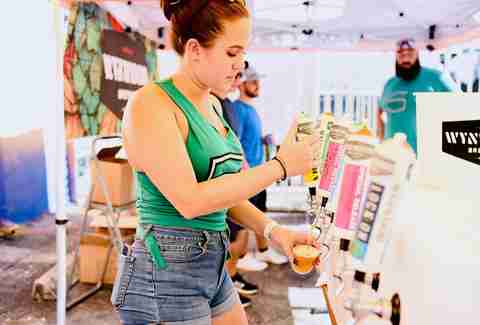 Go on a Wynwood beer crawl
Wynwood
Wynwood has become Miami's go-to 'hood for beer. You can start out visiting three breweries, beginning at J Wakefield, then mosey down the street to Concrete Beach followed by Wynwood Brewing Company. If you're looking for some more variety, head down to KUSH Wynwood or Gramps. Stomachs full of beer always make for great ends-of-dates.
Catch the fastest game on earth
Dania Beach
Jai-alai, believe it or not, is not just a delicious IPA. It's a game where men in helmets hurl a ball against a wall at speeds over 100mph, and you bet on who wins while drinking beer and heckling. With $2 minimum bets and cheap beer, Dania Jai-Alai is hours of entertainment where you might actually come out ahead. Or you can check out Miami's first new fronton in decades at Calder.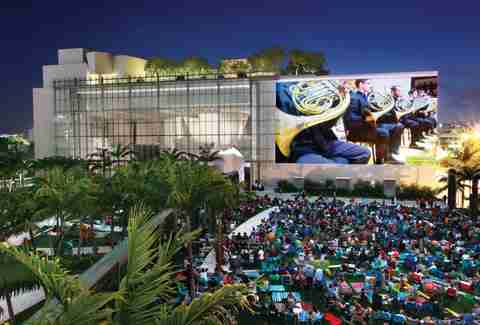 Miami Beach
Whether you're taking advantage of the SoundScape movies or WALLCAST Concerts on the 7,000-square-foot projection wall, bring some booze, a date, and a blanket for... err... well, this is Miami so let's just say it's not for keeping warm.
Stroll the weirdest boardwalk in America
Hollywood Beach  
The Hollywood Boardwalk boasts some of the most colorful characters in South Florida. And not because of their football-colored tans. Post up at one of the many beachside bars like Nick's or The Taco Spot for an afternoon of the best people-watching in the area, and leave spending less than you would on a round most places in South Beach.
Downtown
Every Friday the Frost Museum hosts hourly laser shows from 7pm to midnight for $10, and the museum stays open late with a bar and light food. Sip a drink by the rooftop aquarium before catching a little Laser Daft Punk for an evening that's both charming and educational.
Go on a vintage tour of Westchester
Westchester
Take a trip back in time and visit Bird Road's coolest vintage spots. Your itinerary includes Bird Bowl, Yesterday and Today Records, A&M Comics, and Miami Twice. When it comes to food, choose between El Rey de Las Fritas, Arbetter's Hot Dogs, and Frankie's Pizza.
Sip on avocado wine
Homestead
Think a romantic afternoon of wine tasting is only for those hoity-toity folks in California? Think again! If you can put aside your ideas of what wine is "supposed" to taste like, tasting the tropical fruit wine at the Schnebly Winery is a fun, affordable way to kill an afternoon at $13 a person. If you decide avocado wine isn't your jam, the Miami Brewing Company is next door on property with plenty of fresh suds to wash it all down.
Escape to a secluded island… sort of
Key Biscayne
Not that going to the beach in Miami is a particularly novel date idea, but make the drive to Bill Baggs State Park on a weekday and you might find yourselves on a completely empty beach, with views of nothing but the Atlantic Ocean. We're not suggesting you do anything to take advantage of this cinematically romantic situation, but just an FYI, there is a cool lighthouse here, too.
Rent a bike
Various locations
As in rent a Citi Bike and explore different parts of the city from a new perspective. You can even use one of the other suggestions on this list and make it a two-for-one score. Plus, if you're from Miami, you probably really need to get out of your car.
Wynwood & Sunset Harbour
Nothing will impress your date more than learning something new. In this case, you will observe the tastes and aromas of brewed coffee. You'll walk out waxing poetic about slurping, biting, and mouthfeel -- quite romantico.
Set the mood
Miami Beach
Can't quite close the deal? Maybe the country's largest erotic art collection, the World Erotic Art Museum (WEAM), can set the mood with a little help from Kama Sutra, bondage, and tons of boob pics. Plus, it's open until midnight.
Bring a picnic to South Pointe Park
SoFi
The best food deal in Miami is, without debate, the fried chicken at Joe's Take-Away for $6.95. Grab a couple orders of that and a bottle of wine from Publix (this is a cheap date, remember) and head over to South Pointe Park to catch the sunset over the skyline. It's the best 180-degree view in the city and a more romantic experience than most expensive restaurants.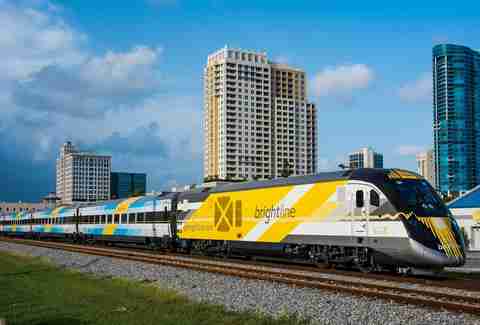 Explore South Florida on Brightline
Downtown Miami/West Palm Beach
Now that we can get to West Palm in an hour (without having to worry about driving home), going for a date in PBC is never out of the question. Enjoy a cocktail on your train ride up, then rent some bikes and head over to Palm Beach Island. Grab a sandwich at Buccan Sandwich Shop, hit the Flagler Museum or Worth Ave. Then drink your way through Clematis ending with a waterside drink at E.R. Bradley's, finally passing out on each other during the ride home.
Aventura
Remember when you took those middle school field trips to the water park, and it was literally the highlight of the school year? Relive those days of unbridled fun -- this time with cocktails -- at Tidal Cove at the JW Marriott in Aventura. The lines are rarely long if you go during the week, and you both can relax holding hands through the lazy river.
South Beach
The Mediterranean-inspired pedestrian mall that is Espanola Way is another spot that might be better for locals than tourists, where you can dine al fresco at Italian, Spanish, or Mexican restaurants and get 20% off as a local. After eating, you can enjoy live flamenco performances on Friday, live opera on Wednesday, or do a morning yoga date on Saturday then enjoy croissants at a La Folle.
Crawl down Calle Ocho
Little Havana
Trips to Miami's formerly-Cuban enclave aren't just for tourists, and you can have a full evening within just a few blocks. Start with dinner at the only-order-once Lung Yai Thai Tapas. Then grab drinks and do some dancing at Ball and Chain, catch your second wind with a cafecito, and continue the party at the Cubaocho Cultural Center. Then finish the night with Miami's best tacos at El Taquito.
Westchester
If your special someone isn't down for the elephant ears, surfing Santa, creepy carnies, and the world's largest holiday theme park, they need to get the hell out of Miami.
Sign up here for our daily Miami email and be the first to get all the food/drink/fun in town.