Partying until 6a is about as exceptional a thing to do in Miami as working in real estate or getting towed. But partying until 6a on the world's fastest cruise ship, and going to the Bahamas and back while you eat, gamble, and hardcore party your way through eight frenetic hours? That only happens on the SuperFast Night Cruise.
Recommended Video
The Best (and the Rest): Best Easy Ramen Hacks and Winter Beers
Like any self-respecting casino, they'll have you walk through a maze of slots on your way to the check-in desk. But keep that roll of nickels in your pocket: the bandits are locked until the boat's three miles offshore -- which won't take long, this thing pulls a pretty ridiculous 30 knots.
Still can't name any of the Oakland A's? Catch up on West Coast baseball in the sprawling sports book as you place that guaranteed-money bet on the Dolphins winning the Super Bowl.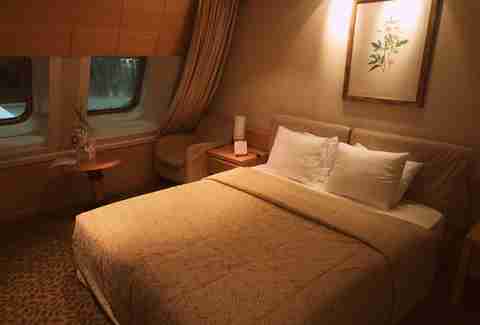 Here's your cabin. It comes in either Ernie and Bert dual-twin, or king-size suite. You don't have to get one but it'll come in handy if you either A) plan to sleep, or B) meet that special someone who you have an immediate and meaningful connection with, because she found out you just hit it big at the craps table.
If you brought that special someone with you, good move. There's a free barbecue dinner upstairs, but you might want to opt for the more romantic, waterside Ponce De Leon restaurant with a $25 prix-fixe menu with stuff like fresh ceviche, 16oz sirloin steaks, and pork marsala.
It wouldn't be a Miami party cruise if there wasn't a giant, top-deck, open-air club with some of Miami's top DJ talent spinning.
This may well be the only club in the world where the most popular drug is Dramamine.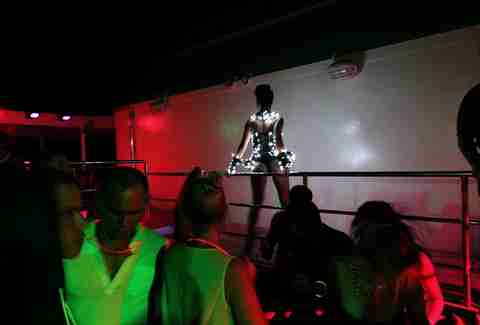 Sorry ladies, but they're not selling this sexy number in the souvenir store.
If you didn't get a cabin, you can still entertain yourself with some solo penny slot action until the ship gets back to Miami.
Or hit up the table games upstairs. They've got every game you can think of except poker.
As the sun starts to peek over the ocean, the free breakfast buffet gets underway. Step your way around all those people who didn't bother getting cabins and get yourself some bacon and eggs. Then, pick up your car at the port and go home. Or straight to Space. And right here is where you get more details and tickets.