You can now fight live-action zombies in a Downtown shopping mall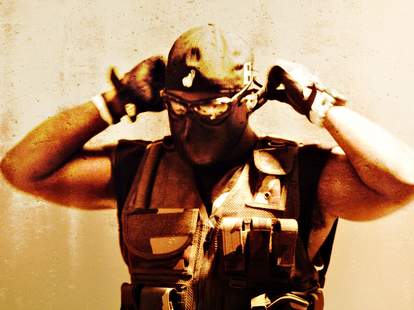 Until now, if you wanted to find zombies in Downtown Miami, you'd have to hang around outside Space at two o'clock on a Sunday afternoon. But now, thanks to former federal agent and Hollywood actor/producer Tony Slade, The Undercover Unit lets you and your friends hunt live-action zombies in a "Choose Your Own Adventure" apocalyptic simulation on the ground floor of a Flagler St shopping mall. Come along as we get embedded with one unit trying to save the world.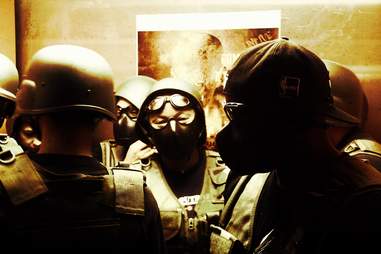 Here's the situation: just hours ago, zombies overran the city and the people are frantic. They've called in your specially trained team to take out as many zombies as you can. Your name: The Undercover Unit.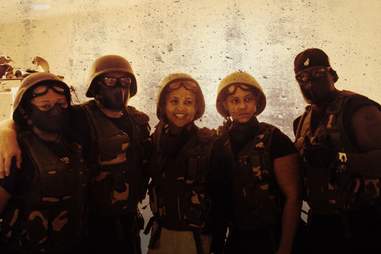 Before you head down to the course, Slade and his team of guides brief you on your mission, then deck you out in full zombie-hunting gear, including helmets, gas masks, and really cool vests.
To start off, Tony guides your team through the underground zombie invasion. But be careful: make a wrong choice along the way and you not only lose him but may also have to turn back to page 29. Or just where you last "saved" your game.
Once inside, you'll encounter some of the poor hapless survivors desperate for your help, plus this surely quite friendly chain-dragging thing in a hood.
The survivor assumes you're not from Miami and hips you to where you can find guns. Take his advice and you'll come face to face with this guy, who looks like he's been hiding in this basement since the Mariel boatlift.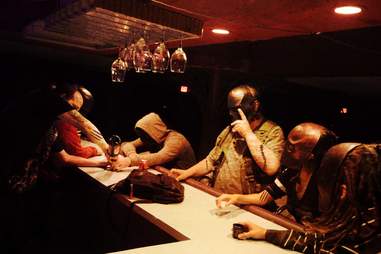 He'll send you to the bar to get the "approval" of the bartender, which basically means he wants to make sure you're not A) zombies, or B) trying to rob him.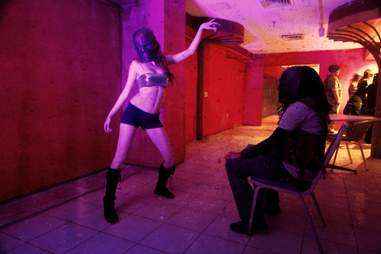 The space The Underground Unit uses was actually a swanky restaurant back in the 1980s that was a hotspot among celebrities and other "entrepreneurs" of that era. Today, it's a hotspot among zombies NOT on Quaaludes. Here's a zombie strip show, although no actual clothes come off as this is a family zombie apocalypse.
Pass muster with the bartender and you'll get weapons from the shopkeeper. You might also want to save your game here, because if one member of your team dies, you all have to go back.
Once you're armed, you'll fly through the course killing zombies with your guns (basically the best cap guns ever, which make a huge "bang" and cause the zombies to drop) or grenades (which make an even-huger bang), while they engage in pretty much the hardest-core game of tag ever -- if one touches you with two hands, you're dead. If three members of your team die, it's all over.
After a final fury full of grenades, trip wires, explosions, and dead zombies, you end up back upstairs for a final debriefing, where you learn two lessons: war is hell, and the zombies drink a lot after their shift is over.