Dress like a zombie, eat and drink through Midtown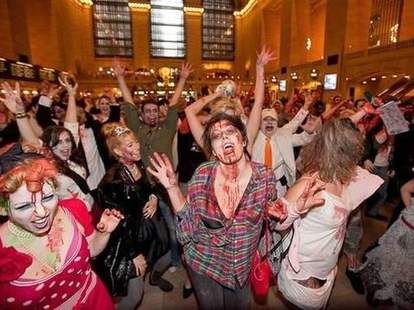 You might as well ravage your brain if zombies are just going to eat it anyway, which's basically the idea behind the first-ever, booze-and-food-laden South Florida Zombie Crawl in Midtown later this month. Here's everything you need to know.
You don't HAVE to dress up as a zombie, but yeah, you have to dress up as a zombie.
15+ Midtown loop businesses will be catering to the undead, including Five Guys, The Cheese Course, Sakaya, Club Vintage Liquor, Giraffas, Moloko, and Sweet Point, which is what they call it when Manny Ramirez does his signature move, but to a nice girl.  
A "Zombie Crawl Safe Zone" in each joint will act as the designated consumption area for the masses by offering food or drink samples, including Mercadito's La Muerta margarita w/ prickly pear puree, Sweet Point cupcakes, plus a drink from Ricochet that combines Blue Moon Pumpkin Beer and cider (noise of a million gunshots going off, as that many minds were just blown) in a Mason jar.
Two different colored wristbands distinguish between "General" (admittance + food/drink) and VIP levels, which include everything from free parking and a designated driver, plus access to the centrally located VIP tent you'll want to party in until Dawn of the Dead.