Journey Through the Star Wars Universe on the Galactic Starcruiser
The secretive hotel offers a luxurious, immersive voyage into the world of Kylo Ren and other characters.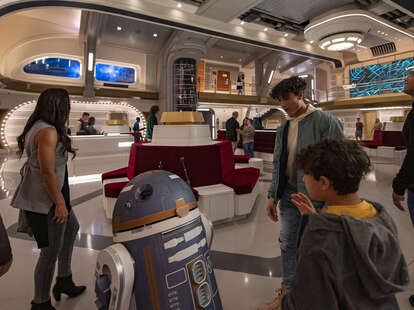 Welcome to Thrillist 50, your guide to fun and adventure in 2023. Think of it as your comprehensive roadmap for checking out exciting events and new attractions coming over the next 12 months, going on bucket-list trips, reconnecting with yourself and your community, expanding your mind, and of course, experiencing the flavors we're most excited about this year. There are so many reasons to live like there's no tomorrow. Start here.
Are you a die-hard Star Wars fan wishing for an immersive experience where you live in the world of the characters? Do you want to eat and drink like you're in one of the movies? Or learn how to handle a lightsaber like a pro? If so—and you've got some money to burn—consider a stay at the Star Wars: Galactic Starcruiser.
Details on the immersive hotel and experience have been kept tightly underwraps since it debuted last March. Reps did not even allow Thrillist to tour for the property this story; however, the cast members and guests of the hotel who we spoke to, raved about the bucket list-style experience.
"We went on the Starcruiser last May and had the best time," travel advisor Lynn Wolverton told Thrillist. "My husband is a major Star Wars fan, so he was in heaven."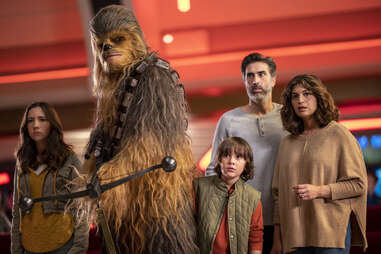 A one-of-a-kind experience for every guest
Star Wars: Galactic Starcruiser features interactions with beloved Star Wars characters, all-inclusive dining (but not alcoholic beverages), and even a VIP experience inside Hollywood Studios at its own Galaxy's Edge portion of the park, where visitors' stories mix with the park's rides, Rise of the Resistance and Smugglers Run.
The hotel is essentially an immersive live theater experience, where each guest is part of the story and plays a character—which is a surprise until you begin interacting with the actors inside the Starcruiser. The themed environment drags visitors right into the story created just for them, lightsaber lessons, unique themed cocktails and dishes, as well as a chance to be a part of a fantastically-created world.
Once your story begins as a character in the Starcruiser, you will have a chance to find out (or pick) if you'll be a part of the First Order or the Resistance—making it the ultimate and most indulgent role-playing game for fans of the series who can afford the price tag.
As a Star Wars fan myself, who has visited Galaxy's Edge many times at Hollywood Studios, I can assure you the park portion is worth the trip. Highlights include sipping intergalactic cocktails at Oga's Cantina (the ultimate Star Wars-themed bar) and getting the chance to skip the lines for one of the best and most immersive rides that I've ever ridden—the action-packed Rise of the Resistance. Then there's Smuggler's Run, another fun opportunity for fans to man a ship as a pilot, gunner, or shooter. It feels like being right at home in your favorite galaxy.
Get an inside look into the extremely secretive voyage
Forget about even trying to figure out the exact location of the hotel. Guests are whisked away from a landing dock where their visit begins, and are shuttled secretly to the Starcruiser.
The whole experience is shrouded in mystery, but Thrillist had a chance to chat with a cast member, who spent time working on the ship. He told us the voyage includes a detailed itinerary and schedule for visitors. It could become overwhelming to follow it day-by-day and hour-by-hour, he said, so guests should come prepared with a lot of energy and a great attitude, ready to have fun and get in on the role-playing.
"The experience is very unique, especially for fans who love this," said the cast member, who wished to remain anonymous. "If they can afford it and want to make this the one experience that they cannot miss in 2023, it's worth saving for it and giving it a shot. But once there, they should take advantage of every moment, for it goes by quick."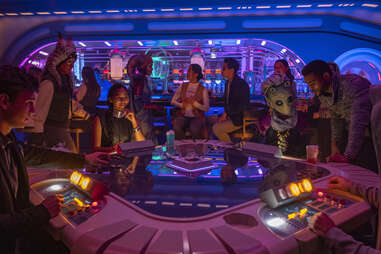 How much does the Galactic Starcruiser cost?
The jaunt into the world of Star Wars is not cheap, that's for sure. The hotel, located on the Disney World grounds in Orlando, Florida, will cost a duo $4,809 for two nights or $5,999 for a group of four adventurers.
Is the price worth it? If you are a passionate fan of the Star Wars world, and have children obsessing over Kylo Ren, Rey, and lightsaber battles (the experience focuses mostly on the newer films that began with Star Wars: The Force Awakens), or have a group of friends ready to save the money and dish out for the three-day voyage, then it seems like one of the bucket list experiences for 2023 that you should try not to miss.
For Wolverton, who curates special Disney experiences for people as a career, the extraordinary adventure of Star Wars: Galactic Starcruiser far exceeded the cost. "It was worth every penny to see my husband live his best life," she said.