Miami Event of the Week
Saturday, December 7th: The Art Basel edition of XIV Sessions, one of South Beach's Best Pool Parties, is Saturday at 2p at Hyde Beach, and in addition to the usual boozy, bikini'd goodness, it'll boast hundreds of SLS Rubber Duckies painted by local artist Alexander Mijares.
Recommended Video
This Chinese Festival Is Like 'Frozen' Come to Life
Thursday, December 5th: Playing video games isn't a waste of life. IT'S ART!! At least it is if you're playing on the psychadellic arcade games or neon pinball/foosball tables at the FAILE BAST Deluxx Fluxx Arcade 2013 on 16th and Washington. Stop by today through Sunday. Continue Reading
Thursday, December 5th: Giorgio Rapicavoli  teamed with Singapore's Janice Wong to hang dessert on the walls at Drinking Room, where her edible installations like this canvas covered in marshmallow and chocolate will be on the dessert menu until Sunday.


Friday, December 6th: Art looks way better when it's washed down by some of Florida's finest craft beers  in the Basel Biergarten, which'll be slinging suds plus food from Miami Smokers and Smokey's Cantina from 4p-3a.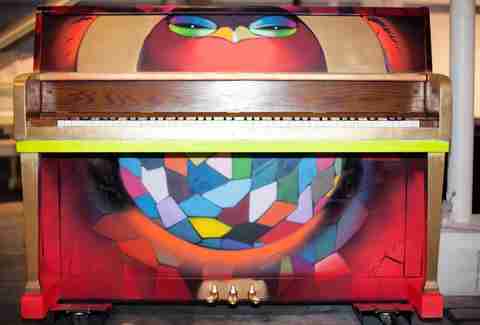 Saturday, December 7th:  It's an all-star jam band when members of Foo Fighters and Pearl Jam, plus Pink's violinist, play at a construction site on 31st and Biscayne for Pop-Up Piano's concert series from 8-11p.
Sunday, December 8th: Who better to close out a weekend of fine art with than Uncle Luke? He'll be at the Oasis Collections Clubhouse at the Sweetwater Beergarden from 11a until he wanna be done.