Miami hasn't always been about boozy brunches and sweet steakhouses. There was a time not so long ago when it was easier to buy an AK than a baked Alaska, and easier to score an 8-ball than an 8oz filet. Then again, if you believe that dude from "Brick in Yo Face", maybe nothing's changed. In fact, you don't need to look any further than the first season of Miami Vice to see that, while a lot of things are different, a lot stayed the same too. Here're 10 classic Miami Vice shooting locations, and what they are now: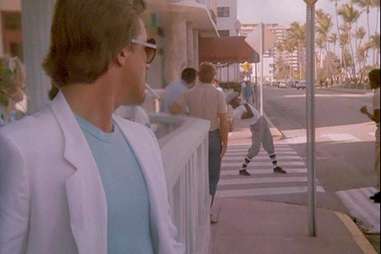 In 1984: Crockett waits on a street corner on Ocean Dr, and in the show's first post-credits line, quips to his original partner Eddie Rivera -- played by Jimmy Smits -- that there are "5,000 street corners in greater Miami and Gumby here has gotta pick ours."
Today: Still the Carlyle (historical preservation, FTW!!!!). Still full of "street performers"... as long as you count drag queens and guys trying to hand out their demo CDs.
In 1984: This building on the corner of SW 7th St and SW 2nd Ave, marked Gold Coast Shipping Company, was home to the Organized Crime Bureau of the Metro-Dade Police Department. Known to everybody else as Miami Vice.
Today: If you had a $2 ticket for "demolished to build a mega-condo", go ahead and collect $2.10.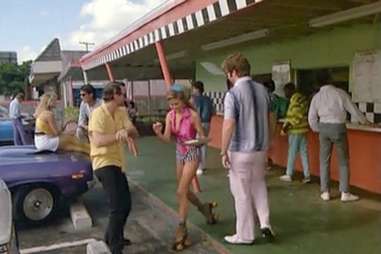 In 1984: Stan Switek and Larry Zito meet with Metro-Dade's favorite informant Noogie at this burger joint to learn about a big shipment of China White that's being moved by Howie Wong (seriously, that's his name), who is subsequently busted thanks to this meeting.
Today: This place was never actually a burger joint, but WAS Flora's Pizza. Now it's EastSide Pizza, where we like to think Metro-Dade detectives learn about shipments meant for Howie's slightly less talented and mildly disappointing draft pick of a son, Jake Long.
In 1984: Corky, a henchman of the notorious Colombian drug lord Calderone, in a mid-coked-up ramble to Rivera about farmers as they drive across the 59th St Bridge, which actually doesn't exist.
Today: That bridge was actually the Clevelander (see the V with the flying saucer on top?). It's officially Miami's most obvious tourist selfie destination 'cause you can take a picture of yourself at a location from Miami Vice while drinking a Miami Vice. Isn't that cute?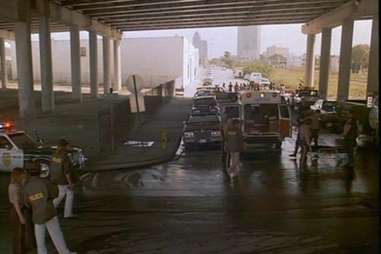 In 1984: When they try to make a deal under a sketchy freeway overpass, a car bomb meant for Corky goes off and kills Rivera, blasting him all the way to LA where he becomes a hotshot lawyer at McKenzie Brackman.
Today: Still a sketchy freeway overpass at NW 1st Ave and NW 13th St. Although, in 30 years a condo tower (or 20) might have gone up between here and the Miami-Dade County Courthouse, plus an entire sports arena was built in the background, and then demolished.
In 1984: Crockett goes to this restaurant on 8th and Collins to tell Maria, Eddie's wife, that Eddie has died. Eddie was Crockett's former partner.
But more importantly, you notice that there was a time when you could get $1 Stroh's on the beach?!?!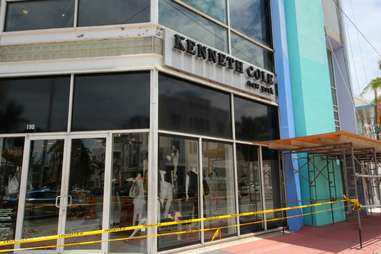 Today: A Kenneth Cole store -- with absolutely nothing that costs $1.
In 1984: Crockett and Tubbs are meeting with Lt. Castillo in the café next to Maceo Park. They're posing as hotel security but want Lt. Castillo to take them off the case since the investigation involves corrupt cops and prostitutes.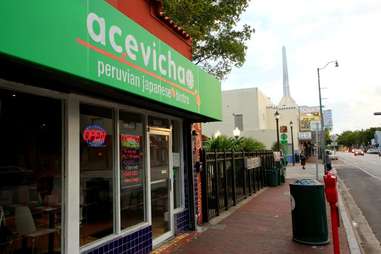 Today: The park is now called Maximo Gomez Park, but is still used for dominoes. The café, formerly Los Parados, is now a Peruvian-Japanese fusion joint called Acevichado, where the cafetería counter has been turned into a sushi bar.
In 1984: Crockett just ambushed poor Leon here as he was trying to get some chicken, put a gun to his head and said "Why put off what you can do today? Drive." It all happened right in front of the Cameo Theater, an aging music venue where, as you can tell from the marquee, you'd have gone to see classic acts like the legendary L EE RY.
Today: Since it was refurbished, it was the Crobar, Cedric Gervais' residence club, for years, but now it is Cameo: home of Lapdance Tuesdays, which Leon probably would have preferred than the gun to the head.
In 1984: Crockett and Tubbs are teaming up to search an apartment belonging to Leon, who was living in a "modest" South Beach spot to seem inconspicuous.
Today: Probably not the most inconspicuous residence in South Beach -- Casa Casuarina. It was formerly the Versace mansion, which recently sold for $41.5 million, and is now home to Il Sole by Barton G.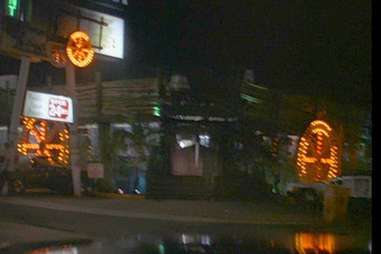 In 1984: Crockett and Tubbs meet with porn magnates Sam Kovics and Artie Lawson -- who in addition to looking a lot like a younger Al Bundy is also an undercover FBI agent who's gotten in a little too deep -- at a swanky Miami restaurant, which is apparently open 24 hours.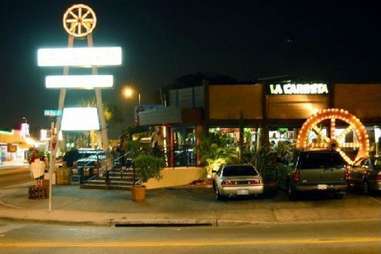 Today: It's the La Carreta on 8th St, which it also was then. So we guess that wagon wheel signage, and laminated menus with pictures of the food were considered wayyyy swankier in the '80s.