Wynwood's Latest Museum Is a Mind-Bending Exploration of the Human Brain
From spinning rooms to gravity-defying spaces, Paradox Museum Miami offers an Instagrammable journey through the inner workings of the mind.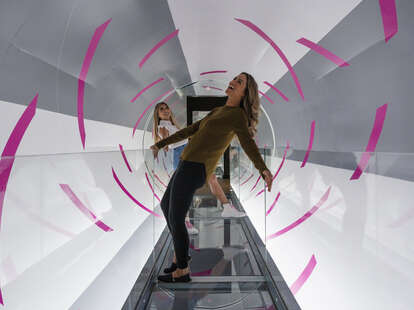 If there's something Miami is never lacking in, it's places to take selfies. Boats? Sure. Restaurants? Always. A literal entire neighborhood of block-long murals perfect for posing in front of? We got it. If they ever redid our city seal, it would probably include a pair of angel wings.
But a selfie spot that doubles as education, and gives you a glimpse into the inner workings of the human brain? Well, that's something we really haven't seen before, and it's the aim of the brand new Paradox Museum, which opened in Wynwood in early December. This 11,000-square food mind-bending experience takes you on a journey through perception and process, and teaches us that what we think we see isn't always what's real.
A mind-bending trip through the surreal
The Paradox Museum is a 90-minute journey through 70 exhibits filled with optical illusions, interactive sensory experiences, and plenty of photo ops. The permanent space (that's right, it's not a pop-up) is the third of its kind in the world and the first in the US, with other locations in Oslo and Stockholm. It comes to us from the people behind the Museum of Illusions in Orlando, though this space is far larger, and much more interactive.
The tour begins with a short video telling guests what they're about to experience, along with a map of the U-shaped museum, so guests can get a sense of where they're going. The museum's de facto mascot, a man holding balloons, points you along the way, to make sure you don't get lost in the sea of mirrors and illogical angles. Costumed guides are posted in every room, explaining how to interact with each exhibit, and giving you the skinny on why your eyes are playing tricks on you.
The first must-hit photo op is a mural of Miami Beach's iconic lifeguard stands, where guests can take pictures of themselves standing "upside down" on top of one. That moves directly into the 180 Room, where visitors can snap shots while getting in an upside down workout or, if they really wanna fake out the internet, lifting inhuman amounts of weight.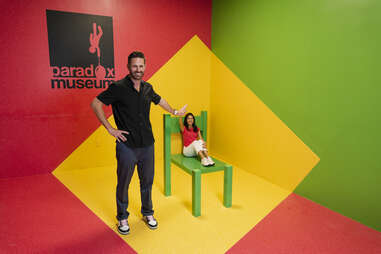 From there, you'll travel through a hallway of moving blocks and uneven boxes that give illusions of height and depth. Then it's on to the Paradox Tunnel, where you attempt to walk a plank through a room that spins around you. If you've been to Halloween Horror Nights in Orlando, it's an illusion you're probably familiar with.
The Paradox Museum also has its own "tilted room," a space where the laws of gravity seem temporarily suspended. Pens roll uphill and your sense of balance leaves your body, reminiscent of the physics-defying Mystery Spot in Santa Cruz, California and West Virginia's Mystery Hole. This might sound a little trippy, or even completely nauseating, but it's all just your brain being your brain.
"What you're thinking is probably the opposite of what reality is supposed to be," says the museum's sales and marketing director Marc Gregory Tipton. "It's not a right or wrong scenario, you just see it a certain way. That's just how the human brain works and that's what's the cool part about it."
To keep things lively, each room has themed music to accompany the illusions. There's even a talking piano, an AI marvel who'll hold entire conversations with guests and play songs on request. Other highlights include a couch that makes your arms and legs appear in different places, like you just stepped out of a scene from Beetlejuice, and a dinner table filled with mirrors where you can sit and converse with over a dozen versions of yourself. Try not to think about that one too much.
Tipton says the entire experience should take about an hour to an hour and a half, depending on how interactive you want to get and how many guides you talk to. The tour can be completely self-guided, too, as QR codes next to each exhibit explain what's going on and what your brain is processing.
"It has the educational piece, the science piece, and the math piece," Tipton says. "And from the perspective of being a 'selfie museum' we don't want to put ourselves in that bucket. Our types of exhibits separate us, and we're able to create something educational."
Hours and Admission to the Paradox Museum Miami
The Paradox Museum is also that rarest of entities in South Florida—a permanent resident. Its digs at 2301 N. Miami Ave are here to stay, meaning you can take friends from out of town here on your requisite trip to Wynwood for the foreseeable future. And even check back in from time to time, when new exhibits hit the floor. Tipton says they aim to switch a few out every year or so.
It's open every day from noon to 7 pm, and 8 pm on Fridays and Saturdays. Admission is a reasonable $26 for adults and $24 for children 4 - 11, and families of four can buy a four pack for $92. It's also available to rent out for groups and corporate events, should you feel like walking through a spinning tunnel with your coworkers. And unless you spring for one of said buyouts, no food or drink is allowed on the premises.
So, yes, the Paradox Museum is a fantastic place to take pictures that'll confuse and impress your followers. But it's also a place to understand why our brains process information the way they do, and maybe learn a little bit of science along the way. What you see is not always reality, and in Miami, that's a lesson that's important to remember.