Here are the 5 finest under-the-radar places in Miami to cool off with a swim
Even though being in the water during Summer in South Florida often involves getting soaked by the wake from the car next to you, there's actually waterside fun to be had that doesn't involve flooding your engine. And while we all know about the beach and hotel pool scene, we're going much, much deeper (like more than the traditional 9ft!) -- you definitely want to check out these five down-lower South Florida swimming spots that'll remind you why you put up with Summer.
 5. Larry and Penny Thompson Park
12451 Eureka Dr; Miami; 305.232.1049
How many times have you watched the hippopotamus at the zoo lounging by his spacious swimming hole and thought, "I wonder what Ruben Studdard is up to?" You probably also thought, "Sitting by the water and doing nothing right now sounds pretty awesome." Lucky you, right behind Zoo Miami, you can do just that at Larry and Penny Thompson Park, plus fly down water slides and lounge on their lakeside beach.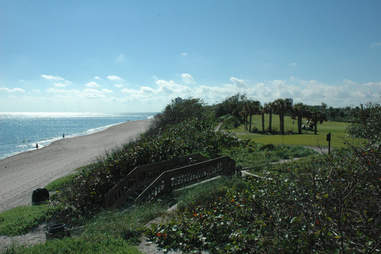 4. Red Reef Park
1400 N Ocean Blvd; Boca Raton; 561.393.7974
South Florida's got some of the best snorkeling in the country, but, unless you've got a friend with a boat, or you're Sonny Crockett and you live on one, the best spots are off limits to you. Except for at Red Reef Park in Boca, where you can abandon your cooler on the beach and waddle into the water to check out the rock reef and more tropical fish than that thing behind home plate at the Marlins games.
 3. Jonathan Dickinson State Park
16450 SE Federal Hwy; Hobe Sound; 772.546.2771
Generally, the only reasons to go this far North in Palm Beach County are cheap flights to Jersey and Debbie Gibson comeback concerts. But this state park in north PBC has the Loxahatchee River running right through the middle, where you can pound beers in an inner tube, or paddle through the river swamps and mangroves you can only get to by kayak. Float even further down to reach Trapper Nelson's camp, where the original Real Housewives of Palm Beach went to... um... do charity work.
Florida Department of Environmental Protection
 2. Oleta River State Recreation Area
3400 NE 163rd St; North Miami; 305.919.1844
There's nothing quite as magical as swimming or kayaking your way through old mangroves, pretending you're in a time before insect repellant, turning a corner on the gleaming river and coming face to face with... a condo tower. Such is the oasis of Oleta River, where you can spend the day on one of their only-accessible-by-non-motorized watercraft beaches, or venture out to a marshy island in the middle of Biscayne Bay and take in the bayfront marvels of New Miami while sitting in Old Florida.
1. Venetian Pool Coral Gables
2701 De Soto Blvd; Coral Gables; 305.460.5306
Since your chances of scoring an invite to the Playboy Mansion are about as good as Pauly Shore's, your best chance to swim through grottos and stand under waterfalls is the Venetian Pool. The rock-quarry turned historic public pool is fed by an underground spring, so the water is drained daily and never ends up like that place on South Park. Plus, there's tons of green grass and shade to lounge in, so you can cool off in between dips in the 830,000 gallon pool.