Don't you love it when your 9th grade lab partner Facebooks you, "Dude! Remember me? I'm thinking about coming down for Ultra. How far are you from Palm Beach airport?" And even if you manage to ignore him, it's a guarantee that every relative, friend, and tolerable acquaintance you've ever had will, at some point, use you as an excuse to come to the beach. And while some will be down for the de rigueur boozing and partying, some others might want to do something they'll actually remember. Losers! That's why we present this handy list of places to take troublesome visitors, which are guaranteed to keep them and you entertained.   THE GUESTS: YOUR SISTER AND HER THREE-YEAR-OLD KID Remember that spring break when your sister brought four of her smokeshow sorority sisters? Well, times have changed, and so have your sister's guests. But don't worry, fun can still be had. Just hit:   Jungle Erv's Airboat World, 804 Collier Ave; 
Everglades City; 877.695.2820 You'll cruise through the Everglades and Big Cypress National Preserve on the drive out there, then the kid can see the Glades' best collection of gators, manatees, and wild hogs. It'll also show little Timmy where he'll end up if he smuggles too much marijuana and lands in federal prison.
Grapeland Water Park, 1550 NW 37 Avenue; Grapeland Heights; 305.960.2950
While the kid plays in the splash pools and rides the mini slides, your sister can marvel at the zany originality of the everywhere-in-Miami Britto artwork. You can roll your eyes and sip on a Mr. Pibb through your Britto bendy straw.

Miami Science Museum and Planetarium, 3280 S Miami Ave; 305.646.4200
You and the kid can learn all about science and the universe, and finally see what laser shows look like totally sober.
The Miami Seaquarium, 4400 Rickenbacker Causeway; Key Biscayne; 305.361.5705
Your little niece or nephew will be so distracted by the whales, dolphins, manatees, and sea turtles, they totally won't know the noises Flipper is making are Dolphin for, "If I do one more flip through a flaming hoop for week-old mackerel, I'm eating this trainer."

Venetian Pool, 2701 De Soto Blvd; Coral Gables; 305.460.5306
Your niece or nephew can contribute to our civic water supply while "swimming" under waterfalls and grottos in the 830,000-gallon, aquifer-fed pools, while you relax in the shade and sis shows off that black one-piece she bought right after the kid was born.


THE GUESTS: YOUR GRANDPARENTS
Because they can only go condo-shopping in Boca for so long, here's some fun stuff for you to do with Grams and Gramps:

The Original Miami Tour, 429 Lenox Avenue; Miami Beach; 305.260.6855
The Miami City Tour is educational, comprehensive, and occasionally funny, but it's also 100% AIR-CONDITIONED, and runs through GPS-activated headsets so grandpa won't have to awkwardly turn to the German couple next to you and say, "Did he say we were going to get Floral Bagels? What's a Floral Bagel?"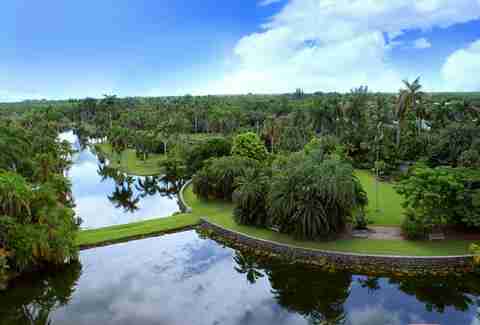 Fairchild Tropical Botanical Garden, 10901 Old Cutler Rd; Coral Gables; 305.667.1651
The combination of ample shade and even more ample places to sit make Fairchild a great place for Grandma to tell you about the time she tried to plant orchids in her front yard, and for Grandpa to make really bad jokes about one-legged flamingos.

Hollywood Beach Boardwalk, Hollywood, FL
Hollywood is as close as we get to an old-fashioned beach town down here, where your grandparents can sit and look at the ocean, get up, walk 50ft, and sit on another bench and look at the ocean.
Isle of Capri Pompano Park Casino & Harness Racing, 777 Isle Of Capri; Pompano Beach; 800.843.4753
Plop grandma in front of the nickel slots at Isle of Capri Casino while you and Gramps spend some quality time betting dollar quinellas and screaming at dudes who look like way-older, less-jacked versions of Ben-Hur at the Harness Track.

Jungle Queen Riverboat, 801 Seabreeze Blvd; Fort Lauderdale; 954.462.5596
Because they might actually remember a time when a riverboat was a viable form of transportation, they can regale you with stories of their own "adventures" on this leisurely tour through the "Venice of the Americas", aka, Ft. Lauderdale.


THE GUEST: YOUR FRAT BUDDY WHO CAN'T DRINK ANYMORE FOR VARIOUS REASONS
That guy who used to bang on your door at 1a during finals and peer pressure you into going out by saying, "How much damage can we do in an hour?" has suddenly gone sober. He won't tell you why, but you still have to find stuff to do that doesn't include 2a trips to Fox's. So, hit these:

Oleta River Mountain Bike Course, 3400 NE 163rd St; North Miami; 305.919.1844
Talk Gary Payton-levels of smack about who can ride faster, rent some hardcore mountain bikes, then drench the other guy in mud every time you pass him on their 10 miles worth of trails.
Skydive Miami, 28730 SW 217 Ave; Homestead; 305.759.3483
Head down to Homestead to catch the best view of Dade County and Biscayne Bay just before you begin hurtling towards the ground. Then pull the cord and enjoy the view at a much less pants-soiling speed.

Countyline Dragway, 19999 Okeechobee Rd; 305.303.1098
Watch him question his own sobriety as he sees the real-life versions of Vin Diesel and Paul Walker drift and drag their way through a Friday night, then tell him that's how everyone in Miami drives and drop him off at the airport insisting it's "for his own safety".
Little Havana Cigar Factory, 1501 SW 8th St; Little Havana; 305.541.1103
At the frat house, you used to sit in smoke-filled rooms pondering such deep questions as, "Why don't they just put the peanut butter IN the quesadilla?" But now you're grown up and can spend time in a much nicer smoke-filled room, lounging in massive leather easy chairs and pondering such deep questions as, "How are we going to cover up this smell before our girlfriends show up?"

Dania Jai-Alai, 301 E Dania Beach Blvd; Dania Beach; 954.927.2841
Take your bro for an afternoon matinee of "the world's fastest game" and bet your hard-earned money on guys with one name that you will horribly mispronounce when you try and heckle them. Is it fixed? Of course it is! But so is the NBA, and that didn't stop you from watching the Finals, did it?