There's only one city in America that has two of the 10 sexiest neighborhoods. No, not Akron, but that's an excellent guess. It's Miami, where dating might be a complete nightmare, but at least there's a never-ending parade of naughty things to do once you finally get a date/in lieu of having one. If, of course, by "never-ending" you mean these 13 things...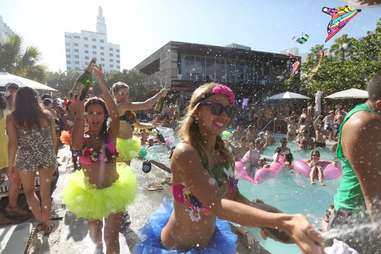 Spray Champagne at the XIV Sessions Pool Party
Hyde Beach at the SLS (address and info)
South Beach
Even if you can't afford the bikini clad beauties who populate Miami's pool parties, or aren't one of them yourself, you're still more than welcome to douse anyone who you think would look better wet in Champagne at this monthly soiree at Hyde at the SLS. Because even if being covered in bubbly isn't your thing, there's still a giant pool where you can wash it off, then drink more of it.
Stay up until E11EVEN
E11EVEN (address and info)
Downtown
And by "E11EVEN" we mean "whenever it dawns on you that the sun's probably been up for at least three hours." The never-closing day club/nightclub/strip club is filled with sexy dancers who attract an unusually high number of female patrons who're tucking, slapping, and motorboating their dollars away. The romantic, gourmet Touché sits on the rooftop and serves aphrodisiacs that set the tone for the evening. Though if you'd rather, the daily happy hour with half-priced drinks is tough to beat.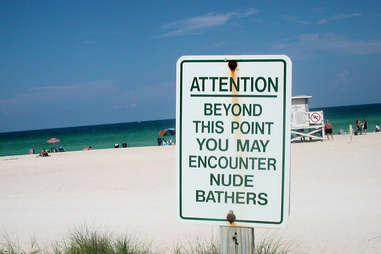 Hang up the suit at Haulover Nude Beach
Haulover Park
The sign above serves as a welcome -- or warning -- to all who enter this quarter-mile stretch of Haulover Beach. If you're imagining the same crowd as South Beach, just without any clothes, you're right. Provided you're imagining South Beach circa 1982. If you can get past the less-than-perfect bodies, it's still a unique way to erase tan lines or to just get naked for the fun of it. Locals will tell you it's very likely someone will say hello, but you may wanna leave the selfie stick at home.
Go to Miami Velvet
Miami Velvet (address and info)
Doral
Imagine a regular bar, except instead of EPSN slurping the SEC on the TVs there's an adult star... you can go ahead and finish that one. And then that adult star is somehow standing next to you at the bar. And then you follow them back into a "towels-only" area where… you can go ahead and finish that one too. Provided you find someone who's into it and wants to go with you, this isn't an unusual Saturday night at Miami's premiere swingers club, where you can make the night as tame or legendary as you like.
Get the key to HOUSE Nightclub
HOUSE Nightclub (address and info)
Wynwood
Never mind the "house b***h" in the bathroom who passive aggressively insults you all night, this might be the only club in Miami where you can get beaten with sex toys by a little person in a mask, enjoy topless performers on stage, and dine on menu of stuff like "Mommy Swallows," "Creamy Glazed Glory Holes," and "UR Anus." There're also beds in the VIP area complete with "toy" drawers, a naughtier-the-better dress code, and live shower shows nightly.

Attend the Alter Ego or Xtreme Fetish parties at the Fetish Factory
Fetish Factory (address and info)
Ft. Lauderdale
So maybe you were dragged kicking and screaming (aka you lined up early on opening night) to see Fifty Shades of Grey and thought, "If this had been the first movie with sound, they'd all still be silent." Then you thought, "But that red room DID look kinda cool." You can outfit your own version of the Red Room at this Oakland Park sex shop, which specializes in latex and chains, has an open party every second Saturday, and a "members only" version every three months. How do you get to be a member? Share your wildest desires and take fetish-themed pictures then send them to the club. The more shocking, the better.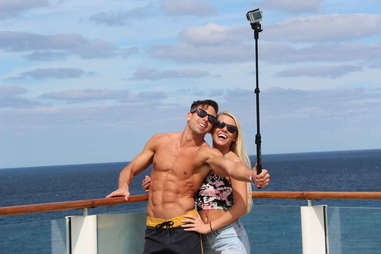 Take a weekend cruise
Port Miami (address and info)
Downtown
It's hard to be a local and live by Pitbull's famous words, "What happened in Miami never happened," since, ya know, we have to live here and all. So, instead of going all the way to Vegas to do things you'll never talk about, there are dozens of floating cities that leave every week out of Port Miami where you can spend the weekend with 3,000 people you'll never see again who have nothing better to do than lie in the sun and party.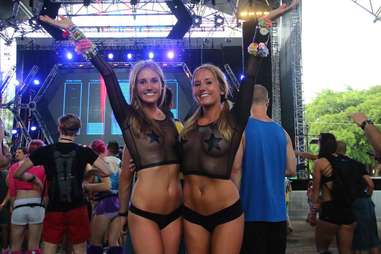 Wear something scandalous to Ultra
Bayfront Park (address and info)
Downtown
Because it's not like there's anyone there with cameras who'll put you all over the Internet or anything. But who cares? It's Ultra and as long as you're wearing at least a pair of tighty-whities you won't be the 10th most naked person within eyeshot.
Pucker up at Lips
Lips Florida (address and info)
Ft. Lauderdale
B is for don't get bitch slapped by Misty Eyes. She's the drag queen who runs Bitchy Bingo Wednesdays at Lips in Ft. Lauderdale. There's no cover, but there is a $15 food minimum. If you want to get even naughtier, there's the late-night Saturday show called Taboo. It's like drag queens gone wild. Only guests 21 years old and over are invited.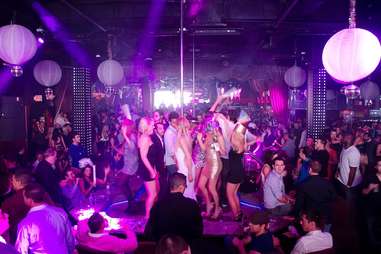 Take a late-night trip to Scarlett's
Scarlett's Cabaret (address and info)
Hallandale Beach
When closing time hits in Broward County, or anywhere in South Florida really, that's the time to hit the best all-nude, full liquor strip club in the state, where the undisputed champions of South Florida strippers bare all amid lasers, smoke machines, giant LED robots, and a pretty decent menu. Though eating is typically the last thing on the mind of anyone in there past midnight.
Go skinny dipping in South Beach
South Beach
Because after you meet the new love of your life who's here from Potomac for the weekend, you're going to want to get to know each other a little better. And what better place to do it than in 80-degree water under the moonlight? Just make sure you don't bring any valuables to the sand as unscrupulous locals will get to know THOSE better while you're dipping, and if things go further, put down a towel or sand will get EVERYWHERE.
Get dirty and clean at The Standard
The Standard Hotel (address and info)
Miami Beach
A date at a spa might seem only slightly more appealing than a date at the above-mention Fifty Shades movie, but when you can lather your date with a Turkish Hamam Rub and Scrub before hitting the co-ed steam room, the hotel's hydrotherapy playground with a Roman Waterfall Hot Tub, a Mud Lounge, and a Sound Shower, and then lounge by the topless pool that doesn't allow kids, all of a sudden it seems like a much better way to spend three hours.

Find the Naughty Rooster
Naughty Rooster (address and info)
South Beach
It's the adult toy and fetish store in the heart of one of the sexiest places on Earth. People come in from a hot and steamy day on Miami Beach and finish it off with a stop at the Naughty Rooster on Lincoln Rd. The store promises to bring you a mighty selection of porn, toys, and costumes that could make your cry for mercy or... sorryboutthis... cock-a-doodle-doo.
Sign up here for our daily Miami email and be the first to get all the food/drink/fun in town.