Sure, Miami's endless pool parties, sneakers stores literally staffed by models, and pretty much any event featuring the Dolphin Cheerleaders have a lot going for them, but the best way to enjoy South Florida's natural, and... um, unnatural beauty is in the area's finer gentlemen's establishments, which we've tirelessly scoured just so you'll know where to go for some great pizza, a chance to see a rapper, and, if you're lucky, get a really great value. And yes, by "value" we mean get lucky.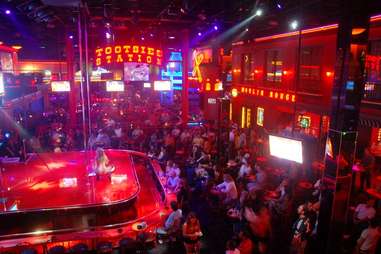 Best Club to Watch a Game: Tootsie's
Miami Gardens
There are times -- like the first three and a half quarters of every NBA game ever -- when the game is pretty meaningless and you need a nice distraction. Tootsies'll give you the best distractions ever but still let you catch the game on one of their 30 gigantic plasma screens. Just don't get TOO distracted or you'll have a hard time answering when your girlfriend asks you who won.
Best Club if You're Tired of Getting Hassled to "Tip me For My Dance": Wonderland
MiMo
"No, Trinitee, I didn't see your dance", is a phrase you'll never have to use at this 50s-burlesque-joint done up in South Beach neon, since the girls get fired for doing that. The downside is it's only topless, but the peace and quiet is worth the (relatively) limited view.
Best Club to Catch a Second-hand Buzz: Take One
Little Haiti
After a half-hour inside this smoke-filled strippery, you might not know whether you're in the champagne room or the back of Trick Daddy's limousine, though at least if it's the later, there's a chance it'll stop at the nearest combination Pizza Hut and Taco Bell.
Best Club to Have Lunch: Showgirls, Inc.
Cutler Bay
You know what goes great with a hot naked girl dancing on a pole? Ok, a lot of things... but the only one we can talk about is chicken sandwiches. Which are awesome here and totally FREE Monday-Friday if you buy a beer for the extremely-reasonable-for-strip-clubs price of $5.
Best Club to Go on a Date: Scarlett's
Hallandale
You know those girls who try to act all cool and claim they go to strip clubs, like "all the time", 'cause they're "just one of the guys" or they like the idea of "hooking up with a girl" even though they never do? Those girls all go to Scarlett's. They go for the flashing neon, plush seats, the throbbing dance music, and girls so hot that she might just, maybe, actually... nah, still not gonna happen.
Best Food Item: The Pizza at Pink Pony
Doral
The odds of your girlfriend believing you went to a strip club for the pizza aren't good. Not unless you bring home one of these fresh-baked, housemade dough-discs, after which, she'll probably start insisting she come along next time. So, actually, maybe don't do that.
Best Club to Learn How to Fake a Russian Accent: Club Madonna
South Beach
Much as you'd like to believe it really is Mikhaila's first night at work since she moved here from Minsk two weeks ago, her name's actually Kelly and she's been working there since the 90s. Believe us.
Best club to get More for Your Money: Playmates Club
Coral Gables
When Chris Rock wrote that famous song about strip clubs, he may, or may not, have been talking about Playmates (formerly known as Alley Cats) where, as the above photo from their champagne room suggests, $100 might go a lot further than it would anywhere not called the Opa-Locka Swap Meet. Just sayin'.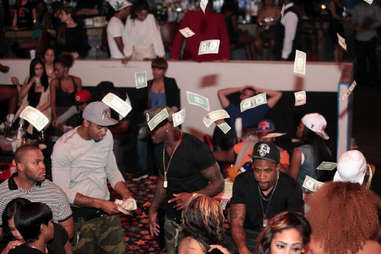 Best Club to See a Rapper or Pro Athlete Make it Rain: King of Diamonds
Miami Gardens
There's a lot of awards the venerable KOD could have won. Best Pole Dancers. Best Club to Watch a New Times Columnist do Said Pole Dance. Best club to Get a Haircut. But when a place is mentioned in every single Lil Jon song ever and has a full basketball court in case the Portland Trail Blazers decide to stop by, awarding it anything else would be…waitforit….Krazy.