You know that feeling when you go out of town and people ask where you're from and you say, "Miami," and everyone acts all impressed, except that one guy in the corner who says, "Oh yeah, where exactly?" Because he knows 1) you're probably from some other city in Dade, Broward, Palm Beach, or the Keys and don't really feel like explaining where "Lighthouse Point" is, and 2) that it probably sucks. And here's why: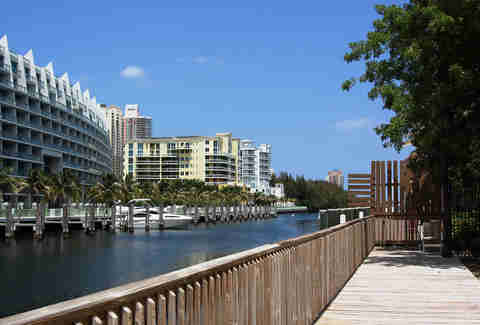 Aventura
You have condos on your city seal. It probably came down to that or geriatric New Yorkers.
 
Bal Harbour
You know what's a great way to drop $1,000 in an afternoon? One T-shirt and a speeding ticket.
 
Boca Raton
It is impossible to say "Boca" without sounding like a girl from Spanish River who got a 3 Series and an AmEx for her 16th birthday.
 
Cooper City
You re-elected John Sims. Possibly the nastiest politician in South Florida. The nastiest politician... in SOUTH FLORIDA. That's kinda like being the most delusional guy in Gainesville.
Coral Gables
Funny that a city that outlawed pickup trucks in the driveway would also have street signs that you can only see... waitforit!... from pickup trucks.
 
Coral Springs
Ohhh… auto mall! Anddddd…
 
Coconut Creek
See Coral Springs, but take away the auto mall and add "really depressing casino."
 
Cutler Bay
Change your name all you want, it still smells like Cutler Ridge.
 
Davie
You're home to a university that'll admit anyone with $40,000 and a pulse, multiple country-Western bars, and a football team full of guys who get paid. Basically, you're an SEC college town.
 
Delray Beach
Nice parade and garlic fest. But when half your population still resides at Kings Point it explains why your "Farm to Table Fusion Bistro" has to have an Early Bird.
 
Doral
Your three biggest attractions are 1) a jail, 2) a golf course named after a guy with a bad toupee, and 3) the most horrendous rush-hour street traffic in South Florida. Enjoy that 90 minute wait at Ale House while you "ride it out."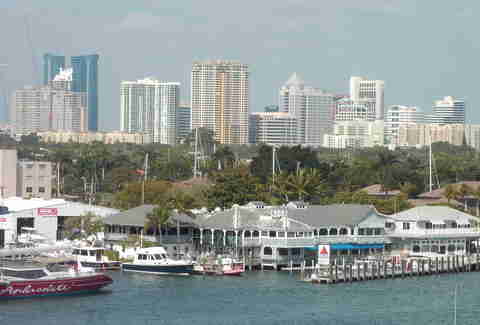 Fort Lauderdale
You gave the world Marilyn Manson and Spirit Airlines. Um, thanks?
 
Hialeah
You're the sixth largest city in Florida, but account for 98% of its on-street shellfish sales and 100% of its on-freeway mayoral punch outs. Also, can we stop with the street grid now?
 
Hollywood
Broward's little quirky beach town. If by "quirky" you mean "boardwalk full of transients."
 
Kendall
If Orlando and Hialeah had a congested, trashy, chain-filled, teenage offspring, it would be living at home, working at a cell phone store, and driving a leased Jetta somewhere on SW 167th Ave.
 
Key Largo
Somehow The Beach Boys failed to mention the beaches are about on par with Lake Erie and there are no entertainment options after sunset.
 
Key West
Florida's version of Vegas. By day three you'll just want a flight home and multiple showers.
 
Lighthouse Point
You're a city of 10,000 Paul Castronovos. Tommy Bahama has entire wings of its factories named after you.
 
Miami
Those condo towers are cute, but lest we forget that not long ago you were about an hour away from complete dissolution and are a Latin American market crash away from another one. Probably why you were named the Most Miserable City in America, an honor shared by such luminaries as Stockton and Detroit.
Miami Beach
When the entire place is underwater in 15 years, where will all the people who moved here because they loved it on vacation go to spend those six months they "live" in Miami?
 
Miami Springs
No matter how much you like to pride yourself on being some sort of enclave of happiness, Hialeah is still your neighbor.
 
Miramar
Pembroke Pines minus the mall. Plus the crime.
 
Oakland Park
Still wayyyyy more Oakland than Park, no matter how many funky breweries open.  
 
Opa-locka
Best Arabian-themed crack-house architecture in America!
 
Palmetto Bay
Sorry, but you're the poor man's Pinecrest.
 
Pembroke Pines
You're the tenth largest city in Florida but still somehow known as "Broward's Kendall," which is kinda like being known as "Anywhere's Cleveland."
 
Pinecrest
The downside of being the only normal neighborhood in Miami is that you have cops who actually enforce traffic violations. 
Pompano Beach
A world-class destination for harness racing. What's harness racing, you ask? Exactly.
 
Sunny Isles
You were cool before you bulldozed the Rascal House. Now you're Moscow with better weather, uglier buildings, and less-subtle prostitutes.
 
Sunrise
You better pray they never build that super mega-mall or your only claim to fame will be the Las Vegas Panthers.
 
Sweetwater
There's nothing "sweet" about water that comes up to your armpits.
 
Westchester
A great place if you happened to land here from 1998 and find yourself in desperate need of a calling card or a travel agent.
 
Weston
All you need to know is that MTV once set a teenage reality show here. 
 
Wilton Manors
Great place. Nothing wrong with it at all. Please don't boycott us.
Sign up here for our daily Miami email and be the first to get all the food/drink/fun in town.