The 17 All-Time Greatest Things to Do in Miami
Art deco tours, partying at a new club, and a Cuban sandwich crawl top this list of Miami must-dos.
Photo courtesy of Riptide Music Festival; photo illustration by Thrillist
Photo courtesy of Riptide Music Festival; photo illustration by Thrillist
Even though we haven't spotted a deluge of New Jersey license plates and the humidity is still high, we're inching towards the only actual season in South Florida: tourist season. And while that might mean our abundance of great restaurants and gorgeous beaches might be a little more crowded, it also means there's a lot more going on around the city than during summer. Many of the most iconic things to do in Miami—like going on a Cuban sandwich crawl or partying all night at a nightclub—are still on the table. But the cooler temps also mean it'll be prime time to explore the Everglades, tailgate a football game, or head to South Dade for an afternoon of agriculture. Take a gander at some of the best stuff to do in Miami, then send it to your friends up north so they know what to do when they inevitably make it down to escape the cold later this year.
Nightlife in Miami
Calle Ocho
Little Havana
Is Calle Ocho a little touristy? Sure. But so is the Eiffel Tower, and you can't leave Paris without stopping there at least once, right? Calle Ocho's allure is almost irresistible once you hear the salsa beats pouring out of Ball & Chain, a bar and nightclub restored to its 1930s glory. You can also dance and drink Cuba Libres at the Cubaocho Museum and Performing Arts Center, home of the largest collection of pre-revolutionary Cuban art outside the island. There's no shortage of shops to grab cigars and Cuban Coffee, too. Though if you want to try some of the street's true gems stop into the Union Beer Store for a massive collection of local beers (and a fantastic new pizza place next door). Or grab some refreshing ice cream at Azucar, then try the Thai tapas at Lung Yai.
Nightclubs
Various locations
You don't need us to tell you that Miami is home to some of the best clubs in the universe. Back in the day, it was all about going to giant dance clubs where celebrities, models, and other beautiful people danced under flashing lights in a haze fueled by vodka Red Bulls. Old faithfuls like E11even, LIV, and Club Space remain go-to spots for the type of over-the-top club experience you can only find in the 305. But the new era of nightlife in Miami has something for everyone. Those who care more about the music than the scene will feel at home, despite the name, at Do Not Sit on the Furniture. M2 is the newest club on the scene offering big names and even bigger dancefloors. And if you want to get things started as early as possible, there's DAER, which bills itself as a dayclub.
Things to Do Outdoors in Miami
Kayak through Oleta River
North Miami
In one of the more surreal natural experiences one can have in South Florida, Oleta River State Park offers you the chance to kayak through ancient mangroves and escape into a Florida of yesteryear. It's a beautiful paddle through our dwindling nature, which takes you to uninhabited bay islands and beaches you can only reach by boat. If the water's not for you, the park also has miles of mountain bike trails to explore. Of course, this is South Florida, so "mountain" is a loose description, but it's the best you're getting without a long trip up the Turnpike.
Snorkel the Florida Reef
Various locations
Sometimes when you live in South Florida, you forget we're home to the biggest coral reef in the contiguous United States. From just south of Miami all the way to Dry Tortugas National Park, you can snorkel or dive over some of the most colorful marine life on the planet along the Florida coral reef tract. Driving down to John Pennekamp Coral Reef State Park or Bahia Honda beach in the Keys always makes for a nice day trip. Or you can take a boat tour with the Biscayne National Park Institute from Coconut Grove and see the wrecks along the Maritime Heritage Trail too.
Everglades National Park
West Dade
Miami-Dade is the only county in America that's home to two national parks within its borders. Everglades National Park is its most famous, where you can hike through forests of gumbo limbos, walk by alligators along protected boardwalks, and immerse yourself in a surreal world under a big cypress canopy. Biking through Shark Valley is probably the most popular way to experience the park, but you can also hit the Royal Palm visitors center and take short hikes through the marshes that are easy for everyone. To get deep into the glades, head a little outside the park and take an airboat ride from the Miccosukee Village or Jungle Erv's in Everglades City.
Explore tropical gardens
Various locations
If you like your nature a little more landscaped, Miami's got a few fabulous tropical parks where you can feel like you're in the jungle then step out to a concession stand. Fairchild Tropical Gardens in Coral Gables has a flock of resident flamingoes, as well as regular festivals and a cool Christmas installation called Nightgarden. Further south, Pinecrest Gardens has a new Avian Oasis art exhibit, featuring 30-foot bamboo bird sculptures. And near South Beach, Jungle Island offers a new Treetop Trekking experience, where you can traverse challenging ropes courses over the garends with stunning views of Miami.
Venetian Pool
Coral Gables
One of the more unusual and beautiful public swimming holes you'll ever find, Coral Gables' Venetian Pools are carved out of an old rock quarry used to build the gates and houses around the City Beautiful. It was a celebrity hotspot in the 1920s, and you can still see photos of Johnnie Wiesmueller and Esther Williams sunbathing there. Today, it's a popular destination for local families—but if you'd like to enjoy the pool in peace, it's open during the week as well.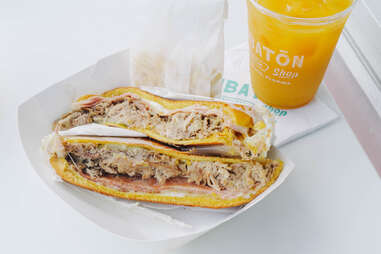 Best Things to Eat and Drink in Miami
Cuban sandwiches
Various locations
If you're in Miami, you gotta get a Cuban, right? Lesson #1: No locals call them "Cubanos." Lesson #2: The real version has ham, smoked pork, mustard, Swiss cheese, and pickles (no, Tampa, no salami) on pressed Cuban bread. You can spend a whole day sampling them, starting at Cubaton in South Beach, which also has a cool Pitbull-themed bathroom. You'll also want to make a stop at Enriqueta's in Midtown, a consensus pick for best in the city. Sanguich on Calle Ocho makes a mean Cuban too, though Islas Canarias and Sarussi Subs are favorites among Miami lifers.
The Tea Room at Cauley Square
South Dade
Outside the Art Deco district, historical preservation is about as popular in Miami as turn signals. But one shining exception is this little restored railroad village in deep southwest Miami-Dade, where 20 turn-of-the-century houses and commercial buildings have withstood hurricanes and rampant development. What remains is a true trip back in time, where you step through the mango trees and seagrapes and find a look at what life was like in frontier South Florida. The main attraction is Cauley Square's Victorian tea room, where visitors enjoy an elegant afternoon like it was 1915. There's also a nicely-restored chapel on property, as well as a full-service restaurant at The Village Chalet, and a wide array of craft and book stores.
Avocado and mango wine at Schnebly Winery
Redlands
Did you know Miami is home to the southernmost winery in America? Now, it doesn't make wine with stuff like "grapes," but if you're open minded, Schnebly Winery's avocado and mango wines can be quite refreshing. A tasting there is the centerpiece of your day in rural South Dade, where you can stop for a fresh fruit milkshake at Robert is Here, then stand in line for the legendary cinnamon rolls at Knaus Berry Farm. Along the way, you'll spot plenty of places to stop and pick everything from strawberries to tomatoes, and you can make another booze tasting stop at Miami Brewing Company, just across a palm-filled courtyard from the winery.
Vegan food
Various locations
Miami's signature cuisines are probably pork-tastic Cubans and our abundance of fresh fish. But plant-based eaters and the people who love them are far from left out of our city's culinary bounty. We've got some of the best vegan restaurants on the planet in Miami, led by the Asian-inspired MintyZ in Midtown and Coconut Grove. You'll also find animal-free Mediterranean food at Happea's in Brickell, which is your best bet for vegan lunch. Manna Life Food does plant-based burgers and arepas best, and Omakai in Wynwood offers an entirely vegan omakase dinner. You'll never go wrong with the vegan pizza at FlyFuel, and no matter what part of South Florida you're in, there's likely a Carrot Express nearby with an overwhelming menu of plant-based options.
Eat your way through Wynwood
Wynwood
If you want to scope the ever-changing street art in Wynwood, sometimes planning a route can be a challenge. Might we suggest planning your trip around food and beer, where you can start on Wynwood's far-western fringe at Wynwood Brewing Company then work your way east. Enjoy a La Rubia then meander past murals to Coyo Taco or Pizza Tropical at Gramps to soak up the booze. Head a block south and pop into the Asian food hall at 1-800 Lucky, where if you're not up for poke or dim sum you can still post up at the bar and enjoy the outdoor DJ. Next is Veza Sur, to enjoy a Latin American lager on the big sunny patio. Then finish up at Cerveceria La Tropical for some of Cuba's most famous beer and bites from Cindy Hutson.
Sports Events in Miami
Tailgate at a Miami Dolphins or Miami Hurricanes game
Miami Gardens
Our local college and pro football teams are off to a great start this season. And whether or not either team stays on top, the tailgates at Hard Rock Stadium are unmatched. Show up four-ish hours before kickoff and you'll find acres upon acres of grilling meats, cold beers, and the occasional Jagermeister shot, along with fans who are as welcoming as they are colorful. Tickets are not particularly hard to get if you're inspired to watch an actual game, unless the Patriots or Jets are in town. And it's probably the only chance you'll ever have to tailgate on a Formula 1 race track.
Gulfstream Park
Hallandale Beach
You don't need to know a trifecta from a triceratops to enjoy an afternoon of horse playing at Gulfstream Park. The Mediterranean revival racetrack is one of the top thoroughbred destinations in the country, and even if you're not there for the scene at the Pegasus World Cup or Florida Derby, it's a great time. Gulfstream also throws regular food and drink events like its Taste The Track series, where you can sample unlimited tacos, burgers, or barbecue while you wager. And once you've cashed in, you can take your winnings out to the Village at Gulfstream Park and spend them on everything from steak dinners to private karaoke rooms.
Art and Live Music in Miami
Art deco tours
Various locations
Miami Beach has the largest collection of art deco buildings in the world. And sure, you could stand across the street on Ocean Drive and snap pictures like a regular tourist. Or you could learn a little bit about why they were built—and why they're still there—on an art deco tour. The Miami Design Preservation League runs the best ones, which start every day at 10:30 am. Paul George offers tours through HistoryMiami and is the city's preeminent historian. George knows the city inside and out, so whatever part of Miami he's leading you through, he'll turn you into an instant expert.
Modern art museums
Various locations
While our world-renowned museums are cherished cultural institutions, our city truly excels in showcasing art in untraditional ways. A shining example is Superblue, a series of immersive installations from names like Es Devlin and James Turrell, where you can touch the walls to change how the art is displayed. In South Beach, ARTECHOUSE is hosting Magentaverse, a look into Pantone's 2023 Color of the Year. Beyond that, the Museum of Graffiti in Wynwood allows guests to learn the history of graffiti and immerse themselves in exhibits from famous artists.
Music festivals
Various locations
For all the hype Miami gets for its big events like Art Basel and the South Beach Wine and Food Festival, sometimes people forget we also host some of the coolest music festivals in the country. Everyone knows about Ultra. But close on its tails is iii Points, the Wynwood weekend headlined this year by LCD Soundsystem, Bob Moses, and Porter Robinson. Audacy's Riptide Music Festival will return to Fort Lauderdale Beach December 2-3, and the bill already includes The Black Keys and Silversun Pickups. And the Country Bay Music Festival welcomes Sam Hunt and Elle King to Miami Marine Stadium November 11-12.