There's a lot we take for granted here in Miami. Like year-round sunshine, for example. Or cheap car repairs, provided you pay in cash. It's only when people come to visit that we realize what a truly... special city we live in. A city where we can spend balmy summer mornings working out on the beach, afternoons driving through a swamp, and our nighttimes on vivacious rooftop bars looking out at one of the greatest skylines in the world.
Finding the absolute best stuff to do is really a matter of narrowing it down to the things that are actually worth doing (like checking out the pool parties, our best restaurants, great bars, etc.). And while some of it might seem a little touristy, there's still some fun, affordable (even free!) stuff to do in South Florida that's great for locals and visitors alike.
Free
Though locals might think of it more as a crowded, elevated, rolling soup kitchen, taking the entire loop from Brickell up to the Arsht Center and back is a great way to see the city from above. And should the car mysteriously stop for no reason as it does once in a while, you can cross "walking the Mover tracks" off your Miami bucket list.
Work out outside
Free
No need to shell out a car payment for a month at Equinox! We've got calisthenics courses and volleyball courts in South Beach, weight machines under the Metrorail in Brickell, and plenty of scenic runs all over the city. Your visitors will have a Miami-worthy body in no time, maybe minus the plastic surgery.
Go to the beach, obviously
Free
For many locals, the only time we go to the beach is when people are in town, so find the Miami beach that's best for them. If your crew wants to be in the middle of the action, South Beach is the move. But if they'd prefer a deserted tropical island feel, head out to Crandon Park. For the real Robinson Crusoe effect, go all the way to the end of Key Biscayne to Bill Baggs State Park. Or get crazy and strip down at Haulover.
Free
Norman Braman -- of car dealership and stadium lawsuit fame --  opened up one of the greatest free art museums in the world this year, boasting a collection of experimental, avant-garde, and sometimes-bizarre works at the Institute of Contemporary Art. They offer free guided tours every day at 1pm (if you'd like a little assistance understanding what, exactly, you're looking at). Or you can just spend the afternoon relaxing in the museum's lush sculpture garden.
Do exactly ONE LAP of Ocean Drive
Free - $$
Look, if you've never been to Miami before you pretty much HAVE to see it. So indulge your guests and start at Fifth Street and work your way north. If they insist on stopping for a drink, go over the top and get something smoking at Sugar Factory. If they want to eat, A Fish Called Avalon and Havana 1957 are good options, with equally fantastic people watching.
Free - $$
It's as close to a northeastern beach town as we get in South Florida, as our lone stretch of funky boardwalk is filled with beachside bars, soft serve ice cream, and people who look like they just stepped out of a Florida Man story. The best hidden gem here is The Taco Spot, one of the best Mexican places in South Florida. Though you can never go wrong with a drink at the Margaritaville resort.
Free
Though some see it through the haze of a long Wynwood night, the street art here is one of the most impressive collections in the world, with blocks upon blocks of colorful provocative murals lining the streets. Walking around is like a free outdoor museum, that's different every time you go. And because all that walking will leave you hungry, you'll need some good food and drink to keep you going.
Free
They won't like it, but they're charging $400 a night and $25 for an order of chicken strips so don't feel too bad. Pools are free if you don't get caught, though your best bet for keeping your seat is ordering a drink or two, which will be upwards of $20 each. The best scenes will be at the Delano, Raleigh, National, Loews, SLS, and Shelborne.
Free-$$$
Rolling down US-41 under Big Cypress canopies while blue heron fly overhead and gators sun themselves on the highway is one of the most Florida experiences one can have without dating their teacher. It's free to drive through, though watching a gator show at a Miccosukee Village or taking an airboat ride at Jungle Erv's is worth it once you're out there.
$
Showing your guests the natural wonders of the Florida Keys doesn't mean enduring the two-lane torture all the way to Key West. John Pennekamp Coral Reef State Park is only about an hour from Miami, and offers some of the best snorkeling in the world. After Hurricane Irma, the beach and water are both cleaner than they've been in years, and just swimming off the shore here you won't need a boat, a guide, or any reservations. Want even more to do in the Keys? We've got that guide right here.
$
Though it's not the rowdy, seat-packing, Sunday social event it once was, Jai-alai is still one of those things you take people to with no expectations and they leave saying, "Man, that was FUN!" So take an evening and head to Dania Jai-alai, where you'll bet on guys with names like Elizalde and Arriaga hurling a ball at a wall at over 100 miles an hour, and hope the game was rigged to make the guy you bet on win.
$
One-act plays in storage containers are all the rage in Spain. So we hear. See what it's all about at the Centro Cultural Espanol Downtown as they perform in colorfully-designed containers, each with only 15 seats. Make sure you check to see if you're attending an English or Spanish program, but definitely hit more than one as they're only $6 a pop.
$
Nowhere will you see the epicenter of Cuban culture like you will at Versailles Bakery in Little Havana. Is it the best Cuban food in Miami? No. Is it close to being a tourist trap? Maybe. But grabbing a Cafecito and pastelito at the bakery and watching the abuelitos talk about whatever it is old Cuban people talk about for hours at a bakery is not an experience you're getting anywhere else.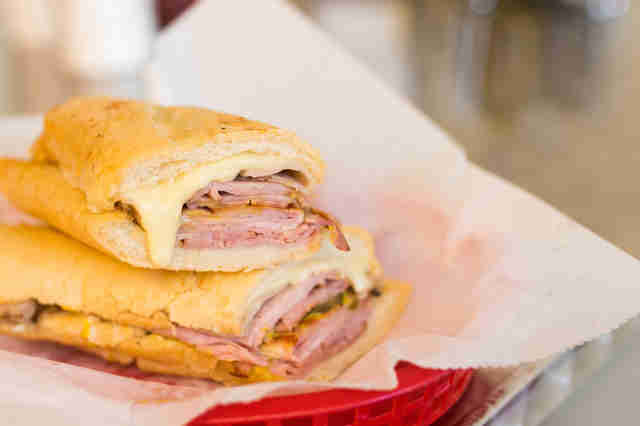 $
It's the quintessential must-try food for anyone visiting Miami. The sandwich, at its most basic, is a mixture of ham, roasted pork, Swiss cheese, and mustard… all placed betwixt Cuban bread and served warm. Your best bets will be La Carreta, Versailles, and Sergio's.
Drink milkshakes and wait in line for the best cinnamon rolls you'll ever have
$
Miamians are pretty averse to waiting in line for anything…the cinnamon rolls at Knaus Berry Farm in Homestead, which even midweek will have you waiting minimum half an hour. Since you're going all that way, also hit up Robert is Here for some fresh fruit, a milkshake made with said fruit, and the baddest petting zoo animals you'll ever see.
$
Literally nobody knows, or even saw, how little Ed Leedskalnin built this massive castle out of coral rock -- including a 9-ton gate -- over the course of 28 years. Nor do they know how he amassed the sculpture collection that sits within its walls. Like most things in Miami, it's best not to ask too many questions and just enjoy the show.
Relax with a drink on the water
$
Even in the steaming heat of summer, having a drink on the water is the ultimate way to relax in the magic city. Hit either Monty's Sunset in South Beach or Monty's Raw Bar in Coconut Grove for the classic experience. Smith and Wollensky in South Beach for a higher-end vibe, or LOL on the Bay in Brickell for a cheap, hidden gem between two apartment building pools.
$
This old Coral Gables rock quarry is a family favorite, where coral buildings stand around turquoise water and families spend the day enjoying the tropical landscaping that makes this place feel like a jungle hideaway. Go midweek during the school year and it's enjoyable. Go on the weekend, and be prepared for kids.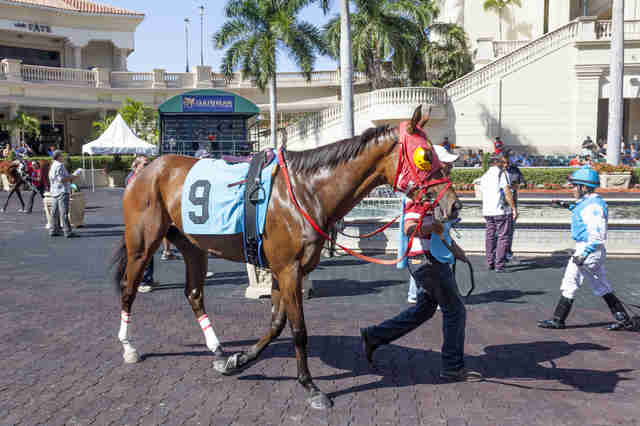 $
We are blessed with one of the most beautiful and clean horse tracks in America, with some of the top horses calling the place home. Even if you've never bet on a horse race, hang out by the paddock and pick the one who looks the best, bet on it to win, then get ready for two of the most exciting minutes in sports.
$
Our sparkling new Frost Museum of Debatable Facts boasts not only the Instagram-ready aquarium from which you can look in on sharks, rays, and other tropical fish. It also has a pretty cool recreation of the Everglades and a massive planetarium with weekend laser shows. Plus a new Design Lab where you can race toy bobsleds and drive yourself crazy trying to make the letter T out of random shapes.
$
Sometimes you need to abandon your ideas of what wine is "supposed" to taste like, and savor a light white made from mangoes. The Schnebly Winery in Homestead has some creative blends made from tropical fruit that might not taste like what you'd get in Napa, but still can be delicious if you have the right mindset. Don't feel like broadening your mind? The Miami Brewing Company is right across the courtyard.
Smoke cigars on Calle Ocho
$
What was once Miami's Cuban enclave has evolved into a bit of a tourist trap, but it's hard not to have fun after you pick up a stogie at the Little Havana Cigar Factory, grab a Cafecito from the ventanilla at El Exquisito, and stroll the streets like you're the king of Havana. Stop in and watch a game of dominoes at Maximo Gomez Park, then grab some ice cream at Azucar! or a pastelito daiquiri at Ball and Chain.
$
Take the scenic drive down Old Cutler Road to this park on the east side of the street, where banyan trees, mangroves, and palm trees give a reminder of what the land here was like before dredging and air conditioning. It also has one of the most secluded, serene beaches in the city, which is worth the $5 admission alone.
$-$$
Until this year, taking guests to ride the canals of Ft. Lauderdale or see the grandeur of Palm Beach meant also introducing them to hours of South Florida traffic. But now you can visit the 954 and 561 while showing off our sleek, new, high-ish speed train with a full bar and gigantic bathrooms. If you're going to Ft. Lauderdale, you can take the water taxi through the canals, past celebrity homes, and out to Ft. Lauderdale Beach. Or spend an afternoon in exploring West Palm -- assuming you don't get stuck behind a presidential motorcade.
$-$$
The view from the grassy knoll at this park on the southern tip of Miami Beach is without question the best in the city. Grab an order of fried chicken to go from Joe's Take Away, add a bottle of wine from Publix (and maybe a PubSub if you've never had one), and you're watching the sunset over the Miami skyline with the ocean at your back for under $20.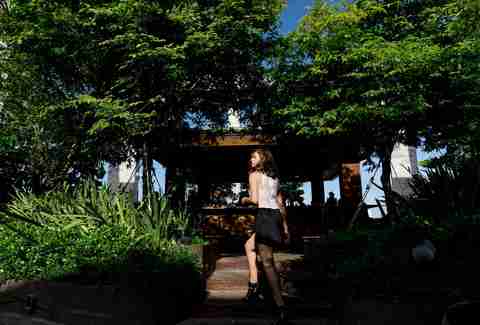 $-$$
The next best (and much more expensive) view of the city is from the rooftop bar at Brickell's East Hotel. This Asian garden in the sky serves up some of the best cocktails in Miami, with a heaping side of views all the way up to Hard Rock Stadium, out to South Beach, and west to the airport and the Everglades. Get the Dhalia with Avion silver tequila, elderflower, Thai chili, cucumber, and lemon.
$$
Getting out on the water is a must any time you're in Miami, and if renting a boat is out of the budget head to Crandon Park to rent a stand-up paddleboard or kayak, then get out and explore Biscayne Bay. Hell, you might even encounter some dolphins or manatee.
$$
There's a bit of a surreal feeling of paddling through what feels like a deserted mangrove swamp, turning a corner, and coming face to face with a wall of high-rise condos. But such is the magic of Oleta River State Park, where Old Florida meets new, and you can kayak out to empty islands and beaches only reachable by boat.
$$
The Dezer collection in North Miami is an unfathomable private collection of TV and movie cars as well as classics. You'll see Batmobiles, Bond cars, the General Lee, a Delorean, and other cars you know from movies, then step into the Classics rooms where everything from vintage American cars to high-speed Italian roadsters are on display. There's a massive discount for Florida residents, and even a Ninja Warrior training course next door.
$$
If just looking at street art is a little dull for you, hit up three of Miami's best breweries all within a few blocks at J Wakefield, Wynwood Brewing, and Concrete Beach. Then sample the best quick food in the neighborhood by grabbing some Asian stuff at 1-800 Lucky, a slice at Pizza Topical, and a couple of tacos at Coyo.
Take a tour of your Miami that even us locals love
$$
Sure, you might think jumping atop a giant rolling duck or a double-decker bus is a little cheesy. Because it is. But some tours aren't quite as obvious, and will actually teach you more about Miami in a few hours than you've learned in all your years living here. Try the Miami Tour Company's original Miami tour for a witty, educational good time.
$$
Take a trip into the surreal as you wander underground hallways beneath Miami Beach hotels and arrive at the Russian and Turkish Baths. Here you can sweat out whatever you need to expel, get a massage, relax in a jacuzzi, or get hit with an oak-leaf broom in the banya as you inhale scented oils and somehow tell yourself it's relaxing.
$$
The quickest way to feel like a kid again is hitting this mega-play place in north Broward, where you'll drive go-karts, jump on trampolines, run a ropes course, blast bazookas in a glow-in-the-dark house, and pretty much everything else you enjoyed when you were ten that you still love now. But now there's beer.
$-$$$
The Perez Art Museum might be the only art museum on the planet where the views out the window compete for your attention with the art inside. That's not a knock on the artists, but a testament to the Bayfront view from Miami's new-ish art palace. Try and appreciate the art, then enjoy the view with lunch at Verde, which'll likely be the best meal you'll ever have in an art museum.
$$-$$$
Top Golf certainly isn't unique to Miami, but if you want to enjoy the outdoors while drinking and doing anything mildly active, this Miami Gardens spot is tough to beat. Rent a bay on the massive driving range and take turns trying to hit targets, out drive each other, or even take a lesson. All while sipping beers and enjoying surprisingly good food.
$$$
The downstairs at the EDITION hotel is one of those Miami places you tell people about and they seem endlessly confused. But Basement is one of the most complete entertainment options in the city, complete with disco, bowling alley, and ice-skating rink, all of which you can enjoy with a frozen drink in your hand.
$$$
There may be no better way to see Miami than from 14,000 feet, climbing up slowly in an airplane that feels like it was constructed with model glue, then mercifully jumping out. Skydive Miami in Homestead gives you that spectacular view, followed by an all-out adrenaline rush of over a minute of free-fall while you look out on literally all of South Florida, the Atlantic Ocean, and the Everglades, before dropping in a field and immediately trying to figure out how to do it again.
$$$
If jumping out of a rickety plane in Homestead isn't the kind of thrill your Miami visitors had in mind, head up to iFLY in Davie where you'll jump into their indoor skydiving chamber and get the sensation of free-falling without the death-defying plane ride. You'll even get a video to take home and show your friends or immediately post to a flurry of likes.
And if you're looking for more dope things to do in Miami, our comprehensive Miami Travel Guide has you covered with the best places to eat, drink, stay, and see. It's must read when you're jaunting around the 305.
Sign up here for our daily Miami email and be the first to get all the food/drink/fun in town.