You'll Seriously Regret Not Doing This This might be the best weekend in the history of weekends to buy a laptop, since it's Florida's tax-free weekend, plus whatever National Laptop Week is. Or you can tweet this Playbook out and possibly win a free ASUS laptop, courtesy of Tiger Direct
Thursday, August 1st Miami Spice is finally upon us. So, that's great. It also means you can sample the menus from over 45 restaurants, plus catch a live chef competition at the Iron Fork dinner at Adrienne Arsht from 7-10p
Bud Light is throwing 50 concerts in 50 states in one night, and Miami has drawn Canadian indie sensation Metric, who play at the Fillmore at 8p. Get your tickets
If you own a bad-ass bike and also value local business connections, you'll probably wanna hit up Miami Brickell Chamber and Will Call's Bike Night from 8-1130p.
Friday, August 2nd Coolio celebrates his 50th birthday (feel old, go ahead) by performing at LIV starting at 11p. He may or may not be reciting recipes from his cookbook. Advance tickets help you skip the line.
Sunday, August 4th Restaurant Michael Schwartz is unveiling its new Sunday brunch, at which you can sample Michael's latest creations like short rib Benedict and bacon sticky buns poolside from 11-4p.
Wednesday, August 7th Macchialina chef Michael Pirolo will be hand-carving porchetta at his Craft Beer Happy Hour, for which Gravity Brew Lab created a special Saizonetta beer you can pair with a sandwich. It's $5 for BOTH!!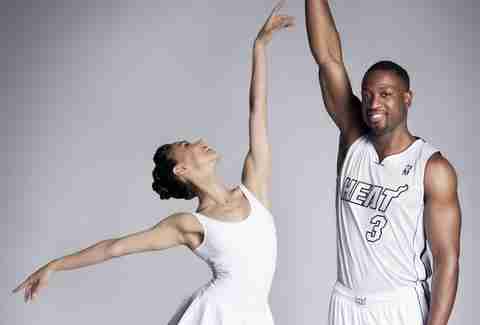 Local Lady We Love, And Where To Find Her
You may have found yourself at a traffic light staring up at a massive downtown billboard wondering, "Who's that girl with D-Wade?" Well, it's none other than Patricia Delgado, who, along with her sister Jeanette, is a principal dancer at Miami City Ballet, and a Cuban-American icon for the arts.

Contrary to popular belief, ballerinas actually do eat, and you can find Patty enjoying the wine and tapas at Macchialina, or the far-East atmosphere at Khong River House. For a Zen recharging after a hard day of ballet, her go-to is the Standard Spa for its bar, food, and massages.