Have a super weekend at Miami's sweetest Super Bowl parties
Miami Party of the Week
Hyde Beach at SLS'll have their usual bottle girls dressed as cheerleaders and have you enjoying the game pool-side with their special Big Game BBQ Menu with Media Noche sliders, Jumbo Lollipop wings, and Frito Chili Pie. Just make sure to leave your shirt on when those cheerleaders walk by.
Saturday, February 1st: HaVen is turning their weekly Destination Saturdays: NYC event at 10pm into a Super Bowl pre-party with appropriately Big Apple-themed designs on their wraparound screens, where you can also catch the game (live from New York... err, Jersey) the next day. Continue Reading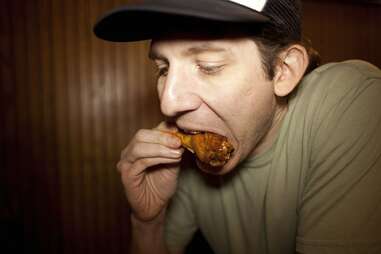 Sunday, February 2nd: Invent your own Super Bowl EATING games when you hit Biscayne Tavern's tailgate-inspired AYCE wing buffet for $25. Our idea: every time someone mentions Peyton Manning's "legacy" scarf, eat a Korean, Dynamite, Honey Mustard, Spicy BBQ or Classic Buffalo wing. Then maybe hit that CVS across the street for some Pepto.


Sunday, February 2nd: The Bimini SuperFast cruise ship is hosting a tailgate party from 9am-7pm, where you can, once you're in international waters, bet on the Super Bowl while watching it in their sports book, plus enjoy drink specials and live DJs. Get a ticket here and your 2nd one is 50% off.
Sunday, February 2nd: If you're a non-smoking hipster, you'll definitely be catching the Super Bowl at SoFi Public House, where they'll have $1 PBR drafts and $5 PBR pitchers, plus all-day beer pong and La Locanda's Italian take on tailgate food.
Sunday, February 2nd: Radio Bar is gonna have free pizza, wings, mozzarella sticks and more from Pizza Bar, plus 5 for $15 Coors Light buckets, $6 Absoluts and $3 drafts. But mostly, free food!!
Sunday, February 2nd: Catch the Super Bowl the same way the Dolphins are…pool-side. Except you can do it in a cabana at Fontainebleau where $400 gets you and your buddies 3 buckets of Coors, a bottle of vodka, and unlimited chips and salsa.


Sunday, February 2nd: Batch Gastropub is splitting their bar in half (presumably to prevent fights from those notoriously rowdy Seattle and Denver transplants), decorating one side in Seahawks Blue and the other in Denver, uh, other blue, so you can slam $8 Fireball shots on the side you support. Then next week, go back to your usual pool-partying...