The Weekend Playbook: Free ice cream and a WATER BALLOON FIGHT!!!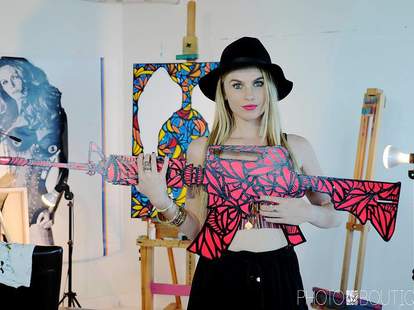 Must-Hit Event of the WeekKatsuya at the SLS launches their July décor from artist Alexander Mijares (his work seen above) with their Gallery Nights party Monday at 7p. If you want a meet and greet with Alexander, plus a free round on the SLS, tweet at us. Something. Anything. Most creative wins. It's all art, right
Thursday, June 27thSuViche celebrates the grand opening of their Miami Beach location at 530p with free appetizers and drinks, plus beer and wine. Stay past the event time and get discounts on everything on this menu.
Friday, June 28th Miami's Hottest Chef Giorgio Rapicavoli of Eating House kicks off Swine's midnight guest chef dinner series (so technically Saturday) with a five-course dinner that's announced the night of the event, but you can get tickets now.
Saturday, June 29th Tobacco Road's patio will be converted into a beach at 3p with 40 tons of sand leading up to a cool & wet water balloon fight.Tobacco Road, always bringing the fun.
Journey will be at Hard Rock Live on Saturday at 8p. See for yourself how much that Asian dude really sounds like Steve Perry and get tickets NOW.
Wednesday, July 3rd PB Steak starts their "Taco Belly" pop-up, where they'll be dishing house-made salsas, tacos with bulgogi and cochinillo, and fresh margaritas from 12-4p.Here's the rest of PB Steak's menu.
Get FREE Ice Cream at Gulfstream Park from 3-5p when they launch the Summer-long Scoops and Spoons Free Ice Cream Social. Hit up Champion's Circle, and get free Haagen Dazs, then go bet on stuff.
Did we miss anything? Tell us in the comments below -- especially if it's someone with a big screen showing re-runs of Perfect Strangers!!