Miami Event of the Week
Your Florida Panthers (reminder: that's the NHL pro hockey team in Sunrise) host Chanukah on Ice Wednesday, where in addition to taking on the New York Rangers, there'll be a menorah lighting, special Kosher food, performances from the Maccabeats, and possibly Jewish hockey players. See three of those four things by getting tickets here.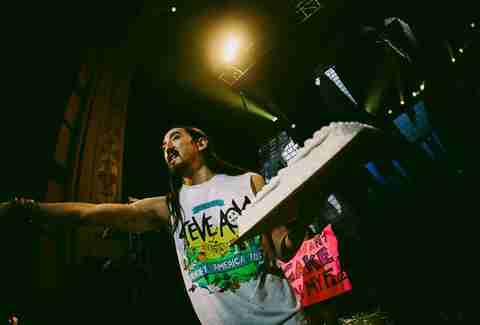 Wednesday, November 27th: Before you get a chance to stuff your face with turkey, Steve Aoki is going to cover it in cake. That is, if you go check him (and possibly Richard Simmons) out at 10p at LIV. Continue Reading
Thursday, November 28th: Pretend you're not about to put on 10lbs of turkey weight at Baptist Health's annual Turkey Trot. 5k or 10ks start at 730a at Tropical Park. Sign up here
Thursday, November 28: David Guetta is French, and therefore is happy to work on Thanksgiving and help you dance off that food coma at LIV starting at 10p.
Friday, November 29th: Jungle Island is trucking in tons of the white stuff for their Winter Wonderland, where you can toboggan down the slopes onto a private beach before catching  a holiday movie and then dominating the inevitable snowball fight.