The Weekend Playbook: A Home Brew-haha, and people who suck at flying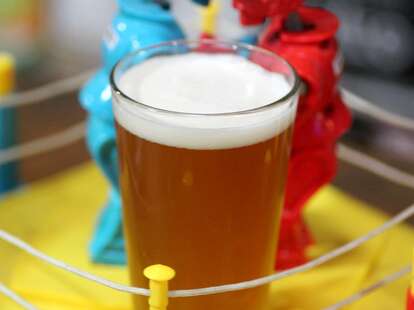 Freebie of the WeekThe Riverside Market's End of Summer Home Brew Event at 7p lets brewers from across South Florida throw down to see who makes the best suds. If you wanna check 'em out -- including a special LauderAle Thrillist Brew -– tweet out this Playbook and you might get to taste 'em all free
Thursday, September 19thIf you think you see the Geto Boys hanging out by the edible wall at Blackbird Ordinary, your mind's not playing tricks on you. The legendary Houston rap trio performs at 8p, and $10 admission gets you a free drink
Friday, September 20thDowntown Art Days is highlighted by the opening of Leonardo Hidalgo's exhibition of nothing but Batman-inspired art. There will be massive canvas pieces, an entire car that's been turned into a painting, plus a Joker sculpture. It's going down from 6-10p at Lou LaVie.
A dream team of Miami chefs including Allen Susser, Norman van Aken and Michael Schwartz will be creating the menu for the James Beard Foundation's Taste America Miami at 730p at The Spanish Monastery.Get tickets here
Saturday, September 21stDon't tell the folks building human-powered flying machines at Red Bull Flugtag that humans weren't meant to fly. Better just to hit up Bayfront Park from 12-430p and laugh/be amazed as they tumble into the Bay/take off into the sky. But mostly tumble into the Bay. Check it out!
Did you know Oktoberfest actually kicks off 16 days before the first Sunday in October? Bad Ragaz Hall does, so they're letting you pour $5 biers from your table tap, and enjoy free pretzels, plus a live accordionist, from 2p-1a.
Magic City Casino hosts a lucha libre extravaganza by the crew at El Main Evento. Expect a burrito-eating contest, live wrestling, plus HuaHua's Taqueria and 20 food trucks including Ms. Cheezious and El Jefe, from 5p on. Get the deets here
Monday, September 23rdWynwood Brewing Company is celebrating their long-awaited launch at Gramps at 8p with their La Rubia Blonde Ale, Wynwood IPA, and Pop's Porter on tap.
Chat Chow and Bulleit Bourbon will co-host a four-course bourbon-pairing dinner at Swine at 7p. Call the restaurant for reservations ASAP!