Whoever said Miami doesn't have seasons clearly was... well, wrong. We may not have the usual four of winter, spring, summer, and fall, but we do have our own two: hurricane and tourist. And in case you hadn't noticed the cooler weather/horrendous traffic, we've just moved out of the former and into latter. So how do you tell who's a hardened local and who'll be heading home on Sunday night? Here're 21 ways...
Tourists: Spend four hours on the beach and end up roughly the color of Kool-Aid
Locals: Have deep tans and/or weekly basal cell carcinoma treatments

Tourists: Buy bottles in clubs
Locals: Know the bartender
Tourists: Speak English
Locals: Speak Spanglish

Tourists: Wear shorts when it's 68 degrees
Locals: Wear fur-lined winter coats and ski pants when it's 68 degrees

Tourists: Look shocked when their waiter isn't friendly, prompt, and attentive
Locals: Are shocked if they get water within 15 minutes
Tourists: Think all of Miami is "South Beach"
Locals: Think all of Miami is another country

Tourists: Buy Heat tickets way ahead of time on StubHub for a steep markup
Locals: Show up 15 minutes after tip-off and refuse to give a scalper more than $20

Tourists: Open the windows and enjoy the warm air
Locals: Air condition the s**t out of everything
Tourists: Think Miami is full of beautiful people
Locals: Think Miami would be a great place, if it weren't for all the people

Tourists: Are offended by a $12 Bud Light
Locals: Get excited for a happy hour with $7 beers

Tourists: Complain about all the bad drivers
Locals: Complain about all the bad drivers, while changing lanes without using a turn signal and then stopping in the middle of traffic to ask if you need that dent repaired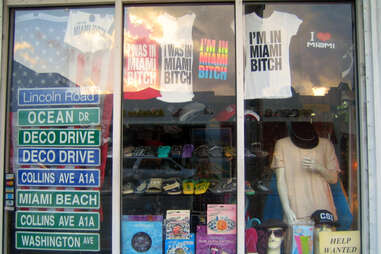 Tourists: Wear shirts with LMFAO lyrics
Locals: Don't wear shirts

Tourists: Ask new acquaintances "what do you do?"
Locals: Don't "do" anything. So why would we ask?

Tourists: Comment on how many "Mexicans" there are in Miami
Locals: Comment on how hard it is to find decent Mexican food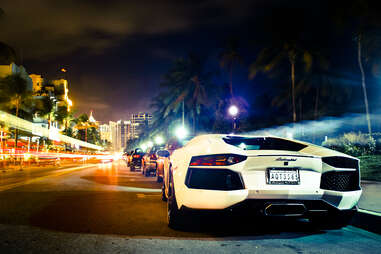 Tourists: Stop and take pictures of Ferraris, Lambos, and Bentleys
Locals: Cut them off in traffic. On purpose.

Tourists: Think people are impressed when they say they're from New York
Locals: Stop listening as soon as they hear "I'm from New York"

Tourists: Wait in line to get into LIV
Locals: Walk up to the bouncer, give him a bro hug, and go right in. OR wait in line for awhile 'cause they don't know the bouncer, then say "F**k this let's go to Ted's.". Or just go straight to Ted's.
Tourists: Spend all day on the beach
Locals: Can't remember the last time they went to the beach
Tourists: Cross the street and expect cars to stop
Locals: Speed up when we see people trying to cross the street

Tourists: Take Collins Ave
Locals: Take Alton Rd. FINALLY.

Tourists: Spend their vacation trying of think of ways they could move here
Locals: Spend their lives trying to find a way out
Sign up here for our daily Miami email and be the first to get all the food/drink/fun in town.