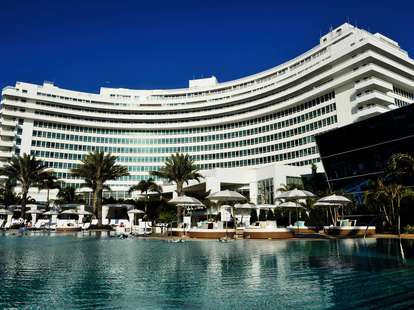 Every rap video worth watching features a version of the most Miami weekend ever (yachts, nightclubs, scantily clad women...), but unless you're also able to come up with poetic lyrics like "Bubble yum yum yum, a-bubble yum yum", chances are you don't have the kind of paper needed to pull that off. So how do you do a weekend in South Florida on a serious budget? Here's some of that awesome stuff you see in rap videos, and how to get a pretty similar experience on your non-rapper salary:

FRIDAY
Arrival in Miami
What you want to do: Grab a limo from MIA to your swanky South Beach hotel.
What you should probably do: Jump on the $2.50 Airport Flyer and realize the only other people on it are airport employees.
Hotel check-in
What you want to do: There's a suite waiting for you at the Fontainebleau, where you can take pictures holding your welcome amenity on your balcony overlooking the ocean. Post them all on Instagram. Lose friends.
What you should probably do: Check into the Freehand Hostel. Then take pictures of the drinks you're having at Broken Shaker because there's no way you're spending any more time in there than you have to.
Happy hour
What you want to do: Hit Delano's famous Rose Bar in the lobby and grab a game of pool while deftly avoiding/encouraging the gaggle of ladies looking for sponsors inside.
What you should probably do: Suck down $1 oysters and drink free Champagne while surrounded by lamps made out of machine guns at the even-Miamier 1826.
Dinner with a view
What you want to do: Reserve a table at Juvia and wash down your aji panka lamb chops with one of Miami's best mojitos while enjoying the panoramic rooftop view of Miami Beach.
What you should probably do: You want a rooftop view? Hit the free Friday buffet at E11even, then take your plate upstairs to Touche and look out at the view of Space.
Clubs
What you want to do: Roll over to Story and get a table and a $500 bottle behind the DJ booth. Pretend to get really excited about a guy plugging in a USB stick and half-wearing his headphones.
What you should probably do: Mix rave relics of the nineties, happiness pills, and thumping house music at Space and quickly realize that no story that starts with "… so I was at Space" ever ends badly. Sneak in a mini or two while you're at it.
Late-night food
What you want to do: Hit Gigi for its tapas-style Asian barbecue plates. It's the kind of late-night dining that makes dropping $30 for one person easier than dropping bands at the club.
What you should probably do: Get a healthy dose of French attitude with your turkey and Brie at La Sandwicherie. If it's too packed, follow the sounds of the great leader Pitbull and you'll walk smack dab into a Miami Subs. Dale chico.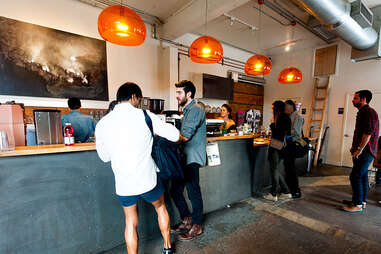 SATURDAY
Breakfast
What you want to do: Grab a cup of Panther Coffee's cold brew, check out the Wynwood Walls, and contemplate what that "tortured artist" at said coffee shop was trying to talk to you about for 15 minutes straight.
What you should probably do: Contemplate pressing world issues like what pastelito flavor is better -- guava or cheese -- with a cafecito at a walk-up Cuban café.


Day drinking
What you want to do: Sprawl out in a cabana with a bottle at the Surfcomber's brand-new Summer Daze Pool Party, complete with DJs you've actually heard of and, presumably, girls in high heels and bikinis.
What you should probably do: Grab a 12-pack of something clear and domestic, put it in a cooler bag, grab some red cups and head to the beach. Drink all day and do your best to avoid these people.
Shopping
What you want to do: Grab yourself some brand new Gucci… uh, stuff… a couple of Armani suits, and a $350 Dolce and Gabbana T-shirt without even thinking about it at Bal Harbour.
What you should probably do: Buy an entire new wardrobe of high-quality merchandise for $35 at Nooo Que Barato. Because, damn, that's cheap.

Dinner at a landmark
What you want to do: Meander up the steps where Gianni Versace was shot and into his spacious mansion -- now Villa by Barton G. Sip on Champagne in the courtyard before indulging in a gourmet meal at Il Sole, and finish it off with a dessert of Versace-shaped chocolates.
What you should probably do: Grab a $5 fried chicken from Joe's Take Away which -- let's be honest -- is basically Joe's Stone Crab. Take it over to South Pointe Park and watch the sunset over Downtown and Fisher Island while wondering where all the people who live there are eating.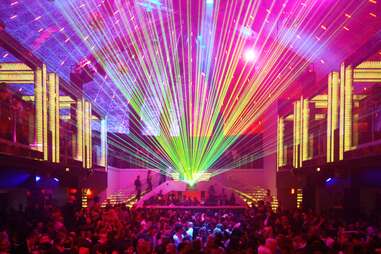 Saturday night out
What you want to do: Start with a couple of cocktails at the retractable-roofed Cecconi in the Soho House. Hopefully meet some girls who will expedite your entrance into LIV at the Fonatainebleau next door. Get a table next to a crazy Italian guy with a yacht who invites you out the next day.
What you should probably do: Start with more than a couple of canned cocktails from the BP station on Biscayne Blvd and enjoy them in Bayfront Park with some of Miami's more colorful residents. Then meet more residents the CVB doesn't advertise when you spend the rest of your night at Mekka.
SUNDAY
Brunch
What you want to do: Although Miami's got about a billion boozy brunches, South Beach's best scene is still at Nikki Beach where all the people who got tired of Space will end up. So make sure you're done with brunch before they do that.
What you should probably do: Have a $2.95 breakfast on Ocean Drive. Just remember, those things are the Spirit Airlines of breakfasts and once you add in the service, water, and silverware fees, it'll be more like $20.

Hit the water
What you want to do: Spend the day on the yacht of that guy who was sitting next to you last night at LIV and a group of ladies old enough to be your really older cousin -- and with chests that cost more than your car.
What you should probably do: Rent a kayak at Oleta River State Park. Take it out in the bay and get capsized by some a-hole in a yacht.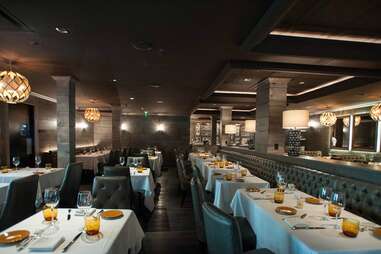 Sunday dinner
What you want to do: Head to the Gale Hotel and Dolce for their Italian Family Sunday Dinner with 13 different Italian dishes and unlimited wine. Walk back to the Regent Cocktail Club afterwards and sip on some of Miami's best cocktails before adjourning upstairs to the rooftop bar and watching the sun literally set on the most Miami weekend ever.
What you should probably do: Go to Bella Napoli on Alton Road and split a generously sized $9 pizza. Hop on the Alton/West trolley and get off at the Floridian, get buzzed in, and walk up to the VFW bar, where they've got five for $10 buckets, 50-cent pool, and the same sunset for a lot less.
Sunday night
What you want to do: Retire to your suite at the Fontainebleau, and order up a limo for your ride back to MIA the next day.
What you should probably do: Realize public transportation to PBI -- where you're flying from because it was $100 cheaper than going in and out of Miami -- takes roughly 16 hours to get to and requires you to spend the night sleeping in a West Palm Beach Tri Rail station. Get moving.