The only time people from Miami need jackets is when they go to one of our famously freezing movie theaters, or on that one day in February. But now, thanks to Wynwood's Blue Starlite Mini Urban Drive-in, you can finally go see a flick without wearing any outerwear, unless, of course, it's that one day in... well, you know.
Recommended Video
This Is the Coolest Way to Park Your Car
You're not gonna be seeing Spring Breakers 2 at Blue Starlite (or anywhere, hopefully) 'cause it only shows '70s-'90s classics like The Shining, Princess Bride, and Ishtar. Ok, maybe not Ishtar.
If you're a character in a Stephen King book, trucks with lights coming out of the driver's seat are terrifying. If you're at Blue Starlite, it just means it's your movie projector in the front of a vintage '50s Ford.
This isn't a drive-in like that place you go to buy bootleg DVDs up in Sunrise. This ones both "mini" and "urban", which means there're only 24 parking spots.
The previews are ads from the '50s and '60s warning you against the evils of this new thing called "Pay TV", and hock Pic insect repellent, which actually might come in handy since the speakers mean you can't close your car window all the way.
No parking spot? No worries, there's reserved seating on the field in front of the projector too.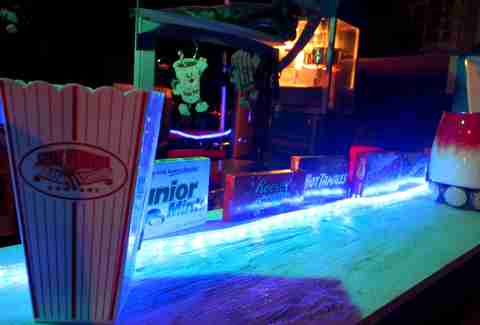 Behind that projector, there's also a trailer that, in a change for most old trailers in Florida, serves up totally legal stuff like popcorn, boxed candies, and Coke.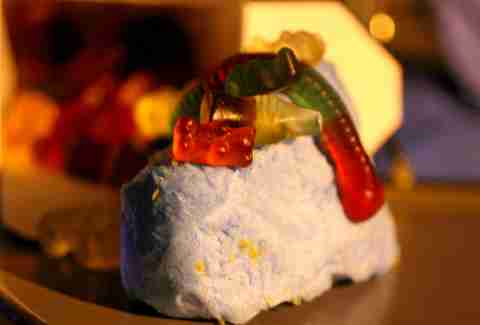 They're also selling gummy bear flights in takeout boxes, and special blue cotton candy embedded with Pop Rocks, because apparently they like their candy like they like their movies: from the '80s.
Previous Venue
Next Venue
Venue Description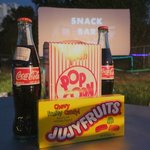 1. Blue Starlite Mini Urban Drive-In
70 NW 29th St, Miami, FL 33127
This diminutive and charmingly retro take on the classic drive-in boasts space for 24 cars, walk-up seating in the grass beneath its giant screen, and serves up serious nostalgia in the form of old-school flicks (The Princess Bride, The Shining, etc.) on the screen, and vintage-y treats (Pop Rocks!) served out of a trailer.