Every city is known for something: Buffalo's got wings, Philly has cheesesteaks, Miami has automatic weapons. But since you can't just walk into a sports bar and order an Uzi -- unless you're in Sunny Isles -- there's Lock & Load Miami, where you can shoot the guns you've only seen in movies, Call of Duty, and your neighbor's back seat.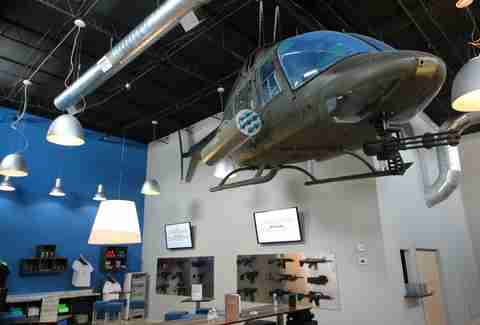 You're immediately greeted by replicas of 18 of the guns you can shoot, a comfortable waiting lounge, and a full-sized decommissioned OH helicopter that will get the theme from Airwolf stuck in your head for the rest of the day.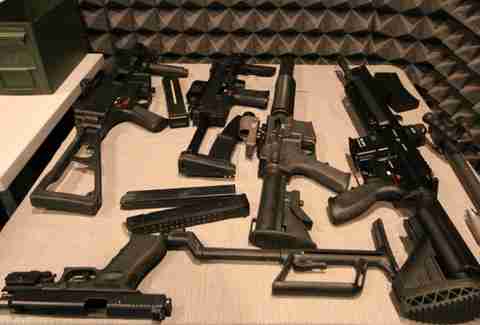 They've got shooting packages like "The Scarface" (Uzi, Colt M4 Commando, Thompson gun, Glock 18) and "The 007", plus a-la-carte guns, which they'll bring back to the firing lanes complete with loaded magazines.
All the instructors are current or former law enforcement or military, so they know their way around stuff like this Colt M4 9mm with suppressor.
They'll give you hands-on instruction in everything you shoot to make sure you don't end up putting holes in their ceilings.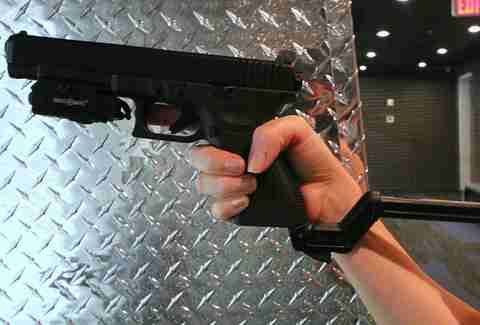 You live in Miami, so clearly you've shot a Glock. But a fully automatic Glock 9mm with a shoulder support and laser sight? Probably not.
Once you've mastered the automatic handgun, you can move on to something a little nastier, like this HK 40 caliber UMP with laser sight.
If you're not a Marine, you can't handle the truth, but you can handle this M249 Squad Automatic Weapon, or SAW, the "light" machine gun of choice for Marine Corps fireteams.
You thought a lap dance was the quickest way you could blow $80? This thing will blast through 25 rounds before you can say, "What's the 'special' dance?" But, unlike with a stripper, you WILL leave satisfied.
This HK MP7 4.6x30mm is a light special ops weapon with almost no recoil and a full auto blast that's impossible to get privately without going through Ted Nugent.
Much like..... so many things, ladies will insist they're not into shooting until they actually try it, and then you can't get them to stop. So, if you bring a girl with you, make sure you're packing. Your wallet.