Saturday, March 15th: Put on your green hat and get your St. Patrick's Day party started early when Slick Rick -- "rap's greatest storyteller" -- takes the stage at the Delano to kick off their weekend-long festivities, culminating Monday with free Guinness from 9-10pm at their poolside full moon party.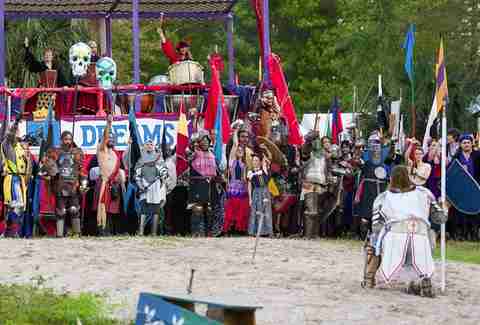 Sunday, March 16th: See how St. Paddy's was done in medieval times at the Florida Renaissance Festival, where they'll have the usual knights, wenches, and minstrels, plus a special "Men in Kilts" contest and performances by Celtic Mayhem at Quiet Waters Park in Deerfield.


Sunday, March 16th: John Martin's -- the most authentically Irish restaurant you can find with palm trees in front of it -- hosts a special St. Paddy's brunch featuring an open mic contest where you can perform an original St. Paddy's Day song and win $250.
Sunday, March 16th: Finnegan's River starts two days of debauchery with 11hrs of live bands and green beer o-plenty. A ticket gets you a free beer, and a VIP ticket gets you a shot glass, beaded necklace, and shiny green hat you might wear once a year.
Monday, March 17th: Stout Sports Bar and Grill has a special menu with shepherd's pie, lollipop lamb chops, bangers and mash, fish and chips, a corned beef hash Ruben, etc., plus green beer and, oh, just a JAMESON ICE LUGE. And if you get bored there, they've got a free shuttle to McSorley's on the Beach.

Only four more left on your Spring list of Miami's Must-Do's...