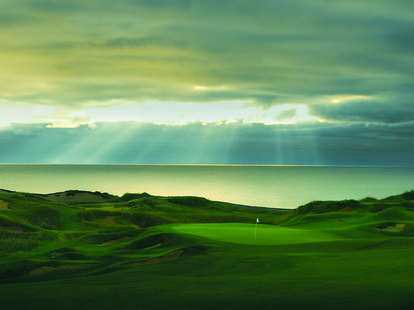 Courtesy of the Kohler Co.
As much as there is to do and see in Milwaukee, sometimes you just need a change in scenery. There's something for everyone within a few hours of drive time, whether you're celebrating an anniversary or taking an overdue road trip with your best bud. Hit the road for these nine prime destinations that are driving distance from Milwaukee.
Gurnee, IL
Distance from Milwaukee: 49 miles, 45-minute drive
Why it made our list: Roller coasters! Six Flags Great America is still going strong, and it's really the only place around to get your serious coaster fix. Besides the log flume, they've added a full water park too, which will hopefully keep the annoying kids away from the Batman coaster. And if you need some recovery time the next day, you can wander through Gurnee Mills, a giant mall with the worst layout ever. At least there's a Rainforest Cafe and giant Bass Pro Shop.
Pro tip: We don't get much Chicago-style pizza in MKE, so head to Giordano's down the street from the mall. It's a local Chicago chain, and the stuffed pizza has a buttery crust and layer of cheese a couple inches thick.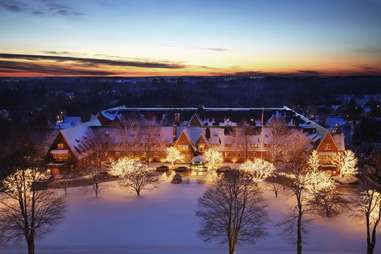 Kohler, WI
Distance from Milwaukee: 55 miles, 50-minute drive
Why it made our list: The Kohler Company built a model town back in 1900 when that was a new and nifty thing to do. The surrounding village liked it so much that they renamed themselves Kohler soon after, and since then, the maker of luxury plumbing (that's apparently a thing) has built a mini empire of high-end resorts, golf courses, and restaurants. There are many events that draw people from Milwaukee including a spring Festival of Beer to the annual Food & Wine Experience in the fall. Plus The American Club, the main resort, is great for anniversary getaways.
Pro tip: Whistling Straits, a golf course designed by Pete Dye, is hosting the PGA Championship this August, and has hosted it twice before. Children, active military, and veterans all receive free admission, plus tickets are relatively cheap, so there's no reason not to hang with/heckle Tiger Woods.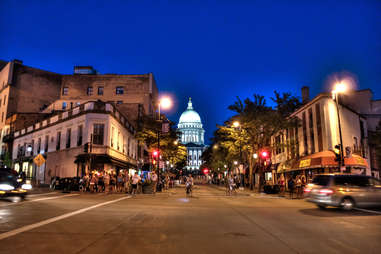 Madison, WI
Distance from Milwaukee: 79 miles, 1.25-hour drive
Why it made our list: Our state's capital isn't as large as Milwaukee, but thanks to the massive UW-Madison student population, it's got a decidedly eclectic, vibrant hum. The beautiful Capitol building sits on a narrow isthmus between two lakes and is always open, so take a look around. Walk down the pedestrian-only State St from the Capitol to the UW campus, and hit State Street Brats for cheese curds surrounded by Bucky memorabilia. In summer, check out the massive Dane County Farmers' Market that takes over Capitol Square every weekend, or the completely free Henry Vilas Zoo. Yep, free!
Pro tip: You can easily plan your trip around meals, if that's your thing. Start your day at Mickies Dairy Bar, the favorite breakfast spot of many Badger football players; grab something from one of the many food carts for lunch; and have a burger from Dotty Dumpling's Dowry for dinner. Oh, and Ian's Pizza at bar time -- it's tradition.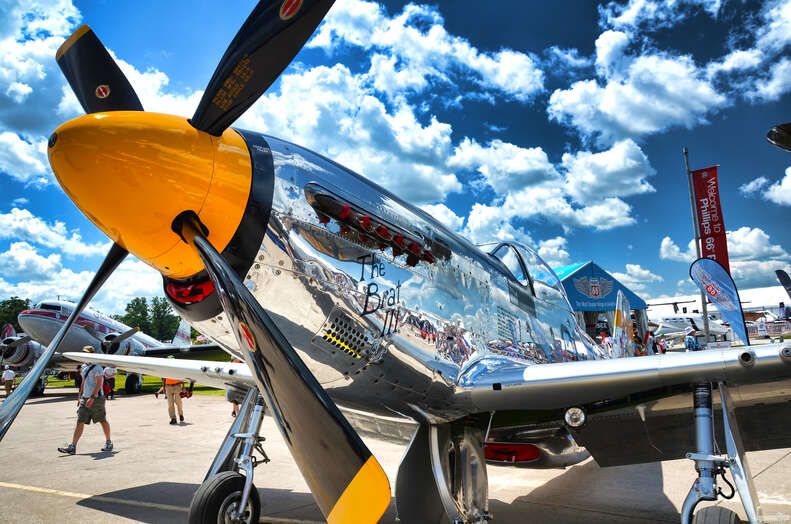 Oshkosh, WI
Distance from Milwaukee: 87 miles, 1.25-hour drive
Why it made our list: By far the biggest thing happening in Oshkosh is EAA, the Experimental Aircraft Association, which operates a museum and hosts the annual AirVenture air show in July. Between 10,000 and 15,000 aircraft fly in from all around the world for the show, making the aircraft control tower the busiest in the world for the week of the show. If you'd rather stay grounded, you can visit the Paine Art Center and Gardens, built in English country style. You probably won't see Maggie Smith, but you can pretend.
Pro tip: Head a couple of miles south of Oshkosh along Lake Winnebago, and you'll run into classic supper club Wendt's. Get the fried lake perch or smelt, both Wisconsin traditions.
Distance from Milwaukee: 92 miles, 1.5-hour drive (or train ride)
Why it made our list: Just because we would prefer FIBs to stay south of our border doesn't mean they don't have some pretty cool stuff to visit down there. There's museums galore along the lakefront, all connected by parks: The Art Institute of Chicago, Field Museum of Natural History, the Shedd Aquarium, and the Adler Planetarium. Don't forget to take the quintessential selfie on the Skydeck of the Willis Tower (that's what they call the Sears Tower now), and for great drinks with a view (or if you don't feel like waiting in line), head straight for The Signature Room on the 95th floor of the John Hancock building.
Pro tip: Unless you're into stained-glass windows, stay away from overpriced and overhyped Navy Pier. Go out and explore neighborhoods like Pilsen (great Mexican food), Logan Square (booming bar/restaurant scene) and West Loop (the established "restaurant row"). Also, our Chicago edition isn't half bad.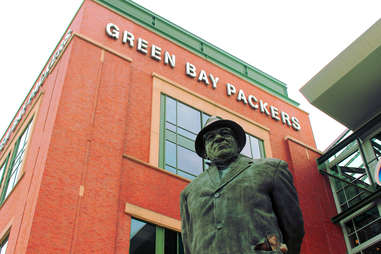 Green Bay, WI
Distance from Milwaukee: 121 miles, 1.75-hour drive
Why it made our list: We all know that Green Bay is our mecca, and many of us have probably already been to a game at Lambeau. But there's a lot to see and do at the stadium when you're not slamming Miller Lites in a cheesehead, too. Tours of the stadium go on during the offseason, and you'll get to check out the view from a private suite you'd never be able to afford for a game. The atrium and Packers Hall of Fame is undergoing renovations currently, but will be opening this summer. Every fan should make a non-game day pilgrimage.
Pro tip: Grab a butter burger at Kroll's just west of Lambeau. It's been around for over 70 years, and it should be experienced when it's not packed full of game-goers.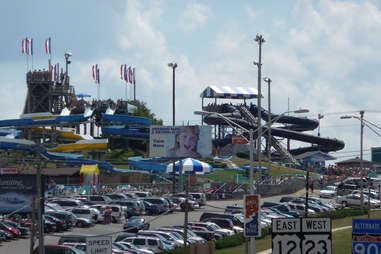 Wisconsin Dells/Baraboo, WI
Distance from Milwaukee: 123 miles, two-hour drive (or train ride)
Why it made our list: If you grew up near MKE, then you probably visited the water park capital of the world at least once during your childhood. You'll be happy to hear it's still going strong, with even more water parks (but no worries, Noah's Ark is still the best), mini golf courses, and fudge shops. Plus, as an adult, you can enjoy the finer things, like Downtown bars Nig's and Sandbar, nearby Ho-Chunk casino, and the disturbingly named Cruisin' Chubbys gentlemen's club.
Pro tip: For something more low key, head to nearby International Crane Foundation in Baraboo. Check out some majestic birds on 225 acres, and learn some cool stuff about them, too.
Grand Rapids, MI
Distance from Milwaukee: 129 miles, 2.5-hour ferry ride, plus a 30-minute drive
Why it made our list: The Lake Express shuttles people (and their cars) back and forth between Milwaukee and Muskegon, MI all summer long. That means you don't have to set foot in Illinois, or drive through Chicago traffic, thank God. Muskegon's a pretty small town, so drive to Grand Rapids where you'll find a ton of breweries, tap rooms, and gastropubs to keep you busy. Its nickname is Beer City for a reason.
Pro tip: The Grand Rapids Public Museum is one of the oldest in the US, founded in 1854. That means the history of the museum is probably explored in the museum... Whoa, meta.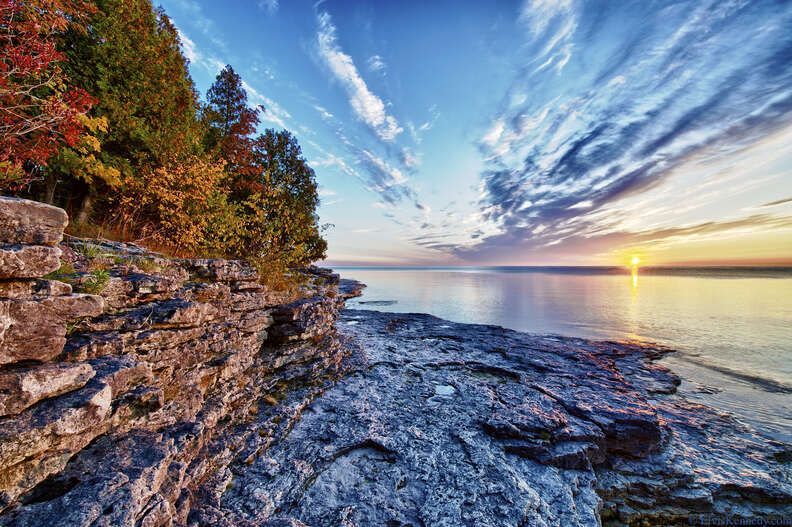 Door County, WI
Distance from Milwaukee: 153 miles, 2.25-hour drive
Why it made our list: Door County is what makes up the thumb in the hand of Wisconsin, and it's an outdoors lover's paradise. There's camping, boating, fishing, hiking, biking, and probably lots of other things we can't think of right now. If hanging out around a campfire with your buddies after drinking Old Fashioneds at the closest supper club is your kind of thing, then this place is great. There's also tons of cherry desserts since there are 2,500 acres of orchards, and lots of fish boils, which is like a showier, buttery-er version of the Wisconsin fish fry.
Pro tip: Take a haunted trolley pub crawl in Egg Harbor. You'll tour and learn about some of the area's haunted pubs and taverns, while of course stopping to drink at them.
Sign up here for our daily Milwaukee email and be the first to get all the food/drink/fun in the Brew City.
Lacey Muszynski is a Milwaukee native who loves the Dells just as much now as when she was a kid (except for that one time she got heat stroke at Noah's Ark). Follow her @worthhersalt.