So you finally feel like you've gotten the lay of the land in Milwaukee, but then your friends from back home tell you they want to visit. They want to see all Milwaukee has to offer, and figure out why you're choosing to live in flyover country as opposed to LA. You start to panic a little, wondering just how you're going to convince them that this actually is a great place.
Then you remember they love drinking, eating, and the outdoors as much as you; that's how you bonded in college, and that's how you'll bond here. Milwaukee is a partying, festival-going, kayak-loving city, and we've put together a collection of cool stuff that locals and visitors alike can enjoy, no matter their budget. Just don't take them to the Bronze Fonz, because that thing is not cool.
$$
Throughout Milwaukee
The great thing about living in (or visiting) a city with a river running through it? You get to paddle up and down that river on a kayak, canoe, or stand-up paddleboard, getting a view you'd otherwise never see -- stopping off for lunch and brews at Lakefront Brewery is just an added bonus.
$$
Menomonee River Valley
The Harley-Davidson company started here in Milwaukee in 115 years ago. Plan a pilgrimage to where it all began with a trip to the H-D Museum. You'll see artifacts from the company's history, plus plenty of sweet rides and exhibits on the history of motorcycles in America.
Free-$
Various locations
In addition to being a great drinking town, Milwaukee happens to have the added benefit of being located in Wisconsin: a state packed with quirky small towns, weird roadside attractions, and incredibly beautiful scenic locations. So, why not pack up and actually leave town for a day to explore places like Morgan Falls, Mirror Lake, or Parfrey's Glen? MKE will still be there when you get back, promise.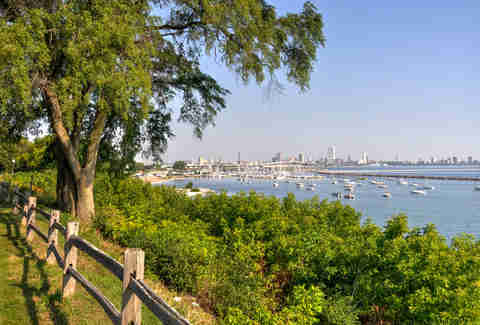 Free
Throughout Milwaukee
Get your bike out of the garage and get some air into the tires, because miles and miles of the paved Oak Leaf Trail running throughout the county are waiting. There are plenty of spots adjacent to the Trail to rent Bublr Bikes too, especially downtown, so you can take part even if you're bikeless.
Play on an urban swing set at Swing Park
Free
Brady Street
Located under the Holton Street Bridge near Brady Street, Swing Park originally started as an underground urban reclamation project. Now there are multiple swings of multiple types hanging from the bridge above, including one for disabled children.
$-$$$
Various locations
The food scene in our fair city has exploded over the past few years, and there are guaranteed to be at least one or two new spots you haven't tried yet -- if you're new in town, you've got even more catching up to do. Fortunately, our best restaurants page remains up-to-date and stacked with enough suggestions to please any palate. If you're dying for recs and can't be bothered to click, here are the Cliff's Notes: you can't go wrong with the dim sum and burgers at Merriment Social, the small plates at Odd Duck, or the Milwaukee-style ribs at Iron Grate BBQ Co.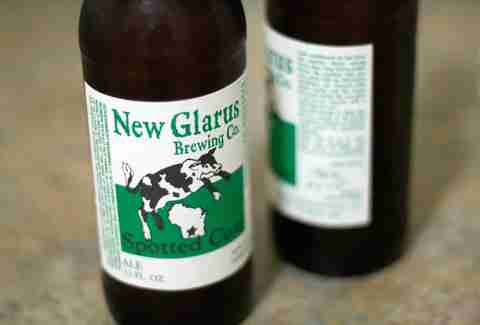 $-$$
Anywhere in the state
We might lose sight of this sometimes, but it's worth repeating: Wisconsin is a top-10 beer state, which means locals and visitors have access to some of the finest suds in the entire country. There are beers here that you won't find anywhere else -- literally, in the case of Spotted Cow -- which means you owe it to yourself to drink up while you're still in the promised land. Here's your WI beer checklist.
Free
Wisconsin Avenue
What started last year as a summer-long public art project has turned into an annual event. Sculpture Milwaukee will return again early this summer with public works of art installed all along Wisconsin Avenue downtown. Stroll around to discover them all.
Free
Cathedral Square Park
One of downtown's most popular events, Jazz in the Park attracts up to 15,000 each Thursday evening to Cathedral Square Park. This season's lineup was just announced and includes Hot & Dirty Brass Band, Cache MKE, and Chicago Tribute Anthology.
Free
Veteran's Park
We don't have a whole lot of beaches around Milwaukee, despite our lakefront. So when the weather's hot, we get out and sunbathe, play beach volleyball and people watch at Bradford Beach. Kite flying, kayak rentals and rollerblading are all just a hop away at Veteran's Park, too.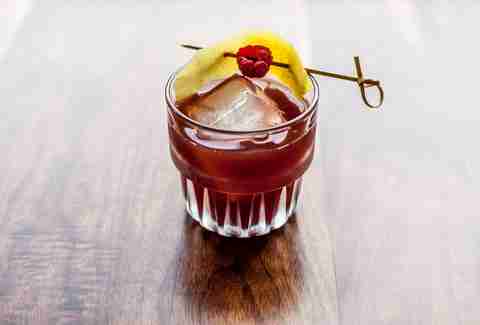 $-$$
Various locations
There's nothing wrong with sticking with a favorite bar once you find it, but guess what? There's also nothing wrong with checking out new spots -- especially if those new spots happen to come from our list of the best bars in town. Who knows, you might even find a new favorite bar!
Free
Brady Street
One of Milwaukee's most interesting stretches of businesses is in a compact little nine-block section of Brady Street. If historic Italian grocers, more bars and restaurants than you can count, and eclectic boutiques aren't enough, there's almost always some kind of art fair, festival, or other event going on.
Experience one of Milwaukee's farmers markets
Free
Multiple locations
There are all kinds of farmers markets in Milwaukee. If you're looking for hardcore produce and plant shopping, then West Allis is for you; if you want lots of Asian veggies and snacks, head to the Fondy Farmers Market; and if you're looking for the new age-y kind with soaps, essential oils and food trucks, head to any other market in the area.
Free
Multiple locations
Church festivals are a real tradition in Milwaukee, and are usually the parish's main source of income. But don't expect wimpy events: there's lots of gambling games, tons of beer, cover bands, chicken dinners and carnival rides. You can find one practically every summer weekend.
Free-$$
Various locations
There's always something fun going on in Milwaukee, but one of the curses of living in a city with so many events is that it's hard to know what'll be a bust and what'll be a must -- which is why we keep a stocked, curated calendar of the best seasonal events. Check it out, and never be bored on the weekends again.
Free
Third Ward
The Third Ward, just south of downtown, is full of unique shops, galleries, and boutiques. Mod Gen is known for their modern housewares and houseplants, Broadway Paper specializes in stationary and related gifts, and if all that shopping makes you hungry, head to Red Elephant Chocolate for a snack.
Try the best food trucks in town
$
Multiple locations
Food trucks have really exploded in the past few years in MKE. There's many weekly gatherings of trucks where you know you'll have a lot to choose from, like outside the County Courthouse Thursdays. There's also gatherings in parks, outside breweries and at festivals. Wherever people gather, you'll find some of the best; keep an eye out for Yellowbellies, Timber's BBQ, Gouda Girls, and Taqueria Buenavista.
Learn some overlooked MKE history at the Chudnow Museum
$
Marquette
This little non-profit museum of Milwaukee history is located in an old home near the Marquette campus. It's a jewel box of artifacts and treasures from the 1920s and 1930s, most with direct ties to Milwaukee. The Chudnow often gets overlooked for the bigger museums in town, but it's definitely worth a trip.
$
Multiple locations
Brewery tours are the perfect activity with a group of friends, because chances are you'll learn something, be highly entertained, and drink beer all along the way. Lakefront has the funniest tour guides, while MKE Brewing gives you unlimited beer. There's a tour available for every type of beer drinker, and they're all cheap.
Bar hop along the main drinking strips
$
Multiple locations
If you're not into the brewery thing, don't worry, we are professional drinkers around here. There are a few great neighborhoods for bar hopping, all with different vibes. Water Street is practically frat row, 2nd Street is full of hot spot bars, and Riverwest is amazing dive bar central. Grab an Uber and take your pick.
Eat custard everywhere you can
$
Multiple locations
While other cities have frozen custard, we're the only ones to really have an actual custard culture. Plan a self-guided tour of all the best spots, starting at neon-clad stand Leon's. Then head west to Gilles, the first stand in the area, and ending at Kopp's where you can experience flavor of the day nirvana.
$
Mitchell Park
Our horticultural Domes, the three boobs jutting out of the landscape on the south side, are much beloved but also falling apart. Now's a great time to visit so they can shore up their repair budget and keep the Domes open. The jungle dome and desert dome are always the same -- minus new plant growth, obviously -- but the show dome changes seasonally, so you're guaranteed to get something new and different.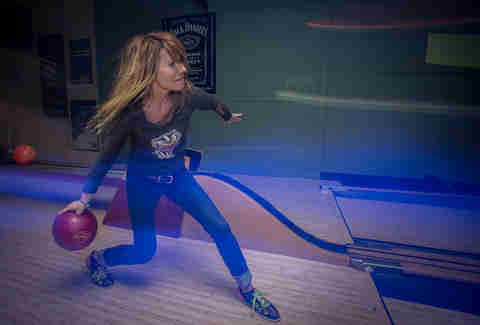 Go bowling
$
Multiple locations
Thanks to our German heritage, Milwaukee has a long tradition of bowling, believe it or not. And it's actually fun, especially when you do it at places like Landmark Lanes and Bay View Bowl that have great bars, too. And to experience the best bar+alley combo, head to Holler House, with the oldest sanctioned lanes in the U.S. in the basement.
Eat lots, and lots, and lots of cheese
$
Various spots
Wisconsin's cheese curds are legendary for good reason, and naturally, we have loads of great cheese to eat and learn about in this city as well. There's an urban cheese factory, Clock Shadow Creamery, that gets its milk from the cows at the Zoo and offers tours -- or you can always head to the West Allis Cheese & Sausage Shoppe or the Wisconsin Cheese Mart for mind-blowing selection.
$
Various places
Milwaukeeans are obsessed with Bloody Marys, whether they're topped with whole fried chickens or not. You can get yourself a great version at any bar in our Bloody Mary guide, and at any time of day; start with County Clare where they top it with a pickled potato, Explorium Brewpub where it's made with a dash of their stout, or the Lobby Lounge in the Pfister Hotel where Val's recipe is as good as ever.
Go beer gardening
$
Various parks
Come May, every beer garden in the city opens. There are plenty to choose from in the Milwaukee County Parks, whether they're permanent like Estabrook and South Shore Terrace, or traveling among the parks thanks to Sprecher.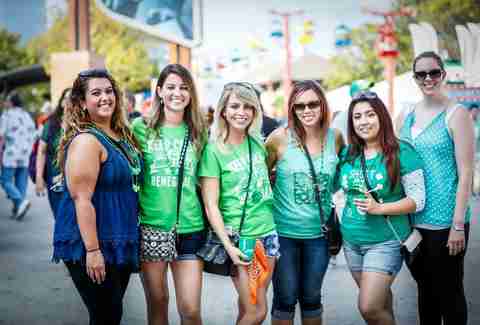 Embrace your heritage at an ethnic festival
$
Summerfest grounds
Milwaukee isn't nicknamed the City of Festivals for nothing; the Summerfest grounds at the lakefront host ethnic festivals of all sorts all summer long. Polka with your grandpa at German Fest, eat spaghetti and arancini at Festa Italiana, and listen to world-class Celtic music at Irish Fest.
Tailgate before a Brewers game
$-$$
Miller Park
No summer is complete without tailgating. Even if you don't care about baseball or root for a different team, tailgating at Miller Park is worth doing at least once. Load up the car with brats, beer, and your little Smokey Joe and make friends with everyone parked around you.
$-$$$
Summerfest grounds
We're spoiled having Summerfest in our city. It's the world's largest music festival by attendance, which easily hits 800,000 each year. You go to experience days of music, festival food and primo people watching. Daily tickets are $20 or less, but of course you can pay loads to see the headliners if you wish. Smart locals always get in free thanks to ticket giveaways and promotions.
$-$$
Various restaurants
Brunch is beloved here, as our often-updated brunch guide points out. Most restaurants serve it on Sundays (sometimes Saturdays, too), and we have plenty of brunch-only spots that serve it up all week long, like Mad Rooster and Engine Company 3. And don't be afraid to order multiple mimosas or bloody marys.
$$
Lakefront
With the gorgeous Calatrava-designed building and public atrium, you don't even have to go into the galleries to enjoy the MAM, but you should. The modern art collection is especially memorable, including that life size janitor statue that freaks out every school group.
 
$$
Third Ward
Flip some shrimp around in a pan and learn about Korean barbecue while you do it. The Milwaukee Public Market offers cooking classes upstairs, and topics range from Thai food from scratch to a dad-centric Father's Day class. Afterward, head downstairs and purchase the ingredients you need to make it at home.
$$
Third Ward and Walker's Point
The Pedal Tavern is like if bar hopping and bicycling had a love child. You can reserve a whole 16-person people-powered vehicle for a private group, or book a spot on a public tour. You'll visit a few different bars with drink specials, and you can even bring your own beer to drink while on the vehicle.
$$
West Side
It's totally OK to be an adult that's into zoos. Our zoo is pretty top-notch, with a free-flight aviary where you can get pooped on, a monkey island, and a mini steam engine train that adults do fit in. You can also hit up Zoo a la Carte, an annual event with food and drink vendors and live music set up around the place.
$$
Kilbourn Town
Though it often gets confused with the Milwaukee Art Museum, the Milwaukee Public Museum is just as worthy of a visit if you're into natural history. This is the place where you'll see huge dinosaurs eating each other, Egyptian mummies, and get to walk through the streets of old Milwaukee. Make sure you find the rattlesnake button.
Eat your way through the city on a food tour
$$$
Multiple locations
Milwaukee Food and City Tours runs group tours that drop you off at various locations for eating and drinking; the pizza bus, for example, makes three pizza stops, one beer stop, and a gelato stop for good measure. The stops remain a mystery for a little spirit of adventure.
Drink in the sun at a beer fest
$$-$$$
Various locations
By now you've figured out that Milwaukeeans love to drink, and you should give it a try to see what all the fuss is about, too. Try dozens of local brews at one of the city's beer festivals. The Wisconsin Beer Lover's Fest features only WI breweries, while Firkin Fest focuses on rare brews. There are plenty of others, so pick one and designate a DD.
$-$$$
Kilbourn Town
Turner Hall is a relatively small, general admission venue located in a National Historic Landmark building. It's as well-known for it's creaky, bouncing floor as it is for it's huge, unusual bathrooms. It's a quality venue that sometimes gets overlooked.
Sign up here for our daily Milwaukee email and be the first to get all the food/drink/fun in the Brew City.