Actually Cool Things to Do in Milwaukee this Fall
The Bucks are back, baby.
Milwaukee, Wisconsin

| Sean Pavone/Shutterstock
Milwaukee, Wisconsin

| Sean Pavone/Shutterstock
Winter is coming, and COVID-19 once again threatens to force us all into another season of solitude. So, now is the time, Milwaukeeans, to get out there and enjoy all the autumnal excitements the city has to offer. This year, that means a buzzy taproom opening, the Bucks' triumphant return to the court, and haunting happenings galore. Here are the absolute best things to do in Milwaukee this fall.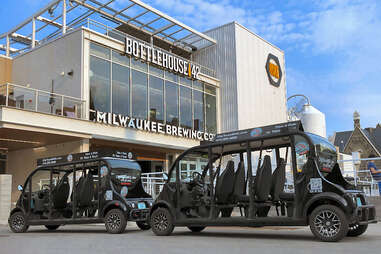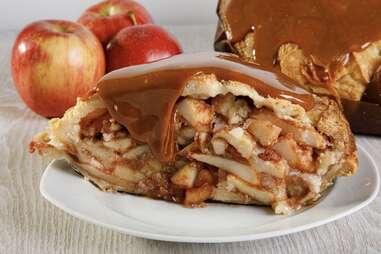 Pack up the kids, siblings, and niblings and head to Mukwonago for apple-picking, corn-mazing, laser tagging, and more, every Saturday and Sunday through October 24. Pro tip: Don't leave without buying at least one of the roadside stop's famous apple pies, which are baked in a paper bag for some (delicious) reason.
Leave the city limits and head to Franklin for a classic drive-in experience, now through October 29. This season, spooky flicks, including family-friendly options, are on deck. We recommend rolling in on October 21 for a double feature of Ari Aster's modern horror classics, Midsommar and Hereditary.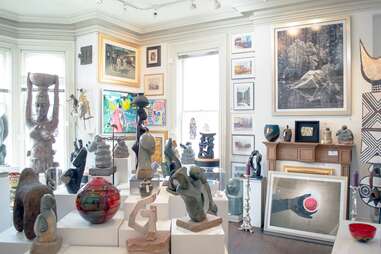 Kicking off October 15, this two-day event invites Milwaukeeans to explore the artful offerings of the city's myriad artists. Hop among galleries, hotels, bars, and restaurants across town and get your own creative juices flowing.
Amherst's Central Waters, dubbed one of the best breweries in the Midwest, is finally opening its doors October 16 inside the former Captain Pabst Pilot House. Expect Central Waters staples like Mudpuppy Porter, seasonal offerings, and several barrel-aged options. Before you start imbibing, build a base layer with a visit to partner restaurant Dairyland Old-Fashioned Hamburgers.
Coo over canines in costume at this October 27 pup-focused Halloween event that gives new meaning to the words "trick" and "treat." The dog-friendly festivities—yes, you can and should bring your pup—are sponsored by Think Pawsitive Dog Training LLC in Waukesha.
Still not costumed out after Halloween? Head to the Rave on November 4 to see this iconic band known for its elaborate getups (and, more recently, their forays into the liquor business). Even if you're not into heavy metal, this shock rock outfit's stage antics are not to be missed —just don't wear anything you'd like to keep clean.
Pinball, crane games, and cards—oh my! Games of all types are taking over the Wisconsin Center starting November 5 for this three-day event that's sure to unleash your inner child (or outer nerd). You better start stretching out your phalanges, stat.
Birbiglia's shows are known as much for knee-slapping humor as they are for incisive cultural commentary—and it's a mix that's made his Netflix specials a roaring success. Head to the Pabst on November 7 for a night that'll have you laughing hard and thinking deep.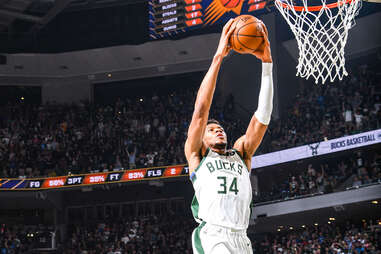 Get your Bucks gear! The team has announced its lineup of giveaways and theme nights for the upcoming season, kicking off October 19. (We're eyeing the December 1 fanny pack.) Can't make it to a game? Tune in at any of these Thrillist-approved sports bars for a guaranteed good time.
Here's an event you oughta know: Swing by Shank Hall for this November 20 double-header event celebrating two of the 90s' most iconic singers. Jagged Little Pill covers all of the classics from our favorite Canadian pop-star-turned-alt-rock badass, while Don't Speak puts on a frenzied show that channel's the SoCal band's ska-inflected jams.
Skip out on wrestling the crowds in packed bars this Thanksgiving Eve and instead, head over to the Pabst on November 24 for a night of lucha libre, complete with masked competitors, burlesque performers, and high-flying antics.
Run, walk, or waddle your way through this Thanksgiving Day 5k/8k—the choice is yours. Proceeds benefit the Hunger Task Force, and the Cranky Al's Doughnuts stand perched at the finish line truly sweetens the deal.
Support local makers and artisans—and tell big-box stores to kick rocks—at this Shop Small Saturday event on November 27. It's the perfect opportunity to find actually cool holiday gifts for your loved ones (not to mention steer clear of those imminent shipping delays).
From November 26 to 28, you can catch a screening of the final installment of the best Star Wars trilogy ever made, set to a live score courtesy of the Milwaukee Symphony Orchestra. Run, don't walk.
Marvel at chrome-studded vehicles and rub leathered elbows with bike builders and enthusiasts alike at this December 4 and 5 event celebrating of the city's motorcycle heritage.
Imagine if someone set your teenage diary to music, and you've nailed Snail Mail's 2018 studio debut Lush right on the head. The solo project from singer-songwriter Lindsey Jordan is back with the forthcoming Valentine on December 7. Be sure to catch her at Turner Hall and prepare to feel things.