Milwaukee is having some type of year. 2020 was going to be our big coming out party with the DNC, and people were actually excited to travel here for once. Of course, the pandemic had other plans for us. It's left us with a real chip on our shoulder, and a serious case of the blues.
That's why it's an important time for Milwaukeeans to remember what makes our city special and fall in love with it all over again. Even with masks and social distancing, there's a ton to do, eat, see, and experience. Some big fall events, like the Milwaukee Film Festival, are still happening in virtual form, and it will always be impossible to eat too much custard or cheese. As you cautiously emerge from isolation, reconnect with your city with these actually cool things.
Take a sculpture walk down Wisconsin Avenue
Sculpture Milwaukee is a non-profit group that brings a slew of outdoor public artworks to downtown every year. They include some big names and works, like Robert Indiana's "LOVE" that now has a permanent home at the lakefront. This year's big splash is Tony Tassert's "Blob Monster," which looks like if Pizza the Hut was made from melted crayons. Start on West Wisconsin and make your way to the lake.

Support an independent restaurant on a patio
With no vaccine before the snow falls, there will likely be a run on industrial patio heaters. Restaurants that have never had a patio are creating them to make safe dining space, and will likely operate them much longer than usual. La Merenda has a spacious and secluded yard with a large fireplace; Movida, operating at Hotel Madrid, is simultaneously large and cozy thanks to a cooking hearth; brewery Good City's east side location has both sidewalk and rooftop spots; El Senorial is cute and surrounded by planters; and you can rent out Honeypie's yard for total privacy. If you're comfortable dining al fresco, now's the time to support local restaurants.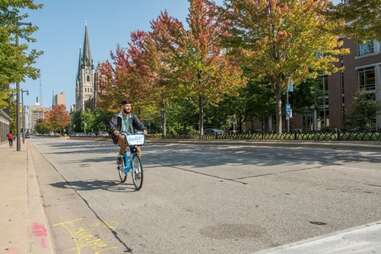 Cruise around on a Bublr Bike
If you hadn't noticed, it's been a scooter-free summer as the city has been too busy with pandemic to approve their use again. But you can still leisurely cruise around the lakefront on a Bublr Bike. There are a ton of stations where you can rent and drop them off and they feel more sturdy than those damn scooters. There's a cluster of stations in West Allis, Wauwatosa, and the Menomonee Valley too, so it's a great way to explore neighborhoods outside of downtown and the east side.

Watch the Bucks and the Brewers at the same time
Sports are weird as hell this year. We should have had NBA playoff basketball in Milwaukee again, but the stupid coronavirus put and end to that one. You can still watch Giannis dunk on his playoff opponents though, including on the giant outdoor screen in the Deer District. And when the Bucks aren't playing, chances are the Brewers might be, in their own messed up little season. At least it feels sort of normal, right?

Discover the city's new murals
Murals have been popping up all over the city, including a slew related to the BLM movement just this year. There's a headless six-story figure who honors the working-class women of our city's history, an otter and a beaver just chillin' in the river, and a number of portraits of our powerful community activists. Building owners are starting to see their walls as canvas, and the city is here for it.
Go on a frozen custard gauntlet
While other cities have frozen custard, we're the only ones to really have an actual custard culture. Plan a self-guided tour of all the best spots, starting at neon-clad stand Leon's. Then head west to Gilles, the first stand in the area, and ending at Kopp's where you can experience flavor of the day nirvana.

The Harley-Davidson company started here in Milwaukee in 115 years ago. Plan a pilgrimage to where it all began with a trip to the H-D Museum, which recently reopened with sanitation and social distancing measures in place. You'll see artifacts from the company's history, plus plenty of sweet rides and exhibits on the history of motorcycles in America.
Head out to take in the fall colors
There is no better time to commune with nature than when we're all stuck at home. Take a little day trip out to the country where you can whiff our dairy-air and get some neon shots of fall leaves for your 'Gram. Holy Hill is a classic destination and it's hard to argue with its majesty, even if you're not into the religious aspect. Or take the Kettle Moraine scenic drive, a 115-mile greatest hits car trek through forests, by lakes and near observation towers.

Have the best takeout picnic ever
A beautiful autumn picnic in the park is a great way to lift spirits while leaves fall. It's also a great way to try some of the fanciest restaurants in the city without a huge price tag. Sanford, consistently one of the best places in the city, offers charcuterie and cheese trays and small plates like smoked salmon timbale for takeout. Goodkind has a community basket full of ready-to-eat goodies and Amilinda can pack up all their Basque and Spanish food to go. If you're not feeling the fancy, Hawaiian specialties like poke and kahlua pork at Ono Kine Grindz will make you feel like it's summer again.
Lose yourself in the Milwaukee Art Museum, virtually or in person
With the gorgeous Calatrava-designed building and public atrium, you don't even have to go into the galleries to enjoy the MAM, but you should. The modern art collection is especially memorable, including that life size janitor statue that freaks out every school group. Follow the designated path to stay distanced, or tour the galleries virtually.

Attend the virtual Doors Open
One of the most anticipated and unique events of the year, Doors Open Milwaukee, grants visitors access to historic and otherwise really cool spaces and buildings all around the city. That's not safe now, so this year it's all going virtual. Starting September 26, you can take virtual tours of buildings and neighborhoods. There will also be 16 self-guided neighborhood tours and activities so you can still get out and explore.

See the city from a kayak
If you haven't seen Milwaukee from the water, you're in for a treat. Renting a kayak is quick, distanced, and a great way to explore the city from a new angle. You can rent every day of the week from Milwaukee Kayak Company or Brew City Kayak. If you're a beginner or want something more structured, take a guided tour with Milwaukee Kayak Tours. The Full Moon Paddle tour is gorgeous and great for de-stressing.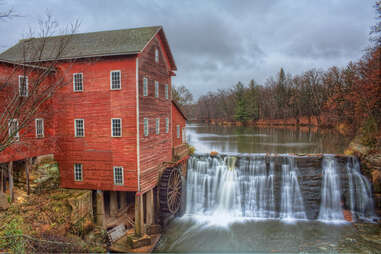 You're probably feeling more than cooped up right now. Luckily, Milwaukee happens to be located in Wisconsin: a state packed with quirky small towns, weird roadside attractions, and incredibly beautiful scenic locations. So, why not pack up and actually leave town for a day to explore places like Morgan Falls, Mirror Lake, or Parfrey's Glen? MKE will still be there when you get back, promise.

Day drink with a cocktail kit
Spice up your day drinking quarantine routine with a cocktail kit. Many bars have gotten creative in their quest to help you drink and offer kits so you can construct their drinks at home. At Random, the beloved retro stalwart, offers drinks like the Bonny & Read with gin, pineapple, cinnamon, and almond, in batches of about seven drinks for around $50. Get classic tiki drinks like mai tais and blue Hawaiians at Foundation for a backyard luau, or Braise's homemade old fashioned mix, cherries and seltzer for the most Wisconsin cocktail kit ever.

Cheer on the newest home team
You can't head to Miller Park for any final farewell before the big stadium name change, but you can say hello to the area's newest baseball team, the Milwaukee Milkmen. Dairy- and cow-related names and puns give a visit to Franklin Field a wholesome feel, and like all less-than-MLB ball, there's a big emphasis on quirky promotions and fun stuff to get people in the seats.
Discover a hidden beach
Forget Bradford Beach, which is always crowded, weirdly sad, and less than relaxing. Instead, head to one of the smaller lakefront parks to find a secluded beach that will be way more conducive to social distancing. On the north shore, Atwater, Klode, and Doctors Parks all have beaches below their bluffs. You'll have to walk up and down a few stories but it's worth it. Down south, Grant Park has one long beach too, the perfect spot to take a load off after exploring the magical seven bridges trail. And since the beach isn't the sole attraction at any of these parks, you can visit for the beautiful view of the lake year round.

Don't hang that bicycle up in the garage for the winter just yet, because miles and miles of the paved Oak Leaf Trail running throughout the county are waiting. Most of the 125-mile trail is smooth paved, so even if you don't have a bike, you can rollerblade, skate, unicycle, or hoverboard your way around.

Share an iconic Wisconsin beer
We might lose sight of this sometimes, but it's worth repeating: Wisconsin is a top-10 beer state, which means locals and visitors have access to some of the finest suds in the entire country. There are beers here that you won't find anywhere else -- literally, in the case of Spotted Cow and everything else at New Glarus -- which means you owe it to yourself to drink up while you're quarantined in the promised land.

Make the summer last at a farmers market
Thanks to our long winters, our growing season in Wisconsin stretches well into the fall, and many of our farmers markets follow suit. The West Allis Farmers Market is a true cook's market full of growers and producers that runs through Thanksgiving for all your pumpkin and decorative gourd needs. November is also when the Winter Farmers Market starts up, which is where you can get locally made pasta, salsa, jams, and baked goods.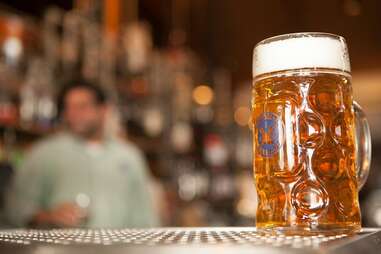 Go beer gardening
Sure, there are lots of outdoor beer gardens in the Milwaukee County Parks, but we've got plenty of indoor versions once the weather turns chilly too. The Bavarian Bierhaus has a huge beer hall you can easily spread out in, Old German Beer Hall will make you feel like you're in Munich, and Glass + Griddle is a reimagined beer hall that feels like a greenhouse near the Fiserv Forum.

Our zoo is pretty top-notch and it's reopened, with a free-flight aviary where you can get pooped on, brand new elephant, otter and hippo habitats, and a mini steam engine train that adults do fit in. The bonus of going in fall is that there's fewer kids running around, so you can truly sit back and relax while you watch the orangutan put a bucket on his head.

Show your support for Black Milwaukeeans
Protests against police brutality have been organized every single day in Milwaukee since the end of May thanks to our dedicated activists. Support their streak and the BLM movement by joining up with a march or patronizing Black-owned businesses. Sherman Phoenix, a food hall and Black business space, literally rose from the ashes of the 2016 unrest over the police shooting of Sylville Smith in Sherman Park, and is a great spot to grab some takeout.
Make your way down the Riverwalk
The Riverwalk is a pedestrian walkway that follows the Milwaukee River from Humboldt Boulevard on the north end all the way to the mouth of the river at Lake Michigan in the south. It'll take you past (or very near) many of the area's biggest attractions, provide some scenic urban views, and put you face to face with sculptures like Gertie the Duck and the Bronze Fonz. There are lots of restaurants and bars with patios on the Riverwalk, so stop wherever looks the most inviting.

Become a film buff
The Milwaukee Film Festival is going virtual this year, running October 15-29. Films will be available on demand and at a lower price point than in-theater viewing, so you never have to leave your couch. But wait there's more: a second film festival is debuting this fall! The Minority Health Film Festival runs September 10-24 and will feature 25 films around themes of family, community and institutional health.

Eat lots, and lots, and lots of cheese
Wisconsin's cheese curds are legendary for good reason, and naturally, we have loads of great cheese to eat and learn about in this city as well. There's an urban cheese factory, Clock Shadow Creamery, that gets its milk from the cows at the Zoo and offers tours -- or you can always head to the Wisconsin Cheese Mart for mind-blowing selection.
Sign up here for our daily Milwaukee email and be the first to get all the food/drink/fun in the Brew City.