The 12 Best Party Lakes in Minnesota, Ranked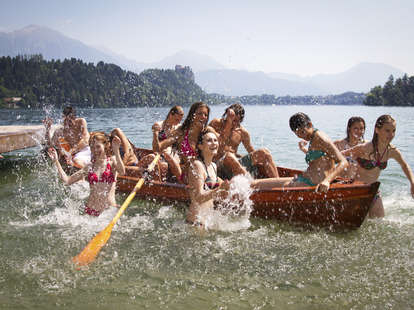 novales5/E+/Getty Images
novales5/E+/Getty Images
The fact that Minnesota really is the land of 10,000 (plus!) lakes is just one of the reasons our summers dominate all other summers. But it also makes it downright impossible to pick the best lake to have a little fun on: if only someone would go ahead and rank the state's 12 best party lakes. Oh, wait!
12. Lake Nokomis
For one weekend in the winter, the sleepiest Minneapolis city lake totally wakes up when it becomes the scene of what seems like the US Beer Drinking Championships, but is really the US Pond Hockey Championships.
Pro tip: Build a base with a pie from nearby Fat Lorenzo's before hitting the lake.

11. Lake Pepin
The super-wide spot in the middle of the Mighty Miss 60 miles South of St. Paul is technically a lake, and with summertime towns like Bay City, WI on either side of it, it promises to be so much fun that by the end of an afternoon out on Lake Pepin you'll likely forget how to spell Mississippi.
Pro tip: Sadly, man cannot live on beer alone, so two of the best chefs in the Twin Cities have a summertime-only outpost in Bay City, Chef Shack.

10. Detroit Lake
The sun-drenched throwback town of Detroit Lakes is home to myriad mini-lakes that are good for a boat 'n beer, but none come close to its town-abutting namesake and its bevy of on-lake restos-cum-party places, not the least of which is the DL Zorbaz.
Pro tip: Three-day country music party WE Fest goes down only a few miles off the lake August 6-8.

9. Lake Mille Lacs
The massive mid-state lake known for its fertile fishing waters also has, come daily catch limits, fertile waters for lakeside celebrating.
Pro tip: Grand Casino Mille Lacs is just a hop, skip, and a jump off the Southwestern shore.
8. Prior Lake
Go here if for no other reason than the existence of the unapologetic ode to pop culture party songs that actually lives up to its billing, Captain Jack's.
Pro tip: Little-known fact, PL has a lakefront music fest from July 17-18 called, well, Lakefront Music Fest and this year's lineup ranges from Dwight Yoakam to Lita Ford to Daughtry.

7. Lake Superior
Sure it's not entirely Minnesota's lake, but thanks to subtly boozy tourist towns on the North Shore from Duluth and Lutsen to Grand Marais, you better believe that the partying on Superior is great.
Pro tip: The annual Hopped Up Caribou Beer Fest in Lutsen is... err, was last weekend but there's always next year!

6. The Boundary Waters
Sure, you might have to sleep in a tent, forgo running water, become one with mosquitos the size of eagles, and work harder on vacation than you ever have in your life, but if you don't think that the Boundary Waters, some buddies, and a Duluth Pack full of whiskey make a party than we don't know what you think does.
Pro tip: Go in the spring for a trip with fewer mosquitoes, humid days, and other paddlers.
5. Lake Waconia
Don't look now but the most picturesque rural lake around has become a party force to be reckoned with as it boasts its own distillery, J. Carver, its own brewery, Waconia Brewing Co., a solid on-lake bar, Lola's Lakehouse, and three vineyards.
Pro tip: Lake Waconia has a Coney Island, but it's an actual island that's primarily used for hiking and nature, not eating delicious Nathan's hot dogs.

4. Any lake in cabin country
The beautiful thing about being a state with more than 11,000 lakes is that there's enough for almost everybody. And, thanks to cabins sprinkled all over middle-North Minnesota, almost every single little pothole and pond is its own unique kind of epic party on any given weekend.
Pro tip: Although this listing is about cabin lakes in Minnesota, in many ways cabin lakes in Wisconsin, a glorious land full of loose liquor laws and beers not available here, are where it's at.
3. Lake Calhoun
Sure, motorized boats and drinking on public land are both strictly prohibited, but that doesn't mean Minneapolis' most populous urban lake doesn't see its fair share of waterside party people, just that they're slightly more covert about it.
Pro tip: Skip always-crowded beachside food stand Tin Fish and instead have a buddy pop up to My Burger on Excelsior Boulevard to bring down a sack full of cheeseburgers.

2. Gull Lake
This lake earns its spot on the merits of palatial pizzeria party palace Zorbaz alone, but Brainerd's most massive lake is also home to some of our fair state's most lavishly boozy waters.
Pro tip: Although one of the lake's oldest resorts, Madden's, seems like a fancy family place, it works out some unbelievably affordable, all-inclusive bachelor party/dude weekend/golf packages.

1. Lake Minnetonka
Whether on the water or just next to it at a place like Lord Fletcher's or Maynard's, come winter or summer, the waters of Lake Minnetonka are THE place to be for waterborne partying in Minnesota.
Pro tip: On any given Saturday the Big Island gauntlet is full of hundreds of tied-up vessels, and people just go from boat to boat and hang out, so as long as you vaguely know somebody with a boat, the slick move is to take a water taxi out there and figure it out as you go.
Sign up here for our daily MSP email and be the first to get all the food/drink/fun the Twin Cities have to offer.