If you're from or live in the Twin Cities, it can be easy to forget that a whole other world lies outside the 694 corridor. But, once the calendar flips to fall, it's a perfect time to pack a bag and hop on the highway for a classic road trip. As you cruise by the colorful leaves and picturesque views, you'll wonder why you didn't get out of dodge sooner -- and with all of these road trips no more than four hours away, they're totally doable for a day trip. Here's our roundup of the 10 best weekend getaways to take this season.
Recommended Video
Please Don't Hang Up: The Best Things to See, Eat, and Do in Seattle, WA
Best Something-For-Everyone Getaway: Duluth/North Shore
The most popular weekend getaway for Minnesotans in the lower half of the state is most definitely the Duluth area -- and for good reason. Families love that some of the best state parks are in the area: Gooseberry Falls, Split Rock Lighthouse, and Jay Cooke. All three have a multitude of hiking and camping options in the summer and cross-country skiing and snowshoeing in the winter. Jay Cooke offers heated cabin rentals and Gooseberry is particularly beautiful in the winter when the falls freeze over. But autumn is also a beautiful time, as the North Shore's backdrop along Lake Superior makes for stunning seasonal views. Try taking them in from a scenic railroad tour. 
For a couples' getaway, there's always something brewing. The city is known for beer spots like Lake Superior Brewing, Bent Paddle, Ursa Minor, and Castle Danger. Make a day of it with a brewery tour, then grab some food afterwards. We recommend the farm-to-table menu at New Scenic Cafe, barbeque at OMC Smokehouse, or Italian at Va Bene. If you're staying the night, stay at The Firelight Inn, A.G. Thomson House, or Olcott House B&B.
Distance: Three hours, 10 minutes
Best Wine Getaway: Cannon Falls
We may not have Napa Valley, but the river bluffs of the Great River Road Wine Trail from Cannon Falls to La Crescent in southeastern Minnesota are pretty dang good. The trail features a dozen wineries, many of which are open year-round, that make more than 100 different varietals. Start closest to the Cities in Cannon Falls, a charming small town that's home to Cannon River Winery, known for its Winter Ice Wine produced from frozen grapes. Then, move along down the Mississippi River to Red Wing's stunning Falconer Vineyards for a tasting, followed by a stop at Maiden Rock Winery & Cidery just across the border in Stockholm, Wisconsin, for its artisanal apple cider. Keep going south until you end the day in La Crescent at River View Vineyard & Winery.
If you have a designated driver, it's an easy day trip from the Cities, but if you're looking to make a weekend out of wine tasting, accomodations can be a little tricky near some of the smaller towns. On the north side of the trail near Stockholm, try Maiden Rock Inn, an old schoolhouse that's been converted into lodging. Towards the south side near La Crescent, Castle La Crosse is a great B&B. Also, every year during the second weekend in November, the 12 wineries host a holiday harvest, where $30/person gets you three wine and food samples at each stop. 
Distance: One hour
Best Ski Getaway: Lutsen Mountains
If you're a hardcore skier or snowboarder, Lutsen Mountains north of Duluth is the largest ski area in the Midwest to show off your stuff. With 95 runs, four mountains, 1,000 acres, one of the steepest vertical drops, and a whopping 120 inches of snow per year, there's a lot to brag about to your friends back home. If skiing and boarding aren't your thing, there's dog sledding, snowshoeing, snowmobiling, and ice climbing. If your crew gets hungry after a long day outside, try the walleye at Cascade Lodge Restaurant & Pub or a poutine burger at Moguls Grille and Tap Room. Lutsen Resort on Lake Superior is also a top place to stay, offering a classic Northwoods lodging experience, complete with in-room fireplaces.
And, if you need a break from all that outdoor activity, there's an amazing spa at Lutsen Resort, as well as other beautiful North Shore towns within driving distance. Tofte and Temperance River State Park's scenic gorge are just 10 minutes south and Cascade River State Park's waterfalls and Grand Marais are 20 minutes north. For food, try the Bluefin Grille in Tofte and Naniboujou Lodge & Restaurant in Grand Marais -- there's also great shopping, especially in Grand Marais.
Distance: Four hours
Best Small Town Getaway: Lanesboro
If you want to feel as if you've traveled back in time, Lanesboro is your place. Located southeast of Rochester with a population of just 800, the quaint town is known as the bed and breakfast capital of Minnesota and is on the National Register of Historic Places. As you drive down the main drag, you won't see a single traffic light -- but you may see a horse and buggy. 
Bikers rave about the Root River State Trail that offers over 40 miles of stunning views including 300-foot limestone bluffs and frequent wild turkey sightings. After you work up an appetite, stop at the Old Village Hall, a historic landmark-turned-restaurant built in the late 1800's, for some hearty grub. And, if you prefer the great indoors, window-shop along the charming main street or take a tour to visit the largest Amish community in Minnesota and buy authentic quilts, soaps, and candles. Great places to stay include Habberstad House and Stone Mill Hotel & Suites, circa 1885. Also, about 10 minutes outside of Lanesboro in Preston is the JailHouse Inn -- a former county jail turned B&B. The holidays are also a great time to go to Lanesboro, since the local inns and bed and breakfasts put on a Christmas decorations tour.
Distance: Two hours
Best Spa Getaway: Brainerd Lakes Area
Sure, the Cities have lots of great spas, but if you're looking for a change of scenery for a luxurious couple's or girls' weekend, try the often-underestimated Brainerd Lakes Area.
Madden's was built on a peninsula jutting out into gorgeous Gull Lake and offers the usual services- massages, facials, wraps, pedicures, manicures, waxing- as well as seasonal spa specials. This Fall, you can get a detoxifying mud pedicure, spiced passion fruit massage, or chocolate tightening facial. If all that makes you hungry, the resort's restaurant, The Classic Grill, serves up a locally inspired menu including the freshly-caught fish of the week.
Glacial Waters at Grand View Lodge is also a place for pampering. Surrounded by tall pines, the full-service spa offers nail and skin care, hydrotherapy, and body treatments. The most popular massage is the "Grand Relaxation," with aromatherapy. Other treatments include a blueberry scrub and berry peel. If you're looking to cap off your spa weekend with some fine dining, the lodge's restaurant Cru features a cellar with more than 2,000 bottles of vino. Both Madden's and Grand View Lodge are also great places to stay.
Distance: Two hours, 15 minutes
Best Family-Friendly Getaway: Wisconsin Dells
Sure, Wisconsin Dells has a reputation as a tourist trap, but if you can get past that, the area is naturally beautiful and offers tons of options for families. Known as "the waterpark capital of the world," its resorts are open year-round and offer huge indoor areas for entertaining kids. Try Chula Vista's "water coaster," Great Wolf Lodge's six-story slide, or Kalahari's 125,000 square foot play area -- all without going outside. 
But, if your crew needs a break from rides and slides, Wisconsin Ducks tours operate from mid-March to mid-November. The tours, on military-esque vehicles that traverse both land and lake, show off the Dells' natural rock formations and gorges. You can also see the Wisconsin River's picturesque sandstone bluffs by strolling the River Walk downtown year-round. When it's time to grab some grub, you can't take your family to the Dells without taking them to Monk's Bar and Grill. A local favorite for more than 70 years, the restaurant is known for its famous Monkburgers. The kids' version even comes served inside a custom Frisbee.
Distance: Three hours, 10 minutes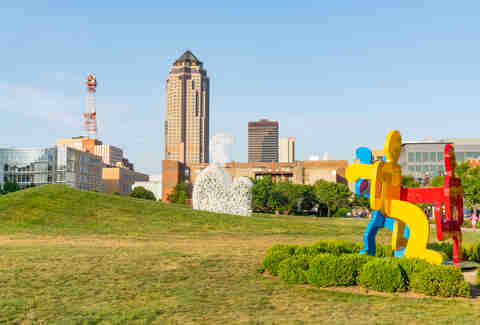 Most Underrated Getaway: Des Moines
Probably didn't know Des Moines is the fastest-growing metro in the Midwest, huh? Well, while we've been sleeping, this oft-overlooked city has been busy developing new restaurants and breweries, more than 800 miles of recreational trails, and a reputation as an art destination. 
You also may not have guessed that Des Moines' dining scene is home to nearly a dozen James Beard-nominated chefs. Restaurants like modern European Aposto -- located inside an 1880's mansion -- and upscale American Alba offer imaginative, delicious dishes. If beers and appetizers are more your speed, Confluence Brewing's fun taproom has unusual brews like a blue corn lager and Exile Brewing offers beers and bites in a former soap warehouse. To work off some calories, walk the city's impressive High Trestle Trail, which features a 13-story bridge over the Des Moines River Valley.
And, if you're looking to get cultured, the city has an awesome art scene. Your first stop should be the Des Moines Art Center, which is free and features modern art and well-known works by Georgia O'Keefe and Henri Matisse. Next, visit the adjacent four-acre Pappajohn Sculpture Park to take some selfies and then head to the historic East Village to stop into art galleries and shops. When you're finally wiped, check into the Des Lux Hotel or historic Renaissance Savery Hotel, which has hosted past presidents and celebrities.
Distance: Three hours, 35 minutes
Best Getaway For Going Off the Grid: Ely
Believe it or not, there are still places you can go with no cell phone coverage -- and the one million acre Boundary Waters Canoe Area (BWCA) is one of them. Ely, the small town western gateway near the BWCA, is a great place to launch your expedition. Named one of the best outdoor adventure towns in the world by National Geographic Magazine, Ely is a destination in and of itself with small-town ambience, great food (try Ely Steak House), and plenty of remote lodging options including yurts and "glamping" if real camping's not your thing. 
But, the majority of visitors to the BWCA are hardcore outdoor enthusiasts who come to hike, canoe, fish, and kayak the pristine wilderness. (If you don't have equipment, there are outfitters in Ely who rent.) The BWCA is enormous, with more than 1,200 miles of canoe routes, dozens of hiking trails, and 1,000 lakes. This means you can completely disconnect and -- other than your group or guide -- may not see any other people during the trip. Whether you choose to paddle or walk, the solitude will make you feel like you're in Into the Wild, minus the ending.
Distance: Four hours
Best Foodie Getaway: Stillwater
Just a short drive from the Cities, Stillwater along the St. Croix River is ideal for a weekend staycation or even just for dinner. With a slew of amazing restaurants spanning all kinds of cuisine, you'll find something remarkable no matter the time of day or your tastebuds. If you're looking for a bite in the morning, Chilikoot Cafe & Cyclery is both a bike and coffee shop with scratch pastries and house-roasted espresso. At lunch, you'll find authentic Mexican cuisine at an affordable price at Nacho Mama's. Dinner time means some hard decisions, but LoLo American Kitchen is rightfully popular with a gourmet take on street food and small plates. For a nightcap, nationally recognized Domacin Winebar offers more than 600 wines by the bottle, The Velveteen Speakeasy will make you a craft cocktail if you can find its underground entrance, and The Tilted Tiki allows you to pretend you're on a tropical vacation no matter the weather.
If you're a true foodie who wants to try several spots in one trip, try Foodies on Foot, a culinary walking tour of downtown Stillwater. You'll go behind the scenes of the city's best specialty food shops and restaurants and even meet some of the chefs. If you're staying the night, try the historic Lowell Inn or the romantic Water Street Inn.
Distance: 40 minutes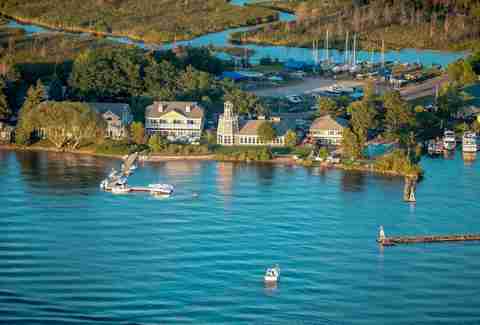 Best "Island" Getaway: Apostle Islands
No matter the weather, you can still hop on a boat to find the island life in Minnesota -- in this case, the ferry to Madeline Island, the largest of the Apostle Islands. First, head north to Bayfield, a charming town in its own right along Lake Superior, and the jumping-off point for The Apostle Islands National Lakeshore. While you're on the mainland, try the wheat vodka at local Copper Crow Distillery and grab a farm-to-table dinner at The Fat Radish. 
Then, it's just a 20 minute ferry ride to Madeline's main town of La Pointe. (The ferries run until January -- when they stop, a windsled is the only means of transportation to the mainland for the island's 300 year-round residents.) Once in La Pointe, leave for a scenic hike at Big Bay State Park or rent a bike and cycle down Main Street, hitting The Beach Club for a beverage and Cafe Seiche for a dinner of local whitefish and a sunset view. There are many options for places to stay, including the aptly named Inn on Madeline Island.
If outdoor adventure is more your thing, sign up for a charter or water taxi to visit some of the other Apostle Islands (there are about 20) to kayak in the fall and cross-country ski, snowshoe, or ice fish in the winter. The National Lakeshore is known for its sea caves, sandstone cliffs, and old lighthouses for guaranteed dramatic vistas. Apostle Islands Cruises runs sightseeing trips from May to mid-October and charters and water taxis are available, weather dependent. 
Distance: Four hours
Sign up here for our daily MSP email and be the first to get all the food/drink/fun the Twin Cities have to offer.