When you live somewhere as great as the Twin Cities, the thought of taking a vacation elsewhere may seem silly, but every now and then you've got to get out of dodge. Luckily, Minnesota (and... ugh, Wisconsin) has a ton of sweet spots that're just a car ride away, at least 12 of 'em in fact...
Afton State Park
Distance from the Twin Cities: 30 miles, 40-minute drive
Why it made our list: This one's so close to the city that it's a no brainer. While you could easily drive out there for a day of hiking before packing up and heading back to the Twin Cities, you might want to consider booking a place to stay the night. Expend your energy by trekking through the expanse of native and restored prairie lands, oak forests, and beautiful scenic beaches.
Pro tip: While you could book a place to stay in Afton, like the beautiful Afton House Inn, you should consider booking a place to stay in nearby Stillwater where you can stop at Smalley's Caribbean Barbeque and Pirate Bar for a bit of after-hiking BBQ and a few shots of hooch before stumbling back to your hotel for the night.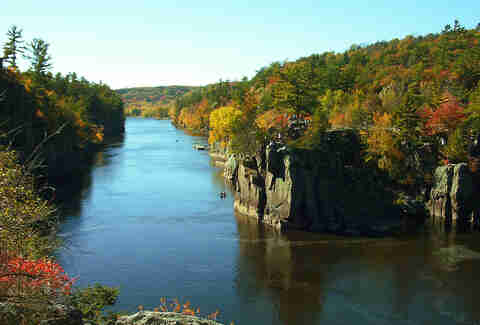 Taylors Falls
Distance from the Twin Cities: 54 miles, 1-hour drive
Why it made our list: This is another destination that's near enough to the city to do a simple afternoon trip. The expanse of rocky walking trails and scenic views are nothing shy of incredible, and there're several great opportunities for rock climbing excursions. Canoe trips along the St. Croix are always a good time, or maybe you're more interested in a gorgeous ferry ride. Either way, it's pretty easy to fill up an entire weekend hanging out along the state boarder, just make sure that you don't accidentally venture into Wisconsin. (Obviously we kid... sort of...)
Pro tip: Camp sites are available if you're into that sort of thing, otherwise you can try to book a room at the local Old Jail Bed & Breakfast, because who doesn't want to spend the night in a refurbished jail?!
Schell's Brewery
Distance from the Twin Cities: 97 miles, 1.45-hour drive
Why it made our list: Because BEER! It's also the second oldest family-run brewery in the whole US, and it happens to make some pretty delicious brews. With a focus on German-style craft beers, you'll be able to sample a variety of different styles, take a tour, and check out their Museum of Brewing to learn a little bit more about local beer history.
Pro tip: If you're looking for that full on German craft experience, book a stay at the Deutsche Strasse Bed and Breakfast, where you'll enjoy a fancy four-course meal to help jumpstart your day and to help you recover from your brewery adventure the day before.
Jeffers Petroglyphs
Distance from the Twin Cities: 141 miles, 2.5-hour drive
Why it made our list: Among the native prairie lands are vast swatches of flat rock. Not interested yet? Well, these rocks sport historical Native American carvings that tell stories from over 7,000 years ago. The carvings feature an array of ancient depictions including humans, deer, buffalo, turtles, and more. Visiting this place is a true opportunity to take a glimpse into a history and culture that, unfortunately, is all too often ignored.
Pro tip: Plan ahead on this one because there are a lot of things that you can do including taking a course in Native American survival skills in which you can learn to hunt a buffalo using an atlatl.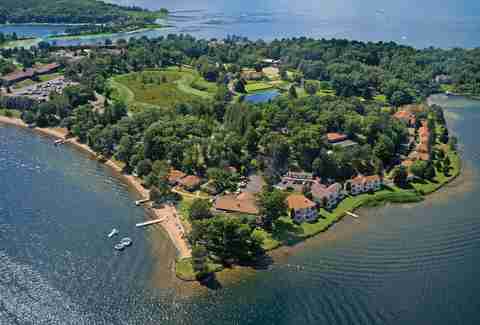 Madden's Resort
Distance from the Twin Cities: 141 miles, 2.5 hour drive
Why it made our list: Built on the tip of a peninsula, this resort juts out into the beautiful Gull Lake. There are also some excellent opportunities for golfing, a variety of water-based sports, or you could treat yourself at its luxurious spa. This place, while suitable for family getaways, is also a great place for you and perhaps a significant other to just skip town for a while and live in the lap of luxury.
Pro tip: Now's the time to start thinking about booking a trip for its incredible food and wine weekend, which has quickly turned into the premier food and wine event in the state. It brings in a variety of local celebrity chefs from the Twin Cities, along with a few outside names from around the country. Watch for tickets to go on sale soon because that sells out quick!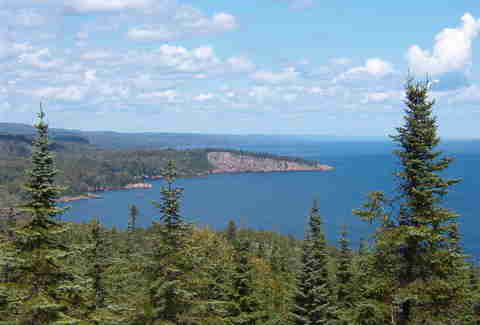 The North Shore
Distance from the Twin Cities: 170 miles, 2.40-hour drive
Why it made our list: Let's face it, we could probably fill this entire list with spots on the North Shore (or any of the scenic sights along it). Like lighthouses? Check out the Split Rock Lighthouse State Park. Like smoked fish? Check out the Dockside Fish Market in Grand Marais or Russ Kendall's Smokehouse in Knife River. Whether it's hiking through Gooseberry Falls, taking a ferry out to the Apostle Islands, or hitting up some Northwoods art festivals, you'll never be short on things to do.
Pro tip: Think about stopping in and taking a tour of Duluth's historic Glensheen mansion. Not only is an incredible spot to visit, it's also allegedly haunted!
Nyberg Park
Distance from the Twin Cities: 170 miles, 2.45-hour drive
Why it made our list: Because our unending love of giant, weird sculptures knows no bounds. For real, this place has some crazy stuff to look at, including a giant elephant, a pair of pliers squashing a bug, aliens, and dancing flatware. All of the sculptures are made by one guy and the park is located directly next to a gas station. If all of that's not worth close to a three-hour road trip, then we just don't know what is.
Pro tip: The park features a sculpture of a giant watermelon in honor of the town's annual Watermelon Day, and if you can plan your trip to coincide with that you probably should. For the record, it's on August 15th.
Wisconsin Dells
Distance from the Twin Cities: 213 miles, 3.15-hour drive
Why it made our list: Even though it's in Wisconsin, anyplace that proclaims itself the "Waterpark Capital of the World" is bound to be a good time. The Big 5 Dells' resorts all have huge indoor waterparks, and each time a new one opens it tries to out do the rest with bigger and better water slides and pools. In addition to the indoor/outdoor water parks there's mini golf, go-carts, ziplines, horseback riding, and of course, Duck tours (it's got the biggest fleet of the WWII boats in the country). 
Pro tip: If you need to escape the from the constant screaming of the water parks, head to one (or several) of the breweries or wineries in the area. 
Soudan Underground Mine State Park
Distance from the Twin Cities: 226 miles, 3.35-hour drive
Why it made our list: This is one of the oldest iron ore mines in the state dating back to 1882. Located on the rocky South shore of Lake Vermilion, there's a lot to take in and do with access to incredible hiking trails, cultural tours where you can learn how mining impacted the history and culture of the region, and, of course, the underground mine tours where you travel up to a half mile into the earth. There's also an onsite physics lab where you can learn about scientists' pursuit of the elusive dark matter.
Pro tip: Done with nature and mining? Just a short distance from the park you'll find Fortune Bay Resort Casino where you can whoop it up Vegas-style. Well, not really, but you'll at least be able to get in a few rounds of black jack and hit up the buffet.
Heritage Hjemkomst Interpretive Center
Distance from the Twin Cities: 241 miles, 3.40-hour drive
Why it made our list: Um... Viking ships! Including one that's actually made the voyage from Lake Superior to Norway. Sure, it's a "modern" replica of a real Viking ship, but that doesn't mean that it's any less incredible. This ship took more than 100 oak trees and eight years to make (including the milling and drying of the lumber), while the trip from Duluth to Norway took only two months. In addition to the ship, you can also see a full scale replica of Norway's Hopperstad Stave Church.
Pro tip: Once you're done at the museum, check out Junkyard Brewing Company for a little Viking-style celebration with one of its many varieties of craft beer. We're guessing that the folks here don't allow you to throw your steins on the ground once your done in true Viking fashion, but maybe they should consider it.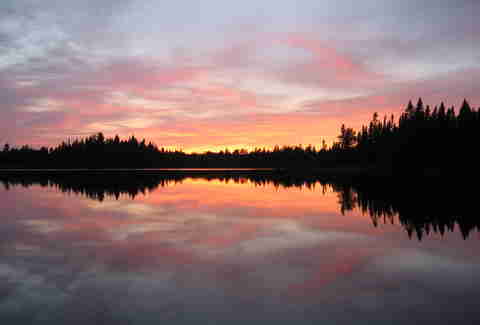 Boundary Waters Canoe Area
Distance from the Twin Cities: 246 miles, 4-hour drive
Why it made our list: Yeah, suggesting that you hit up the BWCA might be a bit vague, but seriously, just like the North Shore, there's a lot to do here, and it's more than worth your time. Take a canoe trip, go camping, go fishing, go hiking, just get up there and do something. Anything. It's got some of the most beautifully scenic places in the entire world and since it basically spans the majority of the Minnesota/Canadian border, there's enough to explore to last an entire life time and then some.
Pro tip: If you're not into straight roughing it, check out one of the many resorts that offer a variety of activities that will allow you to experience the area without having to worry about accidentally living out scenes from Into the Wild.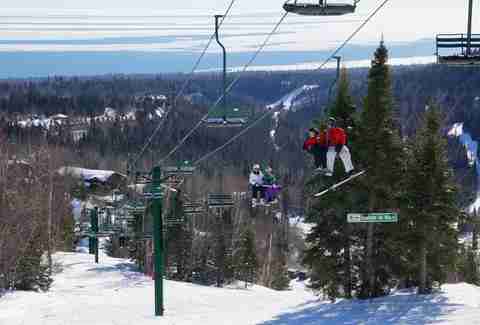 Lutsen
Distance from the Twin Cities: 248mi, 4-hour drive
Why it made our list: Lutsen Mountains Resort is the largest, and one of the Northernmost, ski resort in the Midwest. It's also got one of the most vertical drops, so if you're into downhill skiing, this is your place. The fact that it's got four mountains (Eagle, Ullr, Mystery, and Moose) and 95 runs doesn't hurt either. You can also check out all 10 of Minnesota's highest peaks, cross country ski, go fishing, or play golf. The Hopped Up Caribou Beer Festival, which brings several local breweries to the mountains, is perfect for anyone who doesn't want to spend their entire vacations on the go.
Pro tip: If you go in the summer be sure to check out the Alpine Slide on Eagle Mountain. You control the speed of your sled, which means you can zip down the half mile luge run or take it slow and soak in the view.
Sign up here for our daily MSP email and be the first to get all the food/drink/fun the Twin Cities have to offer.