And why they're worth seeing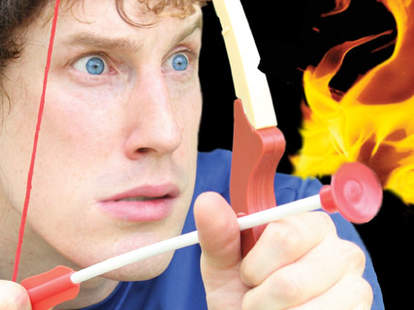 The Fringe Festival's here, and it's got 165 shows spread across 15 venues over the next 11 days, which is way too many numbers for an arts guy like yourself, so why don't you just check out the below teasers for the five shows you actually need to go see
A Hunger Games spoof, this "musical romp through hilarious kid-on-kid mayhem" is so promising, you ought to brutally murder anyone else trying to buy tickets. And it's from the same dude behind such Fringe hits as Parry Hotter & The Half-Drunk Twins and Bite Me Twilight, so there's that.
Fledgling/awesomely named comedy group "The Gentipede" conduct a Barney-indicting investigation as to whether the "children of the ill-fated Donner Party fare any better than their parents when a singing horse takes them away to learn about sharing."
Featuring an actual mountain ("Mt. Terror") being scaled onstage, this number comes from a duo called "Ferrari McSpeedy" who've been killing Fringe audiences since '02, so they should probably slow down.
The brains behind last year's Fringe smash Highlander: The Musical take you down the Shatner rabbit hole (the Shat-hole?) to explore what would happen if the "greatest of all living actors" had to hilariously reconcile all his roles in order to save himself.
Awesomely, this 60min comedic musical is 1) put on by local burlesque/ cabaret Le Cirque Rogue, 2) skewers '70s soaps, and 3) includes a live on-stage band. So yeah, you do the math.