We all know that dating in the Twin Cities can be tough, but that doesn't mean it has to be expensive. Heck, sometimes love doesn't have to cost a thing (thanks, J. Lo!), so we rounded up 25 impressive date ideas that won't break the bank. Unless you've got less than $25 in said bank, obviously.

Como
People have been bringing dates to the conservatory for over a hundred years which must mean it's a pretty good spot to bring a certain special someone. It's free, although donations are suggested, and it really is a great way to spend a day. When you're done wandering around through the humid greenhouses, you can wonder on over to the zoo and maybe learn a few more things about nature.

Twin Cities
When it comes to dates that are cheap and easy (we're talking activities, not people) there's nothing simpler than catching a free movie in the park. As it should so happen, we've already assembled a list of all the outdoor movies happening this summer, so the when and where are all taken care of, now you just need to grab some snacks from the store and someone to bring along for the ride.

Prospect Park
The new Surly destination brewery is certainly a site to behold and for only $4 a ticket, you can take a tour complete with delicious beer samples. For that price, you'll have enough left over for an extra post-tour pint!
Twin Cities
If you and your potential are into the local music scene, try to get yourselves into a taping of the PBS series, Lowertown Line. Admission is generally free and open to the public, but seating is limited. This year they're traveling around to various venues all across the Twin Cities so check the website for the deets.

Downtown St. Paul
If the person you're currently seeing is into learning about stuff, then head on over to the Science Museum and nab some tickets to whatever's showing at the Omni that day. Currently it's showing Hubble, a film that quite literally gives you a glimpse into galaxies far, far away.

Loring Park
While tickets to the Walker generally run a hefty $14 apiece, it does offer free admission every Thursday night from 5-9pm and on the first Saturday of every month from 10am-3pm. Show up early and take a tour of the gorgeous sculpture garden and snap the obligatory selfie in front of the giant cherry and spoon before heading in for a night of wondering what it all means.
Longfellow
This may be a cheap date spot, but it's also a beloved Minneapolis classic! Sure the movies are six months removed from the mainstream theaters and it only has one screen, but tickets are only $3 and the place has some of the best real-butter popcorn in town!

Anywhere
If you live in Minneapolis, you've definitely seen these, so instead of just looking at them every time you pass by, why not turn a bike into an ideal dating opportunity? Rent a couple of these things and hit one of the Twin Cities' many bike trails.

North Loop
If dancing is going to be on your dating agenda, might we suggest this weekly dance night in the North Loop? Admission is free and it features a variety of music with a heavy focus on new wave, indie rock, and synth-pop. There are also several drink specials which are a great way to help keep your costs down.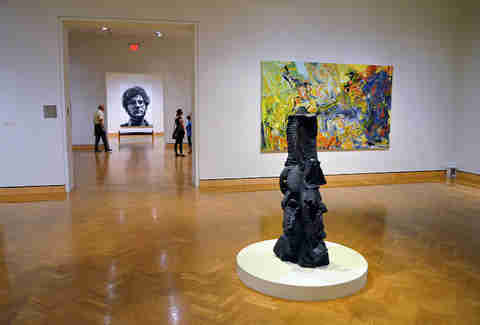 Whittier
The MIA is always free to the public, with the exception of certain traveling exhibits, and even better, it offers a special third Thursday event every month that features unique programs, live music, and drinks.

Warehouse District
Checking out one of the free Monday night open-mic nights at Acme is a great way to determine whether or not the person you're seeing has a sense of humor or is just a hollow shell of a human being. Better yet, if you're both the brave type, sign up and give it your best shot.

Longfellow
Check out the sites on a bicycle built for two at Minnehaha Falls! You can rent a two-person surrey for $22 an hour, which gives you ample time to meander the park, take in the sites, and decide whether or not you can stand each other.

Uptown or Linden Hills
Let's face it, you can learn a lot about someone while waiting over an hour in line with them for ice cream! But with more flavor combinations than are humanly comprehensible, at least you'll have something to talk about. In-store selections change daily, so you never know exactly what the shop will have on hand and no matter how the date ends up, at least you got some ice cream, right?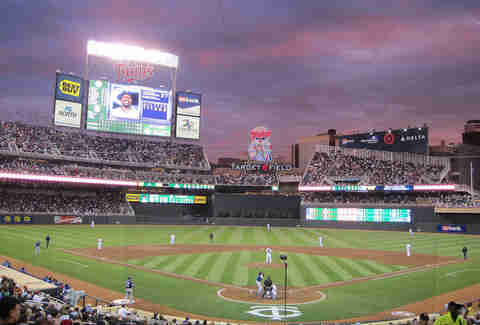 North Loop
Here's another one for you sports fans out there! If you're into planning ahead, you can still nab some tickets to catch a game for as little as $6. That's pretty much a steal and by thinking ahead and saving on the ticket costs, you MIGHT still be able to split a hot dog and beer with your date with any leftover funds.

Northeast
If you're looking to find out if your date can hack the Northeast lifestyle, head on over to the 331 for some free live music and cheap beer. Maybe you can rent a couple of those nice rides we mentioned earlier to show that you're truly committed to the way of the neighborhood and not just some uptown condo-dwelling yuppie.

Dinkytown
Tuesday nights are the night at this little Dinkytown Mediterranean bistro! For $25 you get a full three-course meal consisting of a salad, a pasta entrée, and a dessert, making it one of the better dining deals in the Twin Cities.

Kenwood
Now known as Cedar Lake East Beach, this is arguably still one of the best spots to take a dip in the Twin Cities. While the number of naked swimming hippies and punk rock kids has greatly decreased since this beach has been made public, it's still a great place to taste the flavor of the city (just don't drink the water).
Downtown St. Paul
Is your date new to town? Are you? Maybe it really it doesn't matter, because hitting up the History Center is just a good way to spend an afternoon. Tickets are only $11 and knowing more about where you live isn't exactly going to kill you.

Uptown
Canoes on the likely-to-be-renamed Lake Calhoun go for $21 an hour, but the lake is small, so you can head out, scarf down a sandwich, and head back to shore in no time, which, depending on how much you like your date, might actually be too much.

Longfellow
If your film tastes run to the obscure or if your date digs retro cult classics, you should very seriously consider hitting this South Minneapolis film house. Tickets are on the cheap side and currently it's focusing on a run of films featuring Chow Yun-Fat. Oh, and come August it'll be focusing on the career of once-young Jeff Bridges. If you and your other have been dying to catch the original Tron in a theater setting, then bookmark this page now.

Longfellow
Tickets at this South Minneapolis performance art venue usually run around $8 apiece and it uses words like edgy, experimental, improvisational, and culturally expansive to describe its shows so you know it's gotta be good, right?
Seward
One of the best date deals in town: for $25 per couple you can get a four-course dinner, a bottle of wine, and a full hour of bowling. Yes, bowling.

Lowertown
Check out the state's premier minor league team at their fancy new Lowertown stadium. It's a gorgeous space filled with plenty of good food and beer and you can nab yourself some bleacher seats for $6.

Linden Hills
The Lake Harriet bandshell's got the goods when it comes to live music. Featuring live music nearly every day of the week, you can show up, plop down, and have yourself a nice little picnic while you indiscriminately judge the musicians in an attempt to show off like some kind of North Coast version of Simon Cowell.

Uptown
If you'd like to try and impress someone with your incredible vocal stylings, head on over to Uptown and check out Dulono's for karaoke every Monday and Tuesday night. It's free to sing and it's got two-for-ones on tap all day, every day making this a great spot for cheap date.
Sign up here for our daily MSP email and be the first to get all the food/drink/fun the Twin Cities have to offer.