10 Minneapolis Secrets You Didn't Know Existed
Believe it or not, Minneapolis has secrets that run deeper than the fact that you have to walk through, gasp, the back door and kitchen of The Bachelor Farmer to get to Marvel Bar; Industrial-turned-leisure islands hidden in plain sight, frat houses where Bob Dylan used to live, meat pie-slinging churches, and the world's quietest place are just some of the 10 secrets you probably didn't know existed.
Bob Dylan used uo live in this frat house
Yeah, yeah, yeah, everyone knows that Bob Dylan got his start playing coffee shops in Dinkytown under his given name, Robert Zimmerman, but most overlook the fact that prior to that Bob was a member of Jewish fraternity Sigma Alpha Mu on the outskirts of campus on 10th Ave SE.
The oldest continually-running church in Minneapolis also sells meat pies
In addition to being a super-old (built in 1857), Gothic place to worship, Our Lady of Lourdes Catholic Church is also THE place to buy French meat pies, which they churn out every day and sell for $20 a pop, complete with an official blue Our Lady of Lourdes carrying bag.

Northeast has an island that's actually a terrific place to go hang
Psst. Ever noticed that thin strip of land under the Plymouth Avenue Bridge in Northeast? That's actually Hall's Island, and it used to be a pretty choice swimming beach before it became an industrial site that was eventually completely abandoned. Well, the city's intent on making it useable parkland again, replete with the swimming beaches of days of yore and even a performance stage that will be hosting the Alabama Shakes and Father John Misty on May 30.
The world's quietest place is in South Minneapolis
Looking for peace and quiet? Total, f-ing, quiet? Then hit the South Minneapolis research facility Orfield Laboratories, which, via a complex series of floor to ceiling to wall soundproofing, has the world's quietest room. You won't just hear yourself think, you'll hear your eyes blink.

There's a hobo village on the outskirts of the U of M
Between the Eastern edge of Dinkytown and the sprawling new Surly destination brewery there's a mini town full of abandon grain silos and warehouses… You've probably seen them a million times but never actually noticed them, which actually works out pretty nicely for the city of hobos said to reside in the buildings.
John Dillinger used to have a place in Uptown
Like a lot of Chicagoland gangsters, John Dillinger spent a good amount of time on the lam in Minnesota. But, unlike Capone and many of his peers, at least for a spell Dillinger forsook St. Paul in favor of the Santa Monica Apartments at 3252 Girard Ave S, where is lived with his girlfriend Billie Frechette in 1934.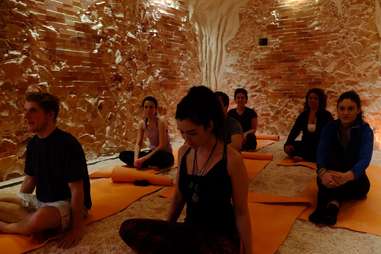 There is an entire cave made of salt...
... that's apparently super-therapeutic. South Minneapolis's Salt Cave is exactly what it says it is: a room constructed from floor-to-ceiling with Himalayan crystal salt that contains air infused with pharmaceutical salt. The result? A place where you can sit around and magically cure everything from bronchial issues, to psoriasis, to asthma, to bland-tasting French fries.
The House Of Balls
The open-to-the-public studio of bizarro sculptor Allen Christian is even stranger than it sounds, and it's essentially always open for members of the public to walk in and explore his sculptures, watch him work, or simply pick his brain.
The Bakken Museum
You know what's scary when you really think about it? Electricity. And really thinking about it and it's freaky steam punk-ish history is precisely what you'll do when you get to the artifact rooms at the Lake Calhoun-side Bakken, which is dedicated to the history of electricity interacting with human life.
There's a bootlegging tunnel from The Belmore apartments to Liquor Lyle's
You can call Uptown staple Liquor Lyle's many things, but an completely upstanding member of society is likely not one. And never was that more true than during the Prohibition when rumor has it that they used to sell booze speakeasy-style. Where did it come from? A secret passageway that passed under the intersection of Hennepin and Franklin from the basement of apartment building The Belmore kitty-corner to it. Legend has it the passage is still there.
Sign up here for our daily MSP email and be the first to get all the food/drink/fun the Twin Cities have to offer.