13 things you absolutely must do in MSP this Summer
Everybody knows Summers in Minneapolis-St. Paul are better than Summers anywhere else, but that doesn't mean much if you don't do everything you can to make the most of it. And by "everything you can" we don't just mean eating Double Bacon Corndogs at the State Fair. No, we mean eating on the beach, skipping work, and everything else on our list of 13 things you absolutely must do in MSP this Summer.
What: Motorboatin'
When: You should have left 10 minutes ago
Where: The entire state and half of Wisconsin
There are 10,000 lakes here and you have got to know at least one person with a boat, so join the hordes on I-35 Friday afternoons and make your way up North, because Summer isn't complete until you've put a pole in the water and got a sunburn while pounding a can of something cold from a foam koozie.
What: Go see a man about the ponies
When: May through Labor Day
Where:Canterbury Park
There's no better feeling than screaming your fool head off as the horses thunder towards the finish line. And there's no worse feeling than realizing your horse showed when you bet he'd place.
What: Mini golf like an artist
When: Open daily this Summer: Thursday-Saturday, 10am-10pm; Sunday-Wednesday, 10am-8pm
(Closed June 20th-22nd for Rock the Garden)
Where:Walker Art Center
Ever use a lawn gnome as a putter? Didn't think so. But now you can on the most ingenious putt-putt course you'll ever play.
What: Go on a food truck crawl
When: Whenever the sun shines
Where: Downtown Minneapolis on Marquette Ave from 5th St to 10th St
The boom in mobile food options means that just about every 'hood has a noontime gathering spot, but the most spectacular spread is still on Marquette Ave in Downtown Minneapolis. Stop by as many as possible and try everything from an enconada to arepas to cupcakes with dainty little fillings.
What: Food fight!
When: June 21st
Where: Elko Speedway
A ticket to the Tomato Royale gets you a beer, a free T-shirt, access to an all-day festival w/ live music, street food, etc., and a chance to throw 30,000lbs of tomatoes at several thousand of your closest friends.
What: Hit the Aquatennial
When: July 18th-26th
Where: Minneapolis and St. Paul... but mostly Minneapolis
Whether you're wondering what you'll do with all of those empty milk cartons, or how to create a sand sculpture that reflects your personal existential dilemma, or just want to see other people do those things, there is something for you to do at our biggest Summer celebration.
What: Drink in the sun -- literally and figuratively
When: As long as the temperatures are above freezing
Where: These places are a good start
'Tis the season to post-up on a patio and imbibe some of our sweet, sweet local beer. In fact, given all the outdoor drinking options around MSP, you probably shouldn't set a single sandal-clad food inside a bar or restaurant until after Labor Day.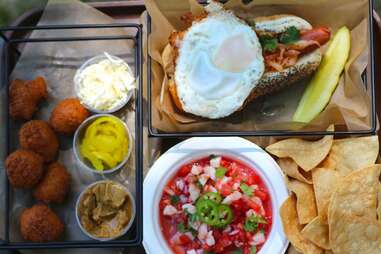 What: Do some beachside eating at Sandcastle
When: Through October
Where: Sandcastle... duh
One of the best chefs in the Twin Cities, Doug Flicker, has taken his act to the beach on Lake Nokomis, where his new restaurant has everything you'd want to scarf while clad in a cool, sodden swimsuit: hot dogs, soft serve, cheese curds, horchata, and ice-cold local brews.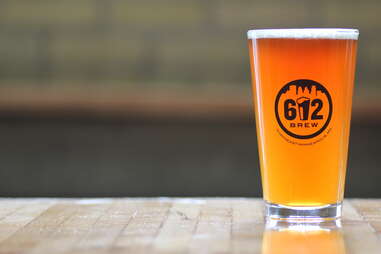 What: Hit 612Brew for food trucks, music, and killer local beer
When: Wednesday-Saturday
Where: 612Brew, of course
We've got some pretty sweet taprooms in this town(s), but our favorite Summertime destination is the indoor/outdoor set up at this Nordeast gem, where they've got street food, put on live shows, and... oh yeah, there's beer.
What:Uptown Art Fair
When: August 1st- 3rd
Where: Uptown, presumably
The diverse crowd this perennial favorite draws is always impressive: from the multi-pierced, tattooed beauties, to the lost suburbanites attempting to parallel park their over-sized station wagons, the people watching's almost as good as the art.
What: Ditch work for a day game
Where: Target Field
When:Calendar of games is available here
There are only so many chances to sit in the sun eating Butcher & The Boar dogs and Cracker Jacks, while trying to ignore the fact our boys are losing. Again!
What: Get some music on a stick
Where:State Fair Grounds
When: August 21st-Labor Day
Whether you're a local hip-hop fan or still haven't stopped believing, the Great Minnesota Get-Together has you covered with nostalgia acts like Journey, the underpants-clad gyrations of Har Mar Superstar, Kid Rock, and more.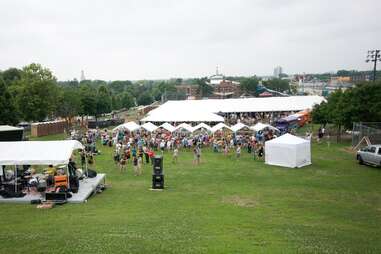 What: The end-all, be-all Summer Beer Dabbler
When: Saturday September 6th
Where: Midway Stadium
The guys behind the Dabbler have proven time and again that they host the best beer samplings around. This annual Summer sipper promises to be another, featuring the best brews from around the state alongside piles of food trucks for the sixth year running, only this time they've moved inside the Saints' home turf.