It's entirely likely that you'll be dragged to the Mall of America, kicking and screaming (note: add "windmill punching" to become less drag-able). Should resistance prove futile, though, try to enjoy it by following the route of this photo journey of fun, chronicling everything from bull riding to "The Hottest Sauce In The Universe".
Recommended Video
'Derailed Late Night' Is New York's Newest Late-Night Show & It Takes Place on the Subway
Previous Venue
Next Venue
Venue Description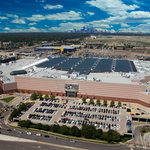 1. Mall of America
8100 24th Ave S, Bloomington, MN 55425
Oh, this? Just one of the largest, most America-est malls in the world. How large? Oh, just 4,870,000sqft. How America-y? REALLY America-y. It receives over 40mil visitors a year, hosts more than 400 events a year, and contains over 520 retail stores.