The top 5 swimming spots in the Twin Cities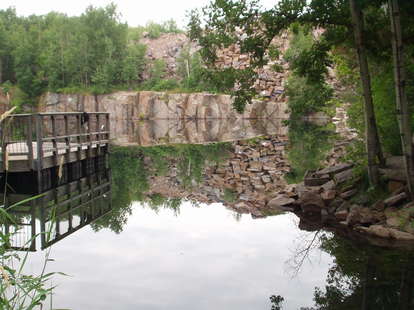 It's a hot town, Summer in the city. And since the Lovin' Spoonful says the back of your neck is now gettin' dirty and gritty, find a quality swimming hole to wash off in. Lest you spend another afternoon staving off bros at Thomas Beach on Calhoun, cool off in the power rankings of five vastly better choices.
5. Hidden Falls
1415 Mississippi River Blvd S; St. Paul
There are all sorts of unofficial spots where you can take a dip in the Mighty Miss, yet any list of Mpls/St. Paul swimming holes worth its weight has to include the river that runs through them. Hit up one of St. Paul's four original parks like Hidden Falls, complete with docile swim waters, picnic/gathering facilities, and actual hidden falls.
4. Lake Minnetonka Swimming Pond
4610 County Road 44; Minnetrista
Bet you didn't know that Lake Minnetonka, the gem (or scourge, depending on who you're talking to) of the TCs, had a 1.75 acre man-made pond surrounded entirely by white sand beaches, reaching a max depth of 6ft in the middle, and filled not with the petro swill of Tonka, but filtered, chlorinated water. Go. Purify yourself.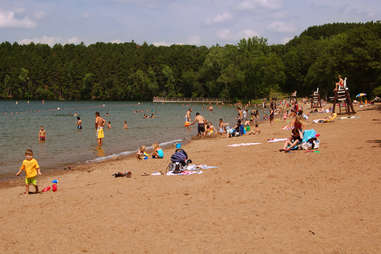 3. Square Lake
Stillwater
Yeah, yeah, yeah, Mpls is the City of Lakes. But you know what? Aside from East Cedar and a precious few other a'ite swims, it's not the City of Great Swimming Holes, which's why #3 on our humble cull jumps back outside the urban core to the we-sh*t-you-not crystal-clear waters of Stillwater's Square Lake, which might be ranked higher if it was actually square and not that oblong, plop shape that all lakes are.
2. East Cedar Beach
21st St W and Upton Ave S; 612.230.6400
Clinging to the #2 position on folklore alone, Cedar Lake's East Cedar (accessed by a lengthy path through the woods or via kayak/canoe) is mostly known better by its nickname, Hidden Beach. It earned the name back when it was still an unofficial Mpls beach known for nudity and hippies. And, while the bulk of the nakedness tragically stopped when it was made an official city beach, there're still plenty of hippies around, including a dude named Kevin who makes and gives out free tie dye tees.
1. Quarry Park
1802 County Road 137; Waite Park
You know that scene in Breaking Away when Dennis Quaid and the cutters are all swimming in that radical quarry-turned-swimming hole? No?! Well, now you know the best part, so don't bother seeing it. That's pretty much exactly what Quarry Park is. The 112ft-deep water-filled quarry just West of St. Cloud's a SCUBA diving Valhalla and easily the most otherworldly, and therefore best, swimming hole within an hour of the Twin Cities.